Part 12
Blake was set up in his studio for a photoshoot, Zach was finally going to pose for some pictures — the two of them had been talking about it for a few days.
"Hey, Blake, how's things?" asked Zach, sticking his head around the door of the studio. "Are you ready for me?"
"Wow, you're all smiles for getting in so late last night…" grinned Blake."Or should I say this morning?"
"No lectures, Uncle — if you work hard then you get to play hard…" winked Zach. "I hooked up with one of my co-worker's from the bar. I'd never really been that into him, but he told me a hot story of this daddy he hooked up with at the gym, so he got me all juiced up."
"Really?" replied Blake, trying to keep his cool. "Sounds interesting. Are you going to share the details?" Blake was hoping that this was just a coincidence, but his heart was racing and he was feeling guilty about his under-the-radar hook-ups with Steve.
"Well, his name is Steve…" began Zach, more than happy to share the details. He was showing me his wrecked hole, he said that this daddy really tore him up good in the locker-room at the gym…"
"Steve…" repeated Blake, almost talking to himself.
"He propped his leg up on the bench so I could get a good look at it…" continued Zach, not registering Blake's discomfort. "When I saw all of that daddy jizz just leaking from his wrecked cunt, I couldn't help myself — I went in to taste it and then I started eating Steve's cum-sloppy fuck-hole out. That daddy jizz tasted so good!"
"You ate the cum from his cunt?" repeated Blake.
"Totally…" grinned Zach. "I would have fucked him right there, added my cum to the daddy-load he was already carrying, but we got caught by the manager of the bar, so we had to hook up after we finished our shift…"
"Stop right there!" growled Blake. Zach looked at Blake blankly, unsure what was going on. Blake grabbed Zach and pulled him close, their bodies crunching together, their mouths instantly connecting in a deep, long, sensual kiss.
It was like the sexual floodgates opened. Zach grabbed hold of Blake and buried his tongue in his mouth.
"I've been waiting for this since I moved in with you hot daddies…" moaned Zach, as he pawed all over Blake's muscled body.
"My daddy-load tastes pretty good in Steve's ass, does it?" growled Blake, chewing on Zach's ear.
"Holy shit!" exclaimed Zach. "You're the hot daddy?"
"Yes, boy, that was my seed that you slurped out of that slut's wrecked cunt, and your ass is next…" growled Blake. "Start sucking my cock to get it ready for your hot little fuck-hole."
Zach couldn't wait to get his mouth over Blake's huge cock. He slurped it down as best he could. Blake grabbed Zach's head, and face fucked his boy good.
"Get to work on those balls, boy!" instructed Blake.
"Yes, Daddy!" mumbled Zach, his mouth full of Blake's hard cock.
"Ah fuck, boy, I'm going to wreck your cunt like I did your buddy Steve…." snarled Blake, grabbing Zach and bending him over the sofa, giving the boy's bubble butt a firm smack, leaving a nice red handprint on Zach's ass. Blake spread Zach's ass cheeks apart and buried his face in his sweet puckered boy-hole.
"Damn, boy, you taste good!" growled Blake,as he buried his face again in Zach's ass.
"Oh fuck, daddy, that feels so fucking hot!" gasped Zach.
"You ready for daddy's cock, boy?" grunted Blake.
"Yes, daddy…" nodded Zach, wiggling his hungry ass towards Blake.
Blake grabbed a big glob of lube from a tube in one of his desk drawers, lubed his cock up, placed his huge purple cock-head at the opening of Zach's fuck-hole. He could see Zach's boy hole puckered with anticipation, finally going to get that daddy cock that it had been craving. Blake placed his hands on Zach's shoulders and slammed his lubed cock in with one thrust.
"Whoa! Oh shit! Damn!" grunted Zach. "Fuck me, daddy!"
"Good boy…" grunted Blake, slamming his cock in and out of Zach with intensity. Sweat rolled down Blake's hairy chest, mixing with the lube being shoved into Zach's ass.
With his cock still embedded in the boy's fuck-hole, Blake picked Zach up and walked them both over to his desk, clearing it off with a brush of his hand before laying Zach down on his back, and then resuming his punishing fuck-down. Zach wrapped his legs around Blake's body as Blake ran his big hands all over Zach's chest, Zach moaned louder as Blake pinched his nipples and worked them over good. Blake wrapped his strong arms around Zach and lifted him up off the desk, bouncing Zach up and down on his cock.
"Can I cum, Daddy?" Zach begged, unable to take much more of the pleasure that Blake's thick cock was giving him.
"Yes, boy…" growled Blake. Show Daddy what you got, because you're about to be bred good…"
"Aw fuck yeah!" grunted Zach, arching his back as he blew a huge load of cum all over his sweat-covered chest. After Blake saw the load Zach had sprayed all over his chest, he was ready to breed the boy's ass.
"Get ready, you little fucker…" growled Blake. "You're going to get a big load of daddy-seed — just like your brother did!"
Zach's ass was flooded with daddy seed as Blake deposited load after load.
"Aw, take all of Daddy's seed, you fucking slut!" Blake yelled.
Blake put Zach back on the desk, he got down and lapped up a big load on his tongue from the cum dripping out of Zach's ass. Blake then crawled on top of Zach and dropped the cum into Zach's mouth.
"There, now you're my boy…" growled Blake.
"Mmm…" was all Zach could mutter, as he lay there next to his daddy, exhausted.
Can I call you Uncle?
Can I Call You Uncle? is the first in the Coyote Tales series of erotic gay fiction written by Coyote and Gareth Johnson.
We're currently serialising the story. This is the 12th instalment — read earlier episodes here.
We want to hear your opinion
River Wilson is changing the narrative
"People are into the idea of seeing me naked…"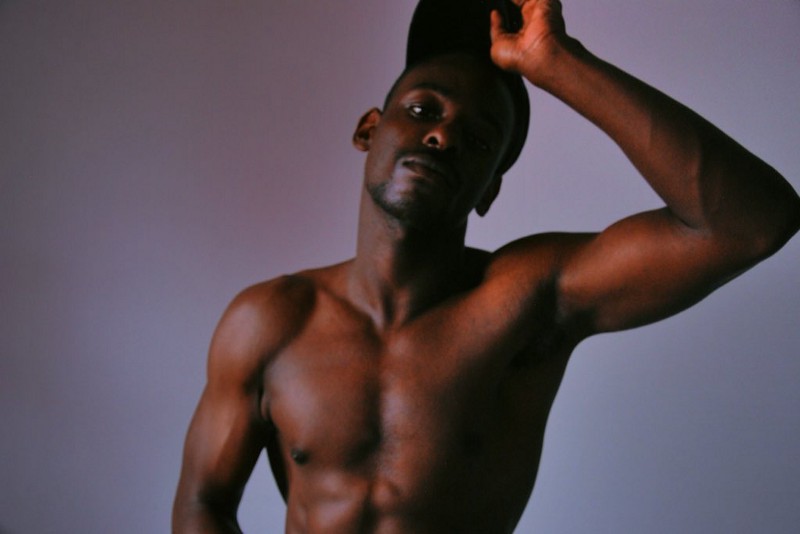 I caught up with River Wilson to talk heroes, underwear, and house-sitting.
What led you to start exploring a career in porn?
My curiosity for sex. I've always been fascinated with this world, so when I was old enough I started doing some research about the industry. After I gathered all the info I needed and felt comfortable, I started the steps to get in.
Would you describe yourself as an exhibitionist?
Not really, I always see the worst in my body, but find it interesting that people are into the idea of seeing me naked — I fake that confidence until I can get to a place where that energy of acceptance goes through my entire body.
Who are some of your porn heroes or inspirations?
I don't think I have porn heroes. I definitively have people inspiring me to want more and to change the narrative already written for a young black man of colour in a place ready to put me in a box.
The Housesitter looks like a great production — how did that project come about?
I was having dinner with my dear friend — J of Socalled — about films, erotica, the industry, and he told me about a project he did back then at Cinema L'amour with a movie by Toby Ross. I thought it was an amazing perspective, so that night we decided to try to make our own production and see where it would go.
Is this the first film that you've produced?
It was a lot of work, but so worth it and I'm planning on doing it again for another project. Figuring out the casting and raising the money were the two challenges that almost got me questioning the whole thing, but then I was inspired and determined so I had to double the work.
Can we talk underwear?
I love wearing boxers — I find them most comfortable, and I'm all about comfort. For the gym, I prefer briefs — especially when I do squats. On other guys, I love them in boxer briefs because then I can see their butt well.
What are some of your goals and ambitions for the months ahead?
I'd love to get into acting and production more — if I can combine it with porn and erotica, then great. In that same breath, I'd also love to be more artistic with these visions.
Follow River Wilson on Twitter