Part 8
Zach finished cleaning up after breakfast and headed down the hall. While passing the guys' bedroom he noticed the door was half-open. He was curious so he peeked through the open door. Zach heard the shower going, so he knew he had a few minutes to look around. He noticed Blake's underwear on the floor. As he reached down to pick them up and smell them, he heard the shower shut off. Not wanting to get caught, Zach quickly rushed back to his room and shut the door.
Zach fell onto the bed, he couldn't believe he had Blake's boxers in his hand. He started to examine them and noticed they were wet.
"Holy fuck! Blake must have shot his load before his shower…" muttered Zach, his fingers confirming the unmistakable consistency of a fresh load of cum. The thought of Blake's fresh load in his hand got Zach's cock rock-hard instantly. Zach ripped off his gym shorts and began to stroke his cock. He took the boxers and tasted Blake's load. The taste sent Zach over the edge. He began to shoot nice thick gobs of cum all over himself. Zach used Blake's boxers to wipe up his fresh load, mixing their cum together.
After his shower, Zach grabbed a towel and dried himself off. As he was trying to tame his hair, he realised that he didn't have any more hair gel.
"I wonder if the guys have any I can borrow?" Zach said to himself. He wrapped a towel around his waist and went to see if he could find Blake to ask him.
"Blake, are you in there?" said Zach, loudly directing his question to the closed bedroom door.
"Down here, Zach!" shouted Blake, from the spare room down the end of the hall that had been converted into Blake's photography studio.
"Hey, buddy, welcome to my studio!" grinned Blake, admiring Zach's body. "What's with the towel?"
"I ran out of hair gel and was wondering if I could borrow some from you guys?" asked Zach. "Wow — cool photos! I love this black and white series! "
"Thanks!" grinned Blake, flattered by Zach's praise. "I usually do landscape photography, but lately I've been venturing out and doing portraits. Here's one I did of a couple of college guys that modeled for me recently…"
"I love how you captured their bodies…" admired Zach.
"They were a couple of hotties…" winked Blake. "Very easy on the eye, and very easy to work with."
"Could I model for you sometime?" suggested Zach.
"Sure, we can do a short one today, if you like?" shrugged Blake.
"What's this framed piece behind here?" asked Zach, reaching around some light stands and other camera equipment.
"Let me help you with that…" offered Blake, moving in behind Zach to help lift the heavy portrait. Zach stumbled, and Blake instinctively reached out and put his hands on Zach's waist to help him regain his balance. In the process, Zach's towel fell to the floor, exposing Zach's perfect bubble butt. Zach turned around. Blake's hands were still on Zach's waist just inches from his cock. Blake looked down and took in the size of Zach's cock and balls before bending down to retrieve Zach's towel from the floor.
"Yikes! Sorry about that…" apologised Zach, taking the towel but not making much of an attempt to conceal his nakedness "Let me go get dressed and then I can model for you — unless you want me to model nude?"
"Ah, maybe go grab some clothes and then we can talk about the scene…" said Blake, not wanting to totally dismiss the idea of Zach modeling nude but also not wanting to seem too eager.
"Sure, be right back…" grinned Zach.
Staring at Zach's ass as he watched him walk out of the studio, Blake realised that he was quickly losing his self-control around Zach.
"Hey, Zach…" said Blake. "Can we do this tonight? I forgot that I have to meet a buddy at the gym, I owe him a work out."
"Sure, no problem…" replied Zach, a little confused by Blake's sudden change of plans.
Blake pulled into the gym parking lot and was relieved when he saw Steve's black Ford truck parked in the lot. Blake's cock began to swell in anticipation of another fuck-down with Steve. As he walked into the gym, Blake saw Steve heading into the locker-room.
"Ready for round two?" asked Blake, walking up behind Steve and placing a firm hand on his shoulder.
"I thought you said it was a one-time thing?" grinned Steve.
"Do you want to talk about it, or do you want my hard cock in your cunt?" growled Blake.
"You're the boss, Daddy…" winked Steve. "My cunt is yours whenever you want it…"
Can I call you Uncle?
Can I Call You Uncle? is the first in the Coyote Tales series of erotic gay fiction written by Coyote and Gareth Johnson.
We're currently serialising the story. This is the eighth instalment — read earlier episodes here.
We want to hear your opinion
Word of the Day: Chacal
Travelling to Mexico City? Add this to your vocabulary.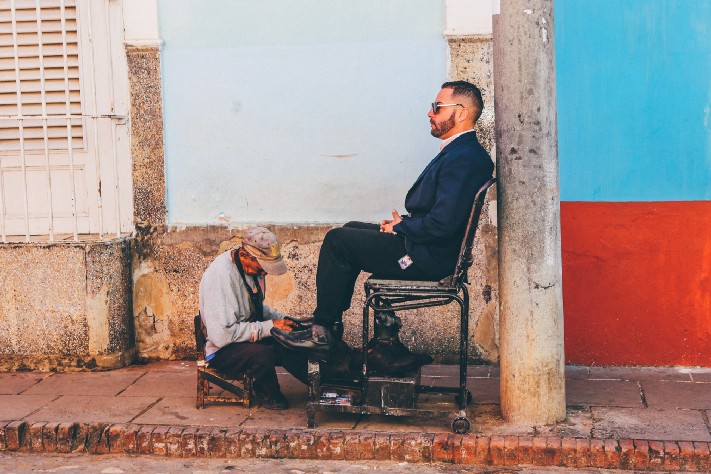 Chacal is a term used in Mexico City — it describes a masculine guy who fucks other guys. A rough top.
The Urban Dictionary helpfully shows how to use the term Chacal in a sentence: "Total bottoms love chacales…"
Let's put to one side for the moment the ridiculous labelling as anyone as a 'total bottom' — just because a guy enjoys a bit of anal play doesn't define his identity — but you get the idea.
In some ways, Chacal is the Mexican version of Masc4Masc — but Latino culture has a complicated obsession with all things macho. In places like Mexico City, your identity as a man, your masculinity, is defined by how you project a macho image to the world. Being gay isn't easily reconciled with being macho. The chacales are trying to have it both ways — projecting an uber-macho image to the world, and totally getting off on having sex with guys.
In the interests of cross-cultural investigative research, here's some examples of guys who seem to me to be channelling a bit of the Chacal vibe.
Chacal. It's our word of the day.