Not all underwear is equal — there is a time and a place for everything. Never is that more true than when it comes to sport.
Different sports require different types of movement, they have different styles of sports kit, some sports involve body contact, others don't. It's logical that the style of underwear that you wear for one sport may be completely inappropriate when it comes to another.
Let's take a look at some key styles of underwear and see if we can match them up with the relevant sports.
Briefs
Briefs seem to be favoured by football players, squash, badminton, and tennis players.
This is a style of underwear designed to let your body move, keeping your cock and balls snug and supported, but not offering any real protection.
Inevitably, your briefs are going to get sweaty, but that's part of what makes the after-match showers such a highlight.
"At the gym, I wear briefs — because I sweat a lot…" Dani Robles
#gaymen #gay #gaysport #gaygranada #gayspain #grupogay #grupoprivadogay #gaygroup #Gaymuscledmen #granadagay @AlbertGayXXX
es hora de jugar pic.twitter.com/GEwWXak2mj

— AlbertGayXXX (@AlbertGayXXX) April 30, 2018
Boxer Brief
Hockey probably needs more investigation, as it's a sport where the players seem to be fairly versatile. There's a lot of running involved in hockey, so the right pair of boxer briefs could be the answer.
"I'm slightly odd because I'm the goalkeeper in the hockey team. I wear a full set of body armour and padding and usually just wear boxer briefs…" — Tom Simpson, London Royals
MakesMe #horny, #fetish, #bulge #bulto #paquete, #hung, #spandex, #lycra, #muscle #hunk, #sportbulge, #hot, #gay pic.twitter.com/K6G1o2j5Rr

— Bulge_lover (@Bulge_lover) November 10, 2013
Boxers
Old-school boxers give you comfort and help to keep their air flowing around your body.
This style of underwear is best suited for those sports that don't require any sudden movements — sports such as golf, darts, or archery.
"There isn't really any specific golf underwear. I just wear my running stuff so standard Under Armour classic boxers or Under Armour compression shorts…" — Andrew Graves, Irons Golf
Oh my! Come bob my sleigh any time! #bulge #bulgealert #bultos @bulgespotter @bulgealert #vpl #lycra #lycrabulge #athletics #PeyongChang2018 #WinterOlympics2018 #bobsleigh #fitmen #sexyguys #hotguys pic.twitter.com/8MCUimNweP

— Astril Tifs (@firstilast) March 3, 2018
Jockstrap
The jockstrap is the classic piece of sports kit that we've all adopted as one of our favourite styles of underwear. Although initially invented for the bike couriers of Boston, it's the sport of American football that has really helped to elevate the jockstrap to an iconic style of underwear.
This is a style of underwear for a sport that involves body contact, where the jockstrap can provide some sort of protection to your cock and balls. Rugby, or Australian Rules Football are the obvious choices.
Jockstraps are also designed to be able to hold a protective cup — ideal for sports such as boxing, cricket, hockey, or lacrosse.
"I tend to wear boxers, but really you just play in whatever's comfortable for you. One guy wears a jock, most others just boxer briefs. It's not a big thing really…" — Stuart Forward, London Titans
Non chéri ne pars pas ! Tu restes avec moi !!! #AmourVache #RugbyTonight #Rugbymen #RugbyAss #RugbymenCulsTesticules pic.twitter.com/NcI5g7i6Il

— Latac 🇫🇷🇪🇺🏳️‍🌈 (@Alattaque) December 31, 2015
Thong
It's not immediately apparent which sports would lend themselves to wearing a thong. While dancers have created their own version of the thong with the dance belt, it's probably your more sedentary sports that require thinking not movement, where the intimate fit of a thong might help you to keep your mind on the game. We're thinking chess, poker, or darts.
"On Twitter, I always get involved in #ThongThursday…" — Dick Baker
bulge at gym #teamgay #gymbulge #sportbulge at https://t.co/aC7MZJBQBy pic.twitter.com/l0KRSHOqEV

— bisex and sports … (@menandsports) April 29, 2017
Commando
Cycling is all about the lycra, and those shorts come with in-built padding so commando is the only option.
Greco-Roman wrestling is of interest specifically because of the skin-tight lycra singlets that the wrestlers wear, making it clear that everyone goes commando when wrestling.
Swimming is another sport where underwear is obviously completely superfluous. Nothing says streamlined speed better than a super-tight pair of lycra swim-briefs.
Rowing requires a smoothness of movement that can only be achieved with a skin-tight lycra singlet and no underwear.
"Cyclists have to wear lycra shorts which are padded heavily and can't wear underwear…" — Nasser Tell, Cycle Out
#SportBulge pic.twitter.com/KTGtx0Dr

— Inter (@GrardoCL) January 22, 2013
enjoy this #gaysport pictures from my all free #gayblog pic.twitter.com/t3YsnqHami

— bisex and sports … (@menandsports) March 28, 2018
We want to hear your opinion
Sweat, sex, and sports socks.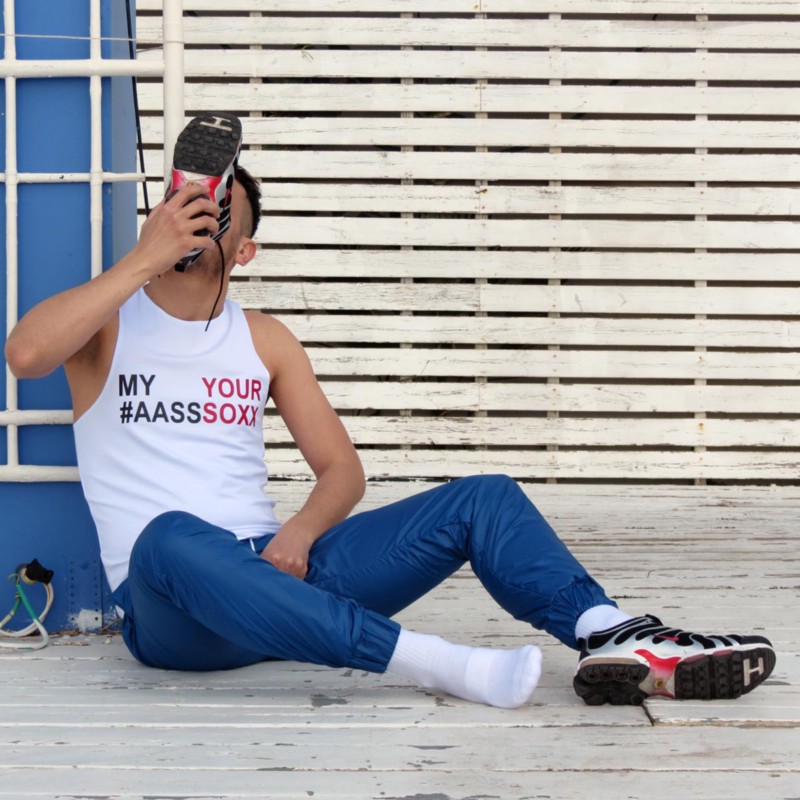 I caught up with Matt, co-owner of Polish sports-fetish brand #AASSSOXX, to talk sport, sex, and socks.
When did you establish the #AASSSOXX brand?
I met Slawek at the beginning of 2017. It started as usual — Grindr, fetish, sex and finally love — what we have now is amazing! We work together and we have our own clothing brand.
Everything was possible because there was also another thing that we have in common — a passion for fashion. Slawek started designing clothes years ago, he was constructing male clothes. I always tried to sew something at home.
So, starting from an inspiration of gear and clothes to have sex in and play with, we started designing, creating, and sewing a collection.
Our debut fashion show was during the finals of Mister Gay Poland 2017.
What makes sports gear sexy?
Picture this — there's a guy standing before you, he's just finished his workout, his sweaty shirt is highlighting every muscle in his chest and abs, his shorts are slightly revealing this one and only shape, and on top of that, white socks contrasting with his dark-haired legs. This is just everything that's the best!
Sports gear is synonymous with a perfect body, muscles, a masculine smell, power, domination. It's the quintessence of testosterone.
Have you always had a sportswear fetish?
Forever. It probably began in the high-school locker-room. It's not surprising really, you're young, your hormones are boiling, and you're in the locker-room sitting with your classmates after gym — everyone is naked or nearly naked, you can watch their bodies, you can smell how sweaty they are.
You want to have sex with them, but you know you can't, you know that you'll never be able to do anything with them. So, you wait — you wait until you're alone, and you can just smell the socks and boxers that are lying around everywhere.
A total turn-on.
Who are the guys who buy your products?
They're guys just like us — guys who are totally into sports socks. Everything we do is authentic. All of the clothes that we create have to turn us on before we will include them in our collection. We're the models in our almost-explicit fetish photo-shoots.
#AASSSOXX is the first Polish LGBTQ clothing brand. We want to expland — as well as sportswear, we want to create casual clothes for all LGBTQ people, not just guys who have a sportswear fetish.
Our newest, most versatile collection is called Pride — we'll be presenting this at the Mr Gay Europe 2018 event, which will be held in Poland.
Which are your most popular products?
Our ultimate best-sellers are the KINKY Pants and the KINKY shorts. I'm not surprised that these are so popular — when Slawek first saw the fabric, he just went crazy about it!
We're very proud that almost every piece of clothing — the fabric, the design, the construction — is made by us in our small but growing workshop. It's 'almost' because we can't make the socks ourselves — you need a really huge machine to make them, so our socks are made for us by one of the best manufacturers of sport socks in Poland.
Which famous sportsman or celebrity would you like to dress in #AASSSOXX gear?
The biggest celebrity who wears these clothes everyday is my boyfriend. But knowing him, he would choose Zayn Malik or David Beckham — luckily for me, they're both unavailable.
Dressing them is one thing, obviously we'd have to start by taking some measurements…