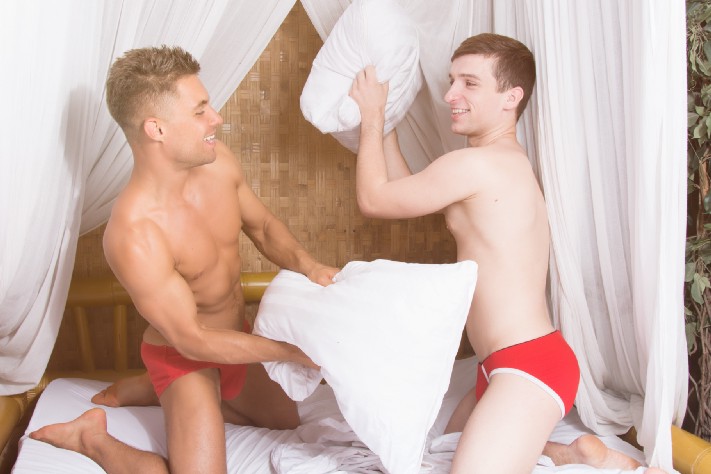 Which style of underwear should I wear?
If you're playing sport, your choice of underwear matters.
Not all underwear is equal — there is a time and a place for everything. Never is that more true than when it comes to sport.
Different sports require different types of movement, they have different styles of sports kit — some sports involve body contact, others don't. It's logical that the style of underwear that you wear for one sport may be completely inappropriate when it comes to another.
Let's take a look at some key styles of underwear and see if we can match them up with the relevant sports.
Briefs seem to be favoured by football players, squash, badminton, and tennis players.
This is a style of underwear designed to let your body move, keeping your cock and balls snug and supported, but not offering any real protection.
Inevitably, your briefs are going to get sweaty, but that's part of what makes the after-match showers such a highlight.
"At the gym, I wear briefs — because I sweat a lot…" Dani Robles
Hockey probably needs more investigation, as it's a sport where the players seem to be fairly versatile. There's a lot of running involved in hockey, so the right pair of boxer briefs could be the answer.
"I'm slightly odd because I'm the goalkeeper in the hockey team. I wear a full set of body armour and padding and usually just wear boxer briefs…" — Tom Simpson, London Royals
Old-school boxers give you comfort and help to keep their air flowing around your body.
This style of underwear is best suited for those sports that don't require any sudden movements — sports such as golf, darts, or archery.
"There isn't really any specific golf underwear. I just wear my running stuff so standard Under Armour classic boxers or Under Armour compression shorts…" — Andrew Graves, Irons Golf
The jockstrap is the classic piece of sports kit that we've all adopted as one of our favourite styles of underwear. Although initially invented for the bike couriers of Boston, it's the sport of American football that has really helped to elevate the jockstrap to an iconic style of underwear.
This is a style of underwear for a sport that involves body contact — the design of the jockstrap provides some sort of protection to your cock and balls. Rugby, or Australian Rules Football are obvious choices for sports where the jockstrap should be your go-to underwear option.
Jockstraps are also designed to be able to hold a protective cup — ideal for sports such as boxing, cricket, hockey, or lacrosse.
"I tend to wear boxers, but really you just play in whatever's comfortable for you. One guy wears a jock, most others just boxer briefs. It's not a big thing really…" — Stuart Forward, London Titans
It's not immediately apparent which sports would lend themselves to wearing a thong. While dancers have created their own version of the thong with the dance belt, it's probably your more sedentary sports that require thinking not movement, where the intimate fit of a thong might help you to keep your mind on the game. I'm thinking chess, poker, or darts.
"On Twitter, I always get involved in #ThongThursday…" — Dick Baker
Cycling is all about the lycra — those shorts come with in-built padding, so commando is the only option.
Greco-Roman wrestling is of interest specifically because of the skin-tight lycra singlets that the wrestlers wear, making it clear that everyone goes commando when wrestling.
Swimming is another sport where underwear is obviously completely superfluous. Nothing says streamlined speed better than a super-tight pair of lycra swim-briefs.
Rowing requires a smoothness of movement that can only be achieved with a skin-tight lycra singlet and no underwear.
"Cyclists have to wear lycra shorts which are padded heavily and can't wear underwear…" — Nasser Tell, Cycle Out
We want to hear your opinion
Lads in lace for L'Homme Invisible
The Anapos Line of underwear and club-wear takes masculinity in an exciting direction.
French fashion brand L'Homme Invisible has released a new campaign for its Anapos Line. This underwear and club-wear collection is made from striking blue fabric featuring organic shapes that evoke the waves of the ocean.
This collection includes three underwear styles and a t-shirt. The Anapos underwear comes in String Striptease, Slip Sexy Back, and V Shorty Push-up.
All styles are lined with a lightweight, semi-transparent, super-soft fabric in beige colour. This protective fabric lets your skin shine through the transparent lace while the contoured pouch draws attention to where you want it.
The T-shirt is made from the same fabric to match the underwear, and features a V-neck in black trim. This tee can be worn as a set with the underwear, but also for a night out if you want to add some colour to your ensemble.
The campaign was photographed in New York. The model is Philip Fusco.
The Anapos collection of L'Homme Invisible is available online and from specialist retailers.