In the interests of investigative journalism, we spoke to some of our favourite gay porn stars and asked them about their underwear.
"I love jockstraps — that's what I wear just for day-to-day casual. At the gym I wear briefs, because I sweat a lot. On other guys, I like to see them wearing jockstraps — it's very sensual, it says 'catch me…'"
"I usually wear briefs or boxers for any occasion, even at the gym. I like wearing thongs or jockstraps when I'm hooking-up with someone. On other guys, I like briefs or trunks, but it doesn't really matter because I love to jump on what's underneath! I really care about the outfit — shirts and suits really turn me on — but I'm not paying that much attention to their underwear."
"I love jocks, they're so sexy. I love wearing them, and I love seeing guys wearing them."
"When I'm in the gym, I wear a slip or briefs. After my workout, when I'm getting changed in the locker-room, I really like smelling my sweat on my underwear. Sometimes I get an opportunity to smell the sweaty underwear of a guy who's getting changed near me, sometimes I'll leave my cum on his underwear to let him know how much I've enjoyed them.
On other guys, I really like it when they go commando. It feels so exciting if I'm in a bar, or the gym, or a market and I realise that a guy close to me isn't wearing underwear. It makes me horny because I assume that they're advertising that they're always ready.
I also really like wearing swimwear instead of underwear. I like the feel of swimwear, and if it gets wet with cum then it dries really quickly."
"I don't wear underwear, like, at all. Unless I really have to, maybe with dress pants in a formal or business setting so that my junk isn't on full display. In terms of what I like on other guys, I love a sexy jock on a smooth muscle bottom — you can't beat that."
"Always jockstraps! A nice, classic mesh pouch with a little musk on it and a thin waistband is my all-time favourite. If I absolutely have to cover my ass, I love a button-fly, pleat-fronted boxer. I love to swap skivvies with other boys, so I'm not picky about what I pick up off the bedroom floor."
"I'm actually a commando kind of lad. Recently, I have started wearing jocks in the gym, because commando in sweats is just a bit too revealing. I have to admit, wearing a jock in the gym is so fucking sexual — especially when doing squats. Otherwise, I'm an old-school boxers guy — like CKs, or Tommy Hilfiger."
We want to hear your opinion
Word of the Day: Chacal
Travelling to Mexico City? Add this to your vocabulary.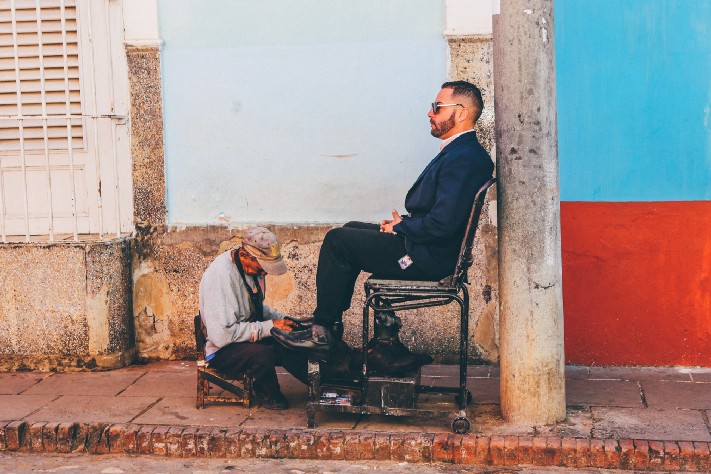 Chacal is a term used in Mexico City — it describes a masculine guy who fucks other guys. A rough top.
The Urban Dictionary helpfully shows how to use the term Chacal in a sentence: "Total bottoms love chacales…"
Let's put to one side for the moment the ridiculous labelling as anyone as a 'total bottom' — just because a guy enjoys a bit of anal play doesn't define his identity — but you get the idea.
In some ways, Chacal is the Mexican version of Masc4Masc — but Latino culture has a complicated obsession with all things macho. In places like Mexico City, your identity as a man, your masculinity, is defined by how you project a macho image to the world. Being gay isn't easily reconciled with being macho. The chacales are trying to have it both ways — projecting an uber-macho image to the world, and totally getting off on having sex with guys.
In the interests of cross-cultural investigative research, here's some examples of guys who seem to me to be channelling a bit of the Chacal vibe.
Chacal. It's our word of the day.