In the interests of investigative journalism, we spoke to some of our favourite gay porn stars and asked them about their underwear.
"I like sexy but discreet underwear. I go for white underwear if possible, because I associate white with hygiene and purity. I don't like jockstraps or anything like that, although I'll often wear them for work when I'm filming or performing live."
"I prefer boxers, or loose and comfortable briefs. At the gym I definitely wear no underwear. I sweat a lot, and I like my dick shaking right to left when I walk — since there's mostly gays at the gym, we all stay happy. On other guys, I like them in jockstrap, to start."
"In my day-to-day I wear slips or jockstraps. When I go to the gym I prefer to wear jockstraps or just go commando — I like the guys to see me showing off my cock while I'm working out. On other guys, I'm very excited by jockstraps. I always like a good ass with a good jockstrap — if you're down the street and you feel like playing a bit, it's easier with a jockstrap."
"I like a good brief, and can often be found in a cute Marco Marco situation. At the gym, I typically wear more of a boxer brief — I wear short shorts at the gym and have had a few slips, so I try to keep it all tucked-in now. On other guys, I appreciate a nice jock strap, cute briefs, and your classic boxer brief style. I like the type of underwear that will end up on my bedroom floor."
"I always wear boxers. I like Calvin Klein, but I wear Hollister most of the time. I also prefer guys in boxers, I'm not into jockstraps or briefs."
"I like wearing briefs. They're just so comfy to me, and make me feel sexy. I also like it when other other guys wear briefs, especially when there's a nice bulge involved."
"I love wearing boxers — I find them most comfortable, and I'm all about comfort. For the gym, I prefer briefs — especially when I do squats. On other guys, I love them in boxer briefs because then I can see their butt well."
"I wear it all — jocks, thongs, briefs, leather, neoprene — you name it, I have it and wear it. My underwear drawer recently fell through my closet because it was so heavy. I'm not a big fan of the oversized classic striped straight underwear, but as long as a man wears underwear then I'm fine with it. If he invests a moment to think his underwear game through, I'm heated up. If he buys the sexy brands, I'm on it!"
We want to hear your opinion
Word of the Day: Chacal
Travelling to Mexico City? Add this to your vocabulary.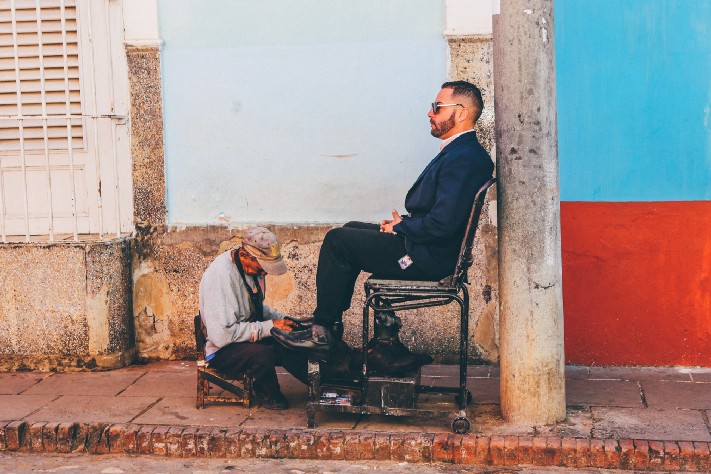 Chacal is a term used in Mexico City — it describes a masculine guy who fucks other guys. A rough top.
The Urban Dictionary helpfully shows how to use the term Chacal in a sentence: "Total bottoms love chacales…"
Let's put to one side for the moment the ridiculous labelling as anyone as a 'total bottom' — just because a guy enjoys a bit of anal play doesn't define his identity — but you get the idea.
In some ways, Chacal is the Mexican version of Masc4Masc — but Latino culture has a complicated obsession with all things macho. In places like Mexico City, your identity as a man, your masculinity, is defined by how you project a macho image to the world. Being gay isn't easily reconciled with being macho. The chacales are trying to have it both ways — projecting an uber-macho image to the world, and totally getting off on having sex with guys.
In the interests of cross-cultural investigative research, here's some examples of guys who seem to me to be channelling a bit of the Chacal vibe.
Chacal. It's our word of the day.