In the interests of investigative journalism, we spoke to some of our favourite gay porn stars and asked them about their underwear.
"I love underwear! I live in just underwear — unless I have to be social and leave the house. I must have over a thousand pairs at home. From briefs, tangas, and boxer shorts, to jocks and thongs. I usually wear loose boxer shorts around the house, so everything stays breezy during the summer — especially in shorts. Although I recently started to love jocks and thongs on me — it makes me feel sexier."
"At the gym, I adapt my underwear according to what I'm wearing. Commando with loose longer shorts, jocks with short shorts, and thongs with compression pants. I don't like to see the underwear mark in compression pants."
"On other guys, I'm pretty flexible as long as it's not something a teenager could wear, or old and ripped. Being a grown-up means having new and clean undies! If the guy has a nice bum, a jock is ideal, a thong can also be very hot. I do love my JJ Malibu and Versace underwear."
"I like really boyish underwear. I like my boxers quite loose because I get itchy balls. I love McKenzie, and Puma. I wear exactly the same underwear to the gym as I do for day-to-day stuff."
"I like other guys in jockstraps, and I definitely prefer boxers to briefs — although some of the designer underwear brands that some of these models wear do look good in their pictures and are hot."
"Lately I've fallen in love with G-Strings. I can't stop wearing them. This summer is dedicated to wearing G-strings as much as I can. I love getting fucked in a G, having the guy just pull the string to the side as he slides his huge cock in — turns me on."
"As for the gym, I actually don't wear underwear that often, but when I do it's old trashy briefs that get nice and sweaty."
"The kind of underwear I prefer on other guys really depends on the guy. I love making a power-top wear my G-strings, and of course seeing a juicy big ass in a jock always makes me rock hard."
Having founded the Guys In Sweatpants studio, Austin Wilde has consistently demonstrated that he's just as skilled behind the camera as he is in front of it.
According to Austin, when his only option is an old pair of Fruit of the Loom boxers, then it's definitely laundry day.
Fruit of the Loom is Latin for "its time to do laundry" #TheMoreYouKnow pic.twitter.com/2l0SsN6bii

— Austin (@AustinWilde) April 8, 2018
Carter Dane is one of the stars of the Cockyboys studio. He was a professional dancer before starting to explore his porn career. Carter's favourite underwear? Jockstraps, obviously.
Treat yourself after this long, hard week😉. On the desert menu tonight we have a serving of bootyliscious cake on a @garconmodel platter with a side of cream😘
Enjoy!😇#FridayFeeling #FridayMotivation pic.twitter.com/oubKqUJy0f

— Carter Dane~Official (@_CARTERDANE) May 25, 2018
We want to hear your opinion
Word of the Day: Chacal
Travelling to Mexico City? Add this to your vocabulary.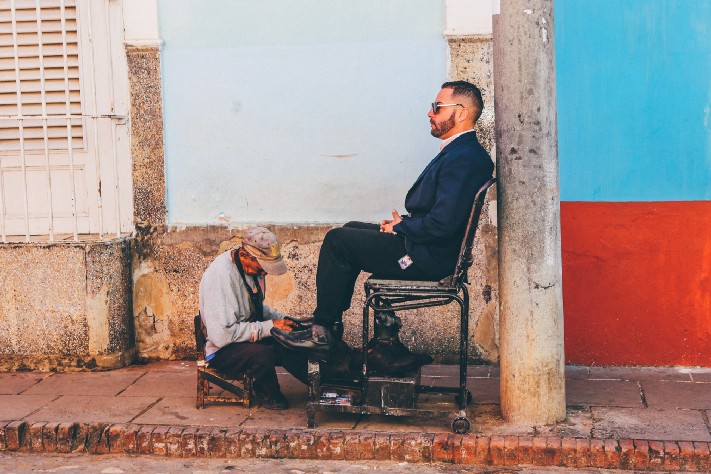 Chacal is a term used in Mexico City — it describes a masculine guy who fucks other guys. A rough top.
The Urban Dictionary helpfully shows how to use the term Chacal in a sentence: "Total bottoms love chacales…"
Let's put to one side for the moment the ridiculous labelling as anyone as a 'total bottom' — just because a guy enjoys a bit of anal play doesn't define his identity — but you get the idea.
In some ways, Chacal is the Mexican version of Masc4Masc — but Latino culture has a complicated obsession with all things macho. In places like Mexico City, your identity as a man, your masculinity, is defined by how you project a macho image to the world. Being gay isn't easily reconciled with being macho. The chacales are trying to have it both ways — projecting an uber-macho image to the world, and totally getting off on having sex with guys.
In the interests of cross-cultural investigative research, here's some examples of guys who seem to me to be channelling a bit of the Chacal vibe.
Chacal. It's our word of the day.