By Lionel Hierso - LH Travel Designer
When to go
What is the perfect gay holiday destination in central America? A lot of people would answer that question with two words, Costa Rica.
There are many reasons why this beautiful country is an ideal destination for your holiday.
The best time to go there is between mid December to the end of April during the dry season.
Located between the Pacific Ocean and the Caribbean Sea, Costa Rica is the most visited nation in the Central American region. It is a peaceful country blessed with an ideal climate all year around and offers a quality of life unparalleled in the Western Hemisphere.
Friendly Costa Ricans will greet you with a smile and the words, "Pura Vida!" – "the pure life!".
Costa Rica is also one of the most bio-diverse nation in the world, and a pioneer in ecotourism. More than 25% of Costa Rica's territories are protected as easily accessible Conservation Areas and National Parks.
Two oceans, endless beaches, mystic rainforests, enchanting cloud forests, active volcanoes, stunning waterfalls, relaxing hot springs, winding rivers, exciting river rapids, picturesque villages, romantic sunsets, and a tropical year around climate, all combine to make Costa Rica the most magical gay destination you will ever experience.
Dating
Costa Rica is without a doubt the perfect country in central America to meet new friends and have fun. Here are a few places you cannot miss while you are there.
La Avispa Discoteque or Bochinche Bar or Puchos Strip Club in San Jose City
Club Karma in Manuel Antonio Beach
Gay Saunas and Gay massage – there are some options in San Jose City
Some places offer escort services and private massages
Accommodation
Many people are looking for a holiday where they can rest and relax. Costa Rican luxury gay-friendly resorts are waiting to indulge your desires. Wellness spas and retreats are available to pamper you. You can lounge on a beach, relax by a pool with a cocktail, or play around on world class golf courses.
Gay-friendly hotels and rustic lodges are available to fit any budget, and lots of private luxury villas or million dollar mansions are available for those who can afford it.
Best Western San Jose City or Colours Oasis Resort
Hotel Villa Roca, Hotel Vela Bar, La Foresta Resort, Hotel Mono Azul, Hotel Gaia or Hotel San Bada in Manuel Antonio Beach
Hotel Vista Ballena in Uvita Beach
Arenal Springs Resort, Baldi Springs Resort, Tabacon Resort, The Springs Resort, or Arenal Nayara in La Fortuna
Club del Mar Resort or Hotel Villa Lapas in Jaco Beach
Hotel El Establo en Monteverde
Tortuguero Lodge or Mawamba Lodge in Tortuguero Canals
Hotel Suria o Trogon Lodge in Savegre
What to do
Private tour in Carara National Park or Manuel Antonio National Park or Arenal Volcano National Park or La Fortuna Waterfall or Poas Volcano National Park or La Paz Waterfall Gardens
Mi Cafecito Coffee Tour or DOKA Coffee Tour
Visit to Nauyaca Waterfalls
Titi Canopy Tour or Los Suenos Canopy Tour
Gay sunset cruise in Manuel Antonio Bay
Sunset Cruise in Flamingo Beach or Tamarindo Beach
White Water Rafting in Manuel Antonio Beach or La Fortuna
ATV Rides in Manuel Antonio Beach or Jaco Beach or La Fortuna or Flamingo Beach
Sea Kayaking or Scuba Diving or Sport Fishing in Manuel Antonio Beach or Flamingo Beach or Jaco Beach
Sky Trek, Sky Walk or Aerial Tram in La Fortuna or Monteverde
Bungee Jumping, Zip lining and Hiking in Monteverde
Whatever you desire that can be found in a pre-arranged Itinerary or a customized Costa Rican holiday package organized. Feel free to contact me for more information and book your next unforgettable holiday.
Contact Lionel Hierso - LH Travel Designer to start planning your next expedition or [email protected]
We want to hear your opinion
Travel Tuesday: South West France
Should you be adding this destination to your travel wish-list?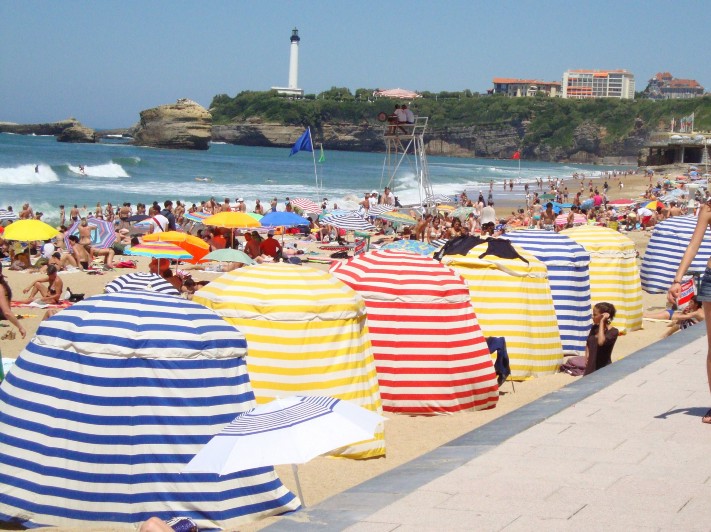 By Lionel Hierso — LH Travel Designer
In today's Travel Tuesday destination guide, we take a look at the South West region of France.
When to go
The South of France is a region where you can go all year long. From the ocean to the inland, you can really enjoy discovering this amazing part of France.
Dating
The main cities of this region are Bordeaux, Toulouse, Bayonne, Carcassone, Arcachon, Biarritz, Saint Jean de Luz, Albi, Hossegor, Pau, Anglet, and Montauban. All of these main cities are gay friendly, and you can easily find gay bars, saunas, night clubs, cruising, restaurants, and naturist beaches.
This region also has one of France's only gay hotels — Le Stelsia is a stunning resort in the Lot et Garonne area. Perfect for a romantic mini-break.
Accommodation
One of the main place to visit the south oust of France is the Lot et Garonne, not far from Bordeaux and Toulouse. I recommend to stay at the stunning gay-friendly hotel Le Stelsia. You can have a stunning double room including breakfast with access to the spa, swimming pool and two amazing restaurants including Michelin star gastronomic cuisine.
I can also recommend The Radisson and l'hotel du Palais in Biarritz, a stunning city close to the Spanish border.
All the hotels in this region are gay friendly.
Food
All over France you can find very good food, but especially in the south west region.
Here are the top 10 traditional food of the region.
Fois gras
Salade du sud oust
Le jambon de Bayonne
Le Pate de pomme de terre (potato pie)
Les truffes (very rare mushrooms)
Magert de Canard (duck speciality)
La piperade (marinated chicken with tomato sauce)
La garbure landaise (duck with potatoes and vegetables)
Axoa (mince marinated in tomato sauce and potato cake)
La lamproie a la bordelaise (local fish with jambon de Bayonne and chocolate)

You can ask for these specialities in all local restaurants
What to do
Mini cruises (standard or private)
Water sports
Wine and cheese tasting
Naturists sites (Les Manoques, Le Clos Barrat, Domaine Laborde)
Food tours and cuisine courses
Water and theme parks
Visit stunning monuments and castles
Visit the most famous vineyards
Surfing
Skiing
Bike rides
Horse rides
Contact Lionel Hierso — LH Travel Designer to start planning your next expedition or email [email protected]