I caught up with Danny Montero to talk about underwear, fantasies, and plans for the future.
What led you to start exploring a career in porn?
I was approached about doing porn while on a backpacking trip. At first, I thought it was a joke my friends had set up, but it turned out to be legit. At the end of the day, I thought it would be a great experience — turns out that I wasn't wrong. I've been lucky to have met some great people and have made some really good friends.
Would you describe yourself as an exhibitionist?
Not really, outside of porn I'm actually a bit shy.
What's your ultimate porn fantasy?
I know it would be really challenging, but I'd love to do a scene out in the snow.
Who are some of your porn heroes or inspirations?
There are so many! Probably the main one would be Brent Corrigan.
How do you use social media to build a following and engage with your fans?
I love to be in touch with the people that have seen me in scenes. This way, I know what they like and what they don't like in my scenes. I love my fans, and if I can improve on my performance in any way, I try. I know that you can't keep everyone happy, but it's a great way to show my fans that I hear them and care about their opinions.
Can we talk underwear?
I like wearing briefs. They're just so comfy to me, and make me feel sexy. I also like it when other other guys wear briefs, especially when there's a nice bulge involved.
What are some of your goals and ambitions for the remainder of 2018?
I have some scenes that I've just filmed that haven't been released yet, so I'm very excited about those. I'd love to do some live shows in the US, but we'll see — so far I've got some shows planned for Mexico.
Follow Danny Montero on Twitter
Follow Danny Montero on Instagram
We want to hear your opinion
Word of the Day: Chacal
Travelling to Mexico City? Add this to your vocabulary.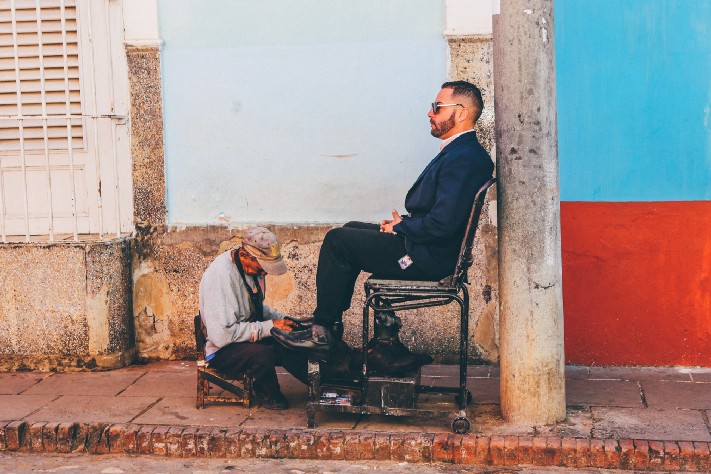 Chacal is a term used in Mexico City — it describes a masculine guy who fucks other guys. A rough top.
The Urban Dictionary helpfully shows how to use the term Chacal in a sentence: "Total bottoms love chacales…"
Let's put to one side for the moment the ridiculous labelling as anyone as a 'total bottom' — just because a guy enjoys a bit of anal play doesn't define his identity — but you get the idea.
In some ways, Chacal is the Mexican version of Masc4Masc — but Latino culture has a complicated obsession with all things macho. In places like Mexico City, your identity as a man, your masculinity, is defined by how you project a macho image to the world. Being gay isn't easily reconciled with being macho. The chacales are trying to have it both ways — projecting an uber-macho image to the world, and totally getting off on having sex with guys.
In the interests of cross-cultural investigative research, here's some examples of guys who seem to me to be channelling a bit of the Chacal vibe.
Chacal. It's our word of the day.