We needed a romantic weekend away, just me and my boyfriend Liviu. After a bit of debate and an arm-wrestle we decided on Lisbon. It was his first visit to the capital of Portugal and I was excited to be rediscovering the city.
Accommodation was an apartment that we'd booked through private rentals platform misterb&b – they're marketing specifically to gay travellers, so I felt pretty confident that we wouldn't have any dramas. It was easy enough to navigate our way from the airport, via the fast and efficient metro system to find our apartment on Rua da Oliveira ao Carmo. This turned out to be a great location — central, and within easy walking of everything that we needed.
Getting our bearings
Liviu was keen to hit the beach straight away, but this isn't Barcelona, so I instead persuaded him that a walk around the city was a good way to get our bearings.
Rattling trams and buzzing tuk-tuks are on hand if you can't quite face the multitude of steps. But if you've got the energy, this a great city for working up an appetite while walking.
There's a lot to love about Lisbon — its hilly landscape gives spectacular views across the city, the pavements of coloured stone constantly present eye-catching designs, and there's some postcard-worthy monuments that ensure plenty of selfies.
On our trek up to Castelo de Sao Jorge, we stopped at Gelato Therapy for some top-drawer ice-cream – vanilla and basil, paired with strawberry was a winning combination.
Just as our energy was starting to flag at the end of a solid afternoon of sight-seeing, we stumbled across a small bar on some steps behind Castelo de Sao Jorge that had a happy-hour on bottles of Super Bock beer. The timing couldn't have been better.
A night out
Bairro Alto is the famous area of the city where everyone goes for a drink. It was a Friday night for our first night in Lisbon. We grabbed a late dinner from one of the restaurants on the steps leading up Bairro Alto — seafood and rice , one of Lisbon's staple dishes — so great to be able to sit outside and enjoy the warm evening. It was late compared to our normal routine, but quite a normal time for dinner by local standards.
We then wandered the narrow streets of Bairro Alto to see where the action was. Our favourite bar was called Side Bar — it seemed to be the gayest, and they made great mojitos.
We were back there on the Saturday night also, and it was busier and gayer. Great fun — everyone out in the street, drinking, and soaking up the atmosphere.
The beach
While Lisbon is surrounded by water, getting to a beach requires some transportation. If you had a car, you'd make the effort to get to the famous Beach 19 on the Costa da Caparica – about 30 kms south of Lisbon. We were relying on trains, so the easiest option for us was to take the train to Carcavelos — a straightforward thirty-minute journey from Lisbon's Cais do Sodré station.
Carcavelos is a beautiful, sandy beach. It's a relaxed, family-style beach popular with locals. You would wear your short shorts rather than your low-cut speedos.
The weather was spectacular and we spent all of Saturday here, achieving some dramatic tan-lines.
Living like a local
I'm actually a terrible tourist. I don't really enjoy rushing around, trying to see things — I'm much happier just wandering around, sitting in a cafe, getting a feel for a city.
Our final day in Lisbon was a Sunday, and we decided to just go for a walk and see where it took us.
We wandered through the Praça dos Restauradores, and then up to the Miradouro de São Pedro de Alcântara where there was a summer market. After fuelling up on chorizo and sangria, we headed on up Rua Dom Pedro V where we called into seafood restaurant A Cevicheria for some pisco sours.
From there, we wandered slowly down to the waterfront and grabbed some food from the Mercado da Ribeira.
Our weekend mini-break to Lisbon had come to and end, but it's a city that we'll definitely be returning to.
We want to hear your opinion
An airstream adventure across California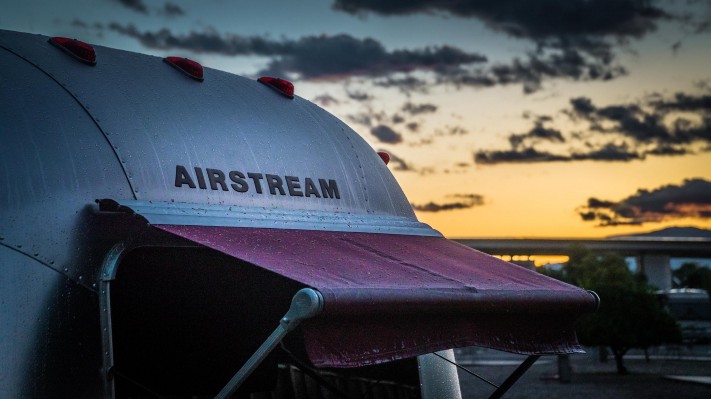 Some people may think of a caravan vacation as being a bit of a safe option, an ideal family-friendly expedition if you're not going too far from home and are just looking for somewhere with a bit of space that the kids can run around in. But, like any sort of travel experience, a caravan vacation can be whatever you choose to make it.
One of my dream vacations is to tow an Airstream caravan across the United States — visiting some of the iconic destinations, the ultimate road-trip.
Why an Airstream caravan?
The company behind the Airstream began building caravans in the late 1920s, but it was in 1936 that the classic Airstream model was first introduced to the world. Made from silver aluminium and constructed in a streamlined shape to cut down wind-resistance.
The Airstream has found a place within the world's popular culture consciousness — primarily because company founder Wally Byam began leading groups of Airstream owners on group vacations around the United States. The convoying caravans were known as Airstreamers — there is nothing quite as striking as witnesses a convoy of Airstream caravans on the move.
How to do it
Airstreams are still being manufactured at the company's factory in Ohio, but for the casual Airstreamer there are also options to hire a caravan for your expedition. California was the original home of the Airstream, and there does seem to be some sort of spiritual connection between an Airstream adventure and the wide open spaces and rugged landscapes of California and the South West of the United States.
The best time to visit this part of the world is between June and September, when you can enjoy the beaches and the great outdoor living that California offers. But the desert climate of the south-west region means that there is year-round sunshine, so you really can enjoy your Airstream caravan travels without too many restrictions.
Where to go
My dream Airstream caravan vacation is to begin from Los Angeles, driving up the coast road to Carmel and Monterey, and then cut across to Yosemite National Park.
Carmel is a small coastal artists' colony perched on a beautiful white-sand beach. Once you've parked the Airstream, everything is within walking distance as you wander around this village with its laid-back beach-side vibe.
The Monterey Bay National Marine Sanctuary features tide pools and kelp forests, which create a home for a huge range of aquatic life — you'll find sea lions, sea otters, dolphins, and humpback whales. You can go sea-kayaking to get a closer look.
Yosemite National Park covers a huge area of spectacular wilderness. The best place to start is with some hiking in Mariposa Grove, and then aim for the top of Sentinel Dome. There are climbing schools and guides available if you fancy some serious climbing.