I caught up with Tom from new dating app SoulMale to talk about how to use the technology to connect with other guys.
Why did you decide to establish SoulMale?
Currently the market is dominated by hook-up and short-term dating apps. We've got nothing against this segment of the market, and I've used these apps myself. However, there's a distinct lack of choice when it comes to gay dating apps aimed at long-term dating and relationships.
Other gay dating apps are locked behind paywalls that can ruin the user's experience. We've decided to keep all features within the app completely free for anyone to use without limits. We don't want to limit people's experience of SoulMale.
How is SoulMale different to other gay dating app that are out there?
First of all, we're a small team of two developers, myself and Myles. We both have a similar vision of creating high quality apps that provide a decent user experience. As we're such a small team, we can quickly and rapidly develop our app based on what users are looking for.
During the initial launch of SoulMale, we collected initial feedback from friends and implemented this feedback directly into the app. We'll continually do this as we grow, so our app becomes more distinct and unique from other dating apps out there. We're still a very young app and only officially launched in early September. There's a lot more to come, and we're working hard to bring out new features.
One of our favourite features currently is the global feed. This allows any user to post a message or a picture, similar to other well-known social networks. These feed posts are accessible from the user's profile, and help to provide an extra layer of getting to know someone before engaging with them.
We currently have quite a strict set of community rules that don't permit nudity on the feed or the profiles of users. This helps reinforce that the app is for dating and relationships.
We've also chosen to not allow users to send each other images. This is slightly controversial, as it does limit users interaction, but we hope the feed and the user's profile make up for this. This prevents people receiving unwanted images in their inbox, and encourages people to type before sending a picture of their dick.
Have you had any bad experiences with dating apps that have influenced the way that you've designed SoulMale?
Yes. Honestly, some apps can be a bit scary at times, with abusive messages, general nastiness, and cat-fishing. One of the things I've personally noticed while using other gay dating apps is that if you don't reply to someone quickly then they might become agitated and angry at you.
Some apps have solved part of this by creating the swiping system — where both users must like one another — however we feel that this can limit the sense of community, and could prevent meaningful interactions.
We're currently looking into new anti-toxicity measures — such as, a user can only send one or maybe two messages until the other user replies to unlock the chat. This will hopefully prevent nasty messages asking users why they haven't replied.
Who is your target market for SoulMale?
Our target market is anyone who is getting fed up with the traditional hook-up apps and wants to try out a platform aimed at dating and relationships. We hope SoulMale attracts people from a diverse range of backgrounds. Unlike some popular apps, we don't have race filters — we're strongly opposed to filters like this as we believe they foster a toxic community and can promote racism.
SoulMale has been designed to have a light and friendly feel — we use a simple interface to help promote friendly interactions. Conveying what an app's use is has to come from all layers of the company and community, including design.
If I was a young guy, just starting to explore the world of dating, what advice or guidance would you give?
Apps can be fun and engaging, but make sure you go out and explore — chatting with someone online isn't the same as making a genuine connection in real life.
We want to hear your opinion
Photography that embraces naked men
"Stop comparing ourselves to strangers on the internet…"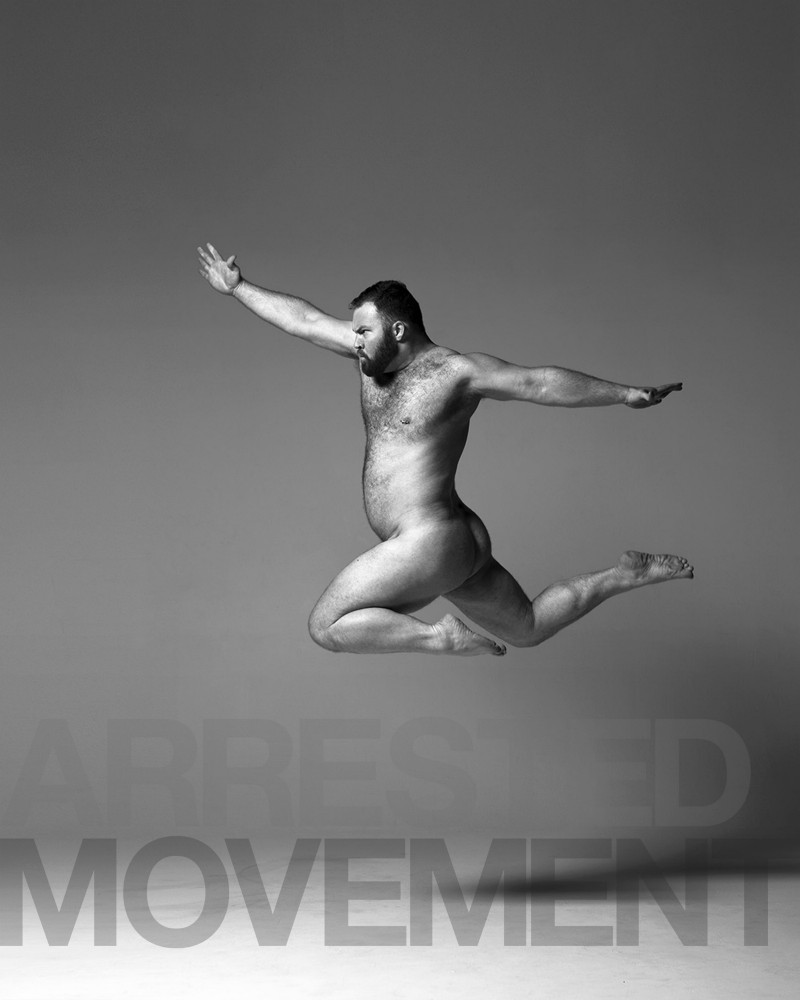 I caught up with photographer Anthony Patrick Manieri to talk about his ongoing series of work known as Arrested Movement.
Why do you think this project has captured the imagination of gay men around the world?
Because we're all the same really, except we don't all look alike. We usually just see what society deems to be the 'perfect' body types, flashed across TV and social media all the time.
This project encompasses a wide variety of men that are photographed equally and beautifully. I feel that the variety of men and body shapes being highlighted are recognisable to most men. We need to see diversity represented more in the media. That, and also the idea of male body positivity is refreshing in a world where the media seems to only push female body positivity. In this day and age, where depression and anxiety are extremely commonplace, it's nice to know that we're not alone in the struggle.
Why are men so keen to be photographed by you for this project?
Because we all want to fit in. We all want to be accepted, and here is a photographic series celebrating all men, all body types, and showcasing them artistically. I think men look at this and can relate and identify with some of the participating models, because they see themselves in the photos.
Most of the men you've photographed for this project appear to be first-time models, most likely being professionally photographed naked for the first time. Was that experience confronting for many of your models?
From what I've seen, and from what some of my assistants mentioned to me, for most of the men that participate there's a definite shift in their overall energy levels from when they first arrive at the studio to when they're done. One assistant asked me — "What is going on in the studio? Because when they arrive they're quite scared, some even shake with nerves, but when they leave they glow and have this sense of empowerment."
I make sure that the studio is private and a safe space for them to try and feel as comfortable as possible. I brief them, and coach them with suggestions of possible body movement. I also stop periodically to show the gentlemen their progression so far in the shoot.
Most men, after seeing themselves on the screen during the shoot, are delightfully impressed by how they look. They look at themselves in a positive light artistically, and not what they usually expect to see. I talk to them about how their hands are positioned, their facial expressions, pointing of their feet, and the overall lines of their bodies in the frame.
When you're not quite happy with your body, putting yourself out there is brave. I watch some men almost lose themselves in the moment and in the music. I'm grateful that I get to witness such a personal moment of self-evolution. For others, they're determined to take an amazing photo, so they push themselves so that their final image is strong and unique.
Should everyone tackle a naked photo shoot at some point in their lives?
I don't know if that's the answer. What people should do is take time to appreciate and accept themselves, to put themselves first. Fill their own cups before extinguishing their energy with others. Uniqueness is special. It's okay to look different on the outside, because we're all the same on the inside.
How is the project continuing to evolve?
I'm currently working on the design of the book — I'll be releasing a Kickstarter page this Fall. I'm also looking at gallery spaces to have the first of many shows.
Are you still actively shooting guys for this project?
I'm still actively photographing men. If it were up to me, I'd be in a different city every weekend photographing.
Since I'm funding this myself, I need to take breaks between cities. Travelling, studio costs, and hotels add up quickly. There are a few cities in the US, Canada, and Mexico that I'd like to do before heading back to Europe. Beyond that, there's talk of Australia, and possibly some cities in South America for 2019.
How can we help each other feel better about our bodies?
I think we really need to be kind to ourselves, and each other — daily. Judgement and self-judgement is such a human flaw, it's like a vibrational plague. We should be detaching ourselves from our smart-phones and social media regularly. Yoga and meditation are great ways to feel centred and grounded, to be in tune with our higher self. Eating right always makes for a happier body and mind. We need to encourage and validate each other to be the best we can be.
What do the images that you've captured through this project tell us about gay men and their relationship with their bodies?
Gay culture is meant to be inclusive, and we celebrate that inclusiveness. Though within the gay community, there's such a divide between men. We're labelled and put in categories, therefore creating almost a hierarchy of what's acceptable.
Body-image and self-esteem start in your own mind, not on Instagram. We need to literally stop comparing ourselves to strangers on the internet. We need to make mental health a priority in the gay community.
I hope that when people see this project, they know their worth, they know that they're beautiful, and that it's okay to be different.
Meet the participants
Follow Arrested Movement on Instagram