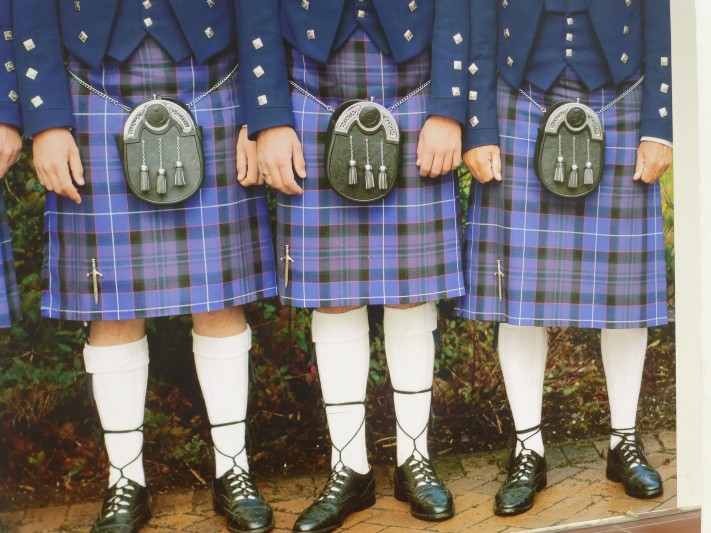 The exhibitionist appeal of a kilt
You don't have to be Scottish to embrace the tartan style.
I caught up with my Twitter-buddy Sean to talk about his passion for kilts.
Due to the nature of his work, Sean has to remain anonymous for this interview.
What was your first experience of wearing a kilt?
I started wearing them several years ago, more out of interest than anything else. I'm not Scottish, I have Irish heritage.
The kilt really appeals to me as an item of clothing on many levels — it's far more comfortable to wear than trousers, and also looks a hell of a lot smarter too. I always wear the sporran, kilt hose, and flashes with it — it's the complete look.
Is there a sexual element to wearing a kilt for you?
The freedom of it is wonderful, and there's a real buzz about wearing a kilt — it gives me a lot of confidence, it's a bit like power-dressing.
I get a lot of positive comments and compliments, from both men and women.
I'm guessing that you're a bit of a purist when it comes to wearing a kilt — obviously there's no underwear?
It depends where I am, to be honest. If I'm at home, or out socialising or doing general stuff, then no, never. At work I'm a bit more respectable.
As well as being a kilt-lover, you're also a naturist. Are those two passions related in any way?
I'd be lying if I said no — its very liberating, and its also the one item of clothing you can wear where it's almost expected that you're going to 'free' underneath — what's not to like about that?
How do you explore your love of naturism?
That's easy — taking my clothes off as often as possible. It's a fantastic way to be more comfortable and confident about yourself. There are far too many hangups in the world as it is — why add to them?
Would you describe yourself as an exhibitionist?
Without a doubt!
What's your ultimate kilt-wearing fantasy?
It used to be to be able to wear them all the time — so, in some ways I'm living out that fantasy now.
We want to hear your opinion
Meet Mr Kristofer and Pup Amp
A masterclass in pup-play.
By Sandy Pianim – Brand Director of Recon
You may recognise this Daddy-Pup duo from out and about on the fetish scene, their kink friendly, sex education YouTube channel – Watts The Safeword or their other online "sexploits". It's fair to say these guys are fetish connoisseurs. We caught up with them in the Mr S Leather studio in San Francisco to discuss their relationship and all things BDSM.
The conversation starts at the beginning. "The pup came along at a time in my life when I was in transition of a relationship, and he taught me all about puppies. He's been the best companion I've had ever since…" shares mrKristofer, when talking about how they met almost five years ago.
PupAmp goes on to explain that they met at IML and knew of mrKristofer's online bondage work beforehand. mrKristofer remembers the moment, "I was tying up boys for demos and he was skulking around hoping to get tied up. He had such a sexy ass I was like… Do you want to get tied up?!"
In the beginning their Daddy-Pup relationship was very open and all about casual play. They didn't refer to themselves as dating or boyfriends, it was just about affection and taking care of one another. "There was definitely some love involved there." PupAmp says, describing how they started. mrKristofer emphasises that there was a lot of love, but he was a little standoffish. "I told him that I wasn't ready for another relationship and he said, 'That's ok, I'm just a puppy. I'm here to make you happy.' I thought, now that I can do!"
Over time they evolved into what they are today. They've had poly family relationships where other guys have come in and out. They've even had relationships independent of each other but, mrKristofer describes PupAmp as his rock, stating "Nobody argues with the puppy, puppy is always right."
Conducting an open relationship of any kind can be tricky but PupAmp gives this piece of advice. "FOMO exists, there's always going to be jealously here and there. It's a matter of being really good at communicating. I think kinksters statistically are better at doing [this], and just being able say how something makes you feel and being able to work past that. We're not built for monogamy."
With that in mind, we were intrigued to find how and what they used Recon for. Both are very particular when viewing member profiles, using what they find there to make informed decisions about whether to engage. "I tend to look at a person's pictures first and foremost" says PupAmp, "Their descriptions, [then] if they have friends or people you can reference." For him, all of this information comes together to get a sense of how credible a player they are. mrKristofer agrees with this tactic but adds "…It is where I get most of the people I play with."
A word of warning before you hit the cruise button on mrKristofer's profile, though: have variety in your photos, and if they feature any bondage, make sure it's not sloppy. Asked for a bad example he states "[A] single granny knot to a chair at the wrong pressure points. You can determine someone's skill level." Then explaining why good bondage matters, "BDSM is such a special experience. It's a power control thing. That's what I find sexy, tying someone down or being tied down. You are giving the other person complete control to do anything."
PupAmp recalls how he learned bondage through watching kinky porn. His younger self always wished there was some sort of fetish figure that he could look up to for advice and guidance. Being a child of the internet, he wanted to see gay, kinky, sex positive content creators. The lack of this type of content inspired him and friend, Bolt to create their own YouTube channel, Watts the Safeword – which has found huge success.
When Bolt moved to Seattle, mrKristofer stepping up to co-host Watts the Safeword and to share his unique take on fetish. They have guests and viewers reach out to them, picking topics for them to discuss in their videos. They've effectively created the supportive online community that a young PupAmp always craved. Their ability to make educational fetish content for all – regardless of gender and sexuality – empowers viewers and provides them with the tools to go forth and explore their own kinks. The couple are doing their bit to make the scene as visible as possible, which can only further the fetish community as a whole.
When asked what we can all do to strengthen the community, mrKristofer smiles "Having a puppy has taught me to be more accepting of other people's kinks. I come from an older background where it's 'This is the way you do leather and anything outside of how we learned to do leather is wrong.' We need to be more accepting that everyone has different kinks and fetishes. It's grown exponentially over the last few years and we have to accept all of it."
We couldn't agree more.
Originally published in Recon Issue_01. Available in print and digitally via Recon.com
Join Recon by signing up for free on Recon.com or download the app for IOS and Android via recon.com/app.