I caught up with Richard Crowe for the story behind his latest photo-shoot.
How did this photo-shoot come about?
I saw a friend of mine featured on a tumblr site called Bear Hotel. It struck me as a great idea. Different models, photographed in various stages of undress, in hotel rooms, each given their own 'room number' on the site.
I really liked the concept, and the photographs themselves were amazing. Honest and open. It was clear that the photographer, Richard Cameron, had a real rapport with his models. Sometimes that doesn't happen and, as a model, you don't quite relax. After all, you're there with all your clothes off, he's hiding behind a pair of trousers and a camera. It's not always easy to just lie there and look pretty, or sexy, or just at ease with your own body.
I contacted Richard by email to volunteer my services which, luckily, were accepted
What contact or discussions did you have with the photographer ahead of the photo-shoot?
The main discussion was about when and where the photoshoot would happen. Diaries being what they are, it's often difficult to coordinate these things quickly.
Richard was familiar with some of my work, so questions about what I was prepared to do and how far I wanted to undress in front of the camera, were a bit redundant. I'm a full-frontal kind of guy and always have been.
The other key thing to establish – the contract between us if you like – was how far the resulting photographs would be distributed and related privacy issues – name, contact details and so on. I'm pretty easy when it comes to distribution – far and wide is my motto!
Did it matter to you where the photographs would be available?
I knew the photographs were for publication in Bear Hotel on two platforms, tumblr and Instagram. I also understood that anyone could download the photographs from there and use them for their own purposes or post them to other groups. All fine by me. I'm an exhibitionist.
How did you feel during the shoot itself?
It's interesting how my response to being photographed nude has changed over the years. It's been quite subtle in many ways.
I used to go into a shoot, take off my clothes and, if I didn't have an erection as my pants were coming off, I'd have one pretty soon afterwards. There was a direct association between being naked, being seen naked, and being sexually aroused. Even as recently as five years ago, there weren't many photo-shoots that didn't end without me masturbating – in full view and with the camera still clicking.
It's very rare now that I get an erection from just being seen naked. If a photographer wants me to be aroused, that's not a problem. But the stimulus of a hand or some visuals would now be required. Similarly, I'm not averse to masturbating for the camera – I still enjoy it.
But there is something far more relaxed and considered about being naked in a photo-shoot as I get older. Maybe that comes from my awareness that I'm not as sexually attractive as I was in my youth, that men look at my body differently. That I'm appreciated as much for simply daring to be naked as for my cock alone. No false modesty intended, comments on my photos from both younger guys seeking 'daddies' and older guys wanting 'love', confirm to me that I still have something in the sex appeal department.
But sex is not the obsession it was. Nudity for me, and being seen in the nude, is as much about moral freedoms and an insistence that bodies, whatever their age or gender, are beautiful, as it is about sex.
I suppose there's also something about the habitual here. I'm used to being naked in front of a camera. I relax very easily, especially with a photographer like Richard, who is laid back and natural. When the photographer himself is nervous and aroused by the situation, it's very difficult, as a model, to relax. Similarly, if the photographer is intense and broody or has little experience with the camera. You can never quite be sure who it is you're meeting or what their motive is.
In this instance, it was the element of surprise that aroused me and appealed directly to my exhibitionist self. The hotel room we were using for the photo-shoot overlooked Vauxhall Station and the main line into Waterloo. Trains stopped directly outside our window on a regular basis. We could see the people inside the railway carriages and, clearly, they could see us. Heads turned, fingers pointed, there were even a few smiles. If we closed the curtains, we lost the light. A good photographer will always prefer natural over flash. So, what were we to do? I didn't mind. I enjoyed the situation. Look all you want – or, if it offends you, look away.
What is it about being an exhibitionist that gives you a sexual thrill?
It's something to do with the contravention of ideas of public morality, privacy and freedom. The idea that hundreds of years ago some dried-up cleric interpreted the beautiful act of sex as something dirty to be refrained from wherever possible, to be punished for, is beyond belief. And yet that view is still prevalent in our attitudes to nudity today.
When I take off my clothes and show my naked body to the camera, when the resulting photographs are then posted online, copied and shared to other people and other sites, I am, therefore, committing an act of defiance. By rough calculation, images of my naked body have been seen by at least six million people, men and women. The fact I attach my name to that image, I believe, sends a message, loud and clear, to the world.
I do get off from being seen naked. There is a strong sexual motive inherent in my exhibitionism. I don't find that contradictory, nor do I find it hypocritical. It's sexually liberating to make one's private parts public, to accept that sex, erections, masturbation are beautiful, natural, God-given gifts to be enjoyed to the full. I love being watched masturbating and being seen naked. For most of my life, I've been as repressed and persecuted by that dried-up old cleric as everyone else.
What do you hope that other guys feel when looking at these photos?
Of course, I hope guys find my body attractive. I hope some look at me and feel aroused, are even moved to masturbate looking at me. I love it when guys write to me and tell me that's what they've done. Some even print off a photo of me naked, masturbate over it and send me a photograph of the result. That may seem weird to some, but it's a huge compliment to me and invariably gets me hard.
I get particular pleasure knowing some young guy has seen me naked and wants me to fuck him or visa versa. I really like the daddy thing, very sexy.
But I also hope some guys look at me and appreciate, even respect, what I'm doing on another level – that I look good, that I have balls, that I'm brave for doing what I do. Again, guys do write to me and say as much. They might add 'I wish I was brave enough to do the same'. I always reply, to every comment, even the bad ones.
I get called 'a queer' and 'a cunt' and 'fatty' and 'pervert'. I get derisive remarks about my belly, my arse, my face, my penis. I've been threatened with violence, with blackmail, and even with photographs sent to my local paper.
But on the whole, guys are very positive about what I do. I have a lot of fans and a lot of respect in the exhibitionist community. So long as that situation remains, the trolls can, frankly, go fuck themselves. I'm very happy just as I am.
We want to hear your opinion
Is gymnastics the hottest gay sport?
We study the evidence.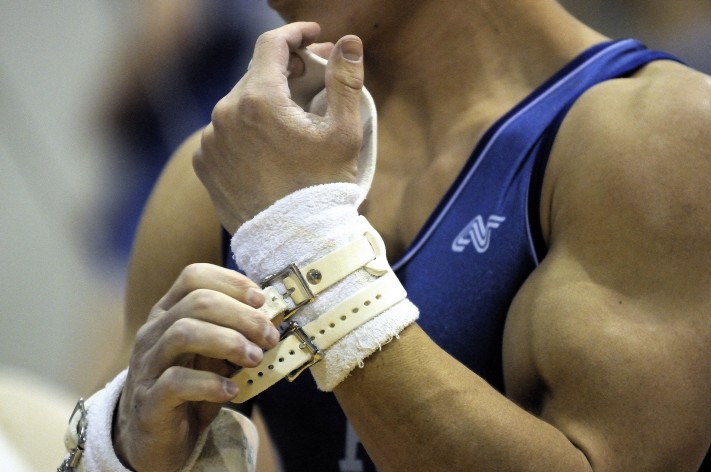 I have a little fantasy that all male gymnasts are gay. Well, the hot ones at least.
This is a sport that requires strength, agility, and the self-confidence to wear short-shorts and muscle vests.