I caught up with Damon Heart to talk about ambitions, underwear, and the #MeToo movement.
I've read that you spent a long time wondering whether or not to start exploring a career in porn. What was it that intrigued about becoming a porn performer?
I'm convinced that people evolve in there sexual behaviour. I started exploring sex at a very young age — maybe too young. I was intrigued by the little nude magazines that my father would hide in his garage. Soon after those, I found a video cassette. I still remember the story today — it was a straight version of Robin Hood in porn, it's still probably my favourite movie.
Ever since that exact moment, I always wondered how it would be to be in a porn movie. The idea grew and changed form over the years, but eventually it happened.
Now I enjoy sex in a very different way. Besides my natural sexual appetite, I developed a very specific interested in recording sex in different ways, through different stories. It's the hunger for more and new triggers.
Would you describe yourself as an exhibitionist?
No — even in a gay bath house I cover myself in towels. l'm comfortable being naked among very close friends, but even that only happened after I started doing porn.
The fact that I prefer people to be covered in a bit of fabric probably has to do with my addiction to underwear.
What sort of underwear do you prefer?
I wear it all — jocks, thongs, briefs, leather, neoprene — you name it, I have it and wear it. My underwear drawer recently fell through my closet because it was so heavy.
I'm not a big fan of the oversized classic striped straight underwear, but as long as a man wears underwear then I'm fine with it. If he invests a moment to think his underwear game through, I'm heated up. If he buys the sexy brands, I'm on it!
Who are some of your porn heroes or inspirations?
I have some directors and filmmakers that are an inspiration to me. Besides those, I'd say my porn heroes or inspirations are my mentor and friend Steve Matthews, Alter Sin, and the queen of porn Mr Pam.
Most models I meet are nice people and easy to work with. However, if I had to pick any model who inspires me, I'd go for Adam Killian. He's been in the industry forever, and knows what he's talking about — the way he collaborates with the director and the crew is epic. Another one would be Kayden Gray — not only for his incredibly work in porn, but also for his role and effort in educating about PrEP and HIV.
You picked up the award for Best Three Way at the recent Grabby Awards — for a scene with Rico Marlin and Cody Winter for Lucas Entertainment. How did it feel to win that award?
I guess winning that award has been one of the highlights of this year, if not the highlight. This is one of the reasons why I always try to explain to people that events like the Grabby's and GayVN are the best platform to feel appreciated for your work by the industry and the fans.
As I've spent more time on set, I've learned that every model who cares about the content and quality of his work will always ask the same question afterwards — "How was it?" Thinking about this kind of 'work ethic' and analysing it, got me to the conclusion that it doesn't really matter what you do in life. Everybody needs appreciation for his or her achievements. However, the necessity and dimension of this personal need depends on many different things, it mostly depends on the extent of your personal input on the job.
Your acceptance speech caused a bit of drama. Were you surprised at the reaction you generated?
Where do I to start…
Someone told me that I shouldn't say too much or try to be funny since English isn't my first language, so I wrote two speeches — one with a bit more humour than the other. I like to come prepared.
Just before the event, I bumped into the cause of the controversy — I don't want to call him by his name. I was with two other models, both of whom quickly disappeared when they saw him coming our way.
From the second he started talking to me, he started insulting me. I endured it for about 12 minutes — I timed it. By the time he had finished, my only response to this annoying and rather sad behaviour was to tell him that I could understand that it must be very difficult to be around people who are self-confident, but that he shouldn't project his personal insecurities onto others.
My reaction made him disappear as quickly as when a bill is presented at a crew dinner — #insidejoke. From that moment on, I decided that I've tried long enough and hard enough to try and find any good in that man.
I think it's necessary for us models and colleagues in the business to take a clear stand against people who don't treat us well — you have to take a stand against people who disrespect you and your rights as a human being, or people who violate their own rules and regulations for their own purposes. If there was to a models' union in the adult entertainment business, they would have shut him down years ago.
I could have guessed he would be upset by my speech. Nevertheless, I assumed his reaction would have been more civilised. I'd never have taken him for being someone who spits in another man's face in anger.
Given what had happened at the awards, I knew that the following day he would send his exclusives emails with regulations and examples about what they should write to show their support for him online. My guess is that he probably called, texted, and even harassed some of the organisations afterwards to demand their apologies.
In the end, the only thing I'm really sorry about is that some people still have to deal with him. I don't regret anything I said in my speech on stage.
You've tweeted that you're working on a script called 'confessions by an abused Lucas exclusive' — is this a #MeToo moment for the gay porn world?
I've kept a sort of journal that contains details of all the incidents that have happened during my time as a Lucas Entertainment exclusive.
If I really were to write a confession book, I'd contact the other 100 models and make a compilation of all of the anecdotes. It would be a lot like The Bold and the Beautiful — subdivided into episodes and filled with cliffhangers and 'to be continued' shit.
But in reality, I have no intention of writing a book, and I won't be talking about my experiences in any videos — even after his attempt to vilify and discredit me.
What are some of your goals and ambitions for the remainder of 2018?
I've always had a plan in life, and also a plan B. So far, I consider myself blessed. I've already had the opportunity to work with a number of studios that were on my bucket-list — Bel Ami, NakedSword, Men At Play, and Men.com. I'm definitely looking forward to some more productions with them — some are confirmed already. This makes me feel so blessed.
I'm currently right in the middle of furnishing two apartments in Antwerp with my business partner, and we'll soon be opening a bed and breakfast.
On top of that, I'm toying with the idea of making a movie. However, that's probably a project for 2019.
We want to hear your opinion
Word of the Day: Chacal
Travelling to Mexico City? Add this to your vocabulary.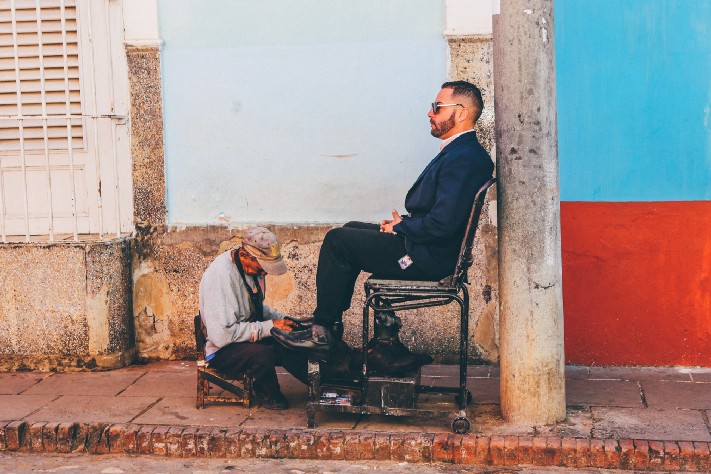 Chacal is a term used in Mexico City — it describes a masculine guy who fucks other guys. A rough top.
The Urban Dictionary helpfully shows how to use the term Chacal in a sentence: "Total bottoms love chacales…"
Let's put to one side for the moment the ridiculous labelling as anyone as a 'total bottom' — just because a guy enjoys a bit of anal play doesn't define his identity — but you get the idea.
In some ways, Chacal is the Mexican version of Masc4Masc — but Latino culture has a complicated obsession with all things macho. In places like Mexico City, your identity as a man, your masculinity, is defined by how you project a macho image to the world. Being gay isn't easily reconciled with being macho. The chacales are trying to have it both ways — projecting an uber-macho image to the world, and totally getting off on having sex with guys.
In the interests of cross-cultural investigative research, here's some examples of guys who seem to me to be channelling a bit of the Chacal vibe.
Chacal. It's our word of the day.