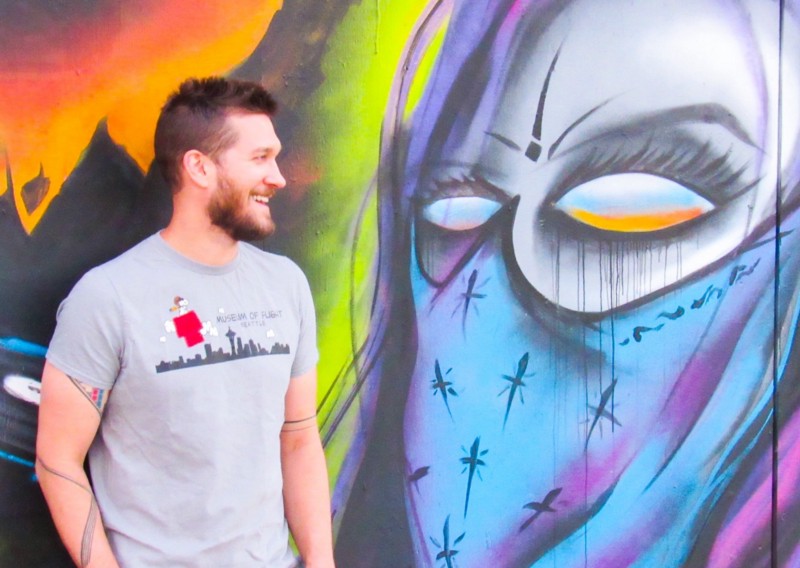 Talking Tetris and Tattoos with Tighe
"I love being able to express my inner-self in this outward way…"
I caught up with Tighe Damron to talk tattoos and how to play a perfect game of Tetris.
What was the first tattoo that you got?
The large piece on the back of my left leg.
I'd been wanting one for a couple of years, and then I finally worked up the courage to go for it — now I can't stop!
What is it about tattoos that you like?
Tattoos are literally artwork for your body. I love being able to express my inner-self in this outward way.
Is there a specific inspiration or story behind each of your tattoos?
Yes, except the first one. For the first tattoo, I discussed what I was looking for with my tattoo artist and he designed it for me. For the rest, I've plotted and 'designed' them, and had my artist implement my design.
All my tattoos have been created by Adrian at Sacred Art LA. He's amazing.
For the wrap around my right arm up to my shoulder, I woke up from a dream and saw it in my head, both the double lines and the five-line design on my forearm. It's a play on the rainbow and a music staff — I sing and play the oboe, so had to work my musicality in somewhere.
For the Tetris tattoo, I wanted something that represents my crazy mind — I always organise and over-plan things. So I played a 'perfect game' of Tetris — that's where you save the long four-piece until the end so it wipes out the entire four rows at once, giving you the most points possible — took a screen-shot, and photo-shopped the image to where the pieces are all falling together perfectly. Just like my life.
I also have a few 'random eights' on my body — Random Eight is an anagram for Tighe Damron — but they're actual numbers and symbolic eights. Plus I have the octopus holding onto the bottom of my right foot, the two four-pointed stars on my left side, and the arm bands on my left arm.
Did it hurt getting your tattoos done?
It definitely hurts. I find that Hush helps a bit, but not entirely. The most painful was the thick band around the top of my arm, specifically underneath close to my arm pit. But it was worth it.
Are you planning to get more tattoos?
Most definitely. I have plans for more around my leg, to make a sort of crown — starting with the two eights that are there now as the front and back.
I also want to finish my right arm sleeve, which will be another five different designs that will appear to be at different depths.
What sort of reaction from guys do you get to your tattoos?
They love the tats. I get a lot of attention from the Tetris tat — which is one of my favourites — and the leg piece.
Do you regret any of your tattoos?
Not at all. I actually regret not starting sooner.
What advice would you give to someone who was thinking about getting a tattoo?
Choose something that you'll love decades from now, and go for it!
We want to hear your opinion
The ultimate gay muscle-daddy?
Travel Tales: Christian Mitchell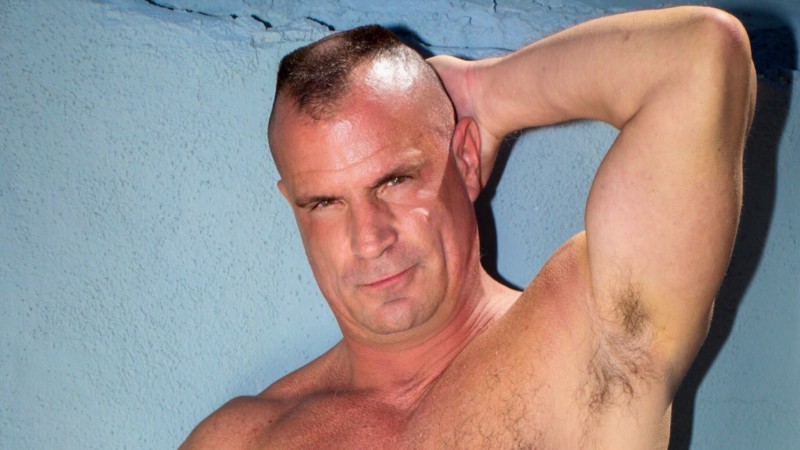 California-based adult actor and model Christian Mitchell works with some of the biggest adult entertainment studios in the business, as well as performing at parties around the world.
I caught up with Christian Mitchell to find out where his travels have been taking him lately.
Have you been having a busy year?
It's been crazy busy, but I'm definitely not complaining! After making the decision to go bareback, I shot my first raw studio scene in March with Treasure Island Media. Filmed on location at CCBC Resort in Palm Springs, it's a classic balls-to-the-wall TIM gang-bang orgy! Some of my amazing scene partners include — Brian Bonds, Mason Lear, JD Daniels, Brodie Ramirez, Dino DeFrancesco, and Silver Steele as the gang bottom. Not only will you see me top for the first time, but the scene has the most insane surprise ending and should be out later this year.
Right after that, I flew to Las Vegas to shoot flip fisting scenes for Hot House's Club Inferno Dungeon. Club Inferno was where I launched my porn career five years ago. Lately I've had so many fans begging me to do more fisting scenes, I was thrilled to return to the studio where it all began. Director Sir Tom Moore paired me with Alson Caramel and we take turns as both fister and fistee. It's titled The Big Tool and I think it's really one of my best fisting performances so far. You won't believe how filthy my mouth gets once Alson gets his fist is inside my hole! Both the topping and the bottoming scenes are out now at ClubInfernoDungeon.com
In June, I was back in Vegas again for a week at the infamous Bear Films porn house. The entire cast and crew all stay and work together in the same house and it's such a blast! All the rumours you've heard are totally true! In one scene, titled The Bear in Me, I get fucked by newcomer hottie muscle cub Lyon Reed. As soon as the cameras started rolling, the fur was flying with Lyon plowing my hole with a vengeance! For the other scene, titled Married and a Bear, I finally got to film with Scotty Rage. Scotty and I have known each other for years from go-go dancing and other appearances, but this was our first scene together and it's absolutely explosive! I had so much fun with Scotty and it definitely shows! Brian Bonds directed both scenes and he's proving to be a pornographic genius! Each scene is available now at BearFilms.com along with some exclusive companion interviews and photo sets.
In July, I filmed three scenes with TopherPhoenix.com's soon-to-launch second website MuscleBullxxx.com. I've got to say, Topher and Muscle Bull are two of the horniest men I've ever worked with! I did back-to-back scenes with each, plus a three-way, and it was truly a non-stop muscle fuck fest! I'm proud to announce that I successfully performed my first double-penetration scene on camera and it was nothing short of awesome!
What sort of films do you prefer to film?
To be honest, it really makes no difference to me. So long as I have a hot scene partner and a really fun director and crew, I'm good to go!
When it comes to sex, I'm up for trying just about anything the scene calls for. I'm grateful just to have the opportunity to perform and create sexy stuff that will get viewers' cocks hard.
You're also producing content for your OnlyFans channel. What do subscribers to your OnlyFans channel get that they don't get from watching your studio productions?
Anyone who's ever scrolled through my Twitter feed will know that I'm basically bat-shit crazy. My OnlyFans channel takes all of that to the next level and beyond. I strive to give subscribers a front row seat to my real-life sexual adventures. From backstage go-go blow jobs, to spontaneous fisting sessions, to hardcore leather sex, and even some very tender moments with my husband, it's all there! The content ranges from edited scenes, to raw iPhone clips, to pro photo sets, to random selfies. You get everything for just $7.99 per month at www.OnlyFans.com/chrismitchellxx
You'll be appearing at Desert Romp in Palm Springs in September — what can guys look forward to at that event?
Desert Romp is a community fundraising event happening in Palm Springs 21–23 September. This is my third year participating! It's a chance to get up close and meet a great bunch of different porn stars. There will be a midway carnival event, bar events with porn star go-go dancers, a wet underwear contest, a t-dance and more! Visit www.desertromp.com for more info.
Your on-screen persona seems to be the ultimate muscle-daddy. Is being a muscle-daddy something that you've embraced?
I'm not sure if I'm the 'ultimate' muscle-daddy, but I seemed to be called a 'muscle-daddy' more and more these days. It seems weird, because I'm a bottom and I've always considered daddies to be tops. I do love muscle though, and lately I've been hitting the gym hard to bulk up as big as I can. Bigger is always better, right?
What are some of your goals and ambitions for the remainder of 2018?
My goal is to spend time with my husband and have as much fun as possible! More porn shoots are in the works, both for studios and for my OnlyFans channel. I plan to do more go-go dancing at the Dilf parties and other similar events. It's been a wild ride so far and I'm grateful for all of it! I definitely want to keep giving my fans and followers what they want!
Follow Christian Mitchell on Twitter