I caught up with Matt, co-owner of Polish sports-fetish brand #AASSSOXX, to talk sport, sex, and socks.
When did you establish the #AASSSOXX brand?
I met Slawek at the beginning of 2017. It started as usual — Grindr, fetish, sex and finally love — what we have now is amazing! We work together and we have our own clothing brand.
Everything was possible because there was also another thing that we have in common — a passion for fashion. Slawek started designing clothes years ago, he was constructing male clothes. I always tried to sew something at home.
So, starting from an inspiration of gear and clothes to have sex in and play with, we started designing, creating, and sewing a collection.
Our debut fashion show was during the finals of Mister Gay Poland 2017.
What makes sports gear sexy?
Picture this — there's a guy standing before you, he's just finished his workout, his sweaty shirt is highlighting every muscle in his chest and abs, his shorts are slightly revealing this one and only shape, and on top of that, white socks contrasting with his dark-haired legs. This is just everything that's the best!
Sports gear is synonymous with a perfect body, muscles, a masculine smell, power, domination. It's the quintessence of testosterone.
Have you always had a sportswear fetish?
Forever. It probably began in the high-school locker-room. It's not surprising really, you're young, your hormones are boiling, and you're in the locker-room sitting with your classmates after gym — everyone is naked or nearly naked, you can watch their bodies, you can smell how sweaty they are.
You want to have sex with them, but you know you can't, you know that you'll never be able to do anything with them. So, you wait — you wait until you're alone, and you can just smell the socks and boxers that are lying around everywhere.
A total turn-on.
Who are the guys who buy your products?
They're guys just like us — guys who are totally into sports socks. Everything we do is authentic. All of the clothes that we create have to turn us on before we will include them in our collection. We're the models in our almost-explicit fetish photo-shoots.
#AASSSOXX is the first Polish LGBTQ clothing brand. We want to expland — as well as sportswear, we want to create casual clothes for all LGBTQ people, not just guys who have a sportswear fetish.
Our newest, most versatile collection is called Pride — we'll be presenting this at the Mr Gay Europe 2018 event, which will be held in Poland.
Which are your most popular products?
Our ultimate best-sellers are the KINKY Pants and the KINKY shorts. I'm not surprised that these are so popular — when Slawek first saw the fabric, he just went crazy about it!
We're very proud that almost every piece of clothing — the fabric, the design, the construction — is made by us in our small but growing workshop. It's 'almost' because we can't make the socks ourselves — you need a really huge machine to make them, so our socks are made for us by one of the best manufacturers of sport socks in Poland.
Which famous sportsman or celebrity would you like to dress in #AASSSOXX gear?
The biggest celebrity who wears these clothes everyday is my boyfriend. But knowing him, he would choose Zayn Malik or David Beckham — luckily for me, they're both unavailable.
Dressing them is one thing, obviously we'd have to start by taking some measurements…
We want to hear your opinion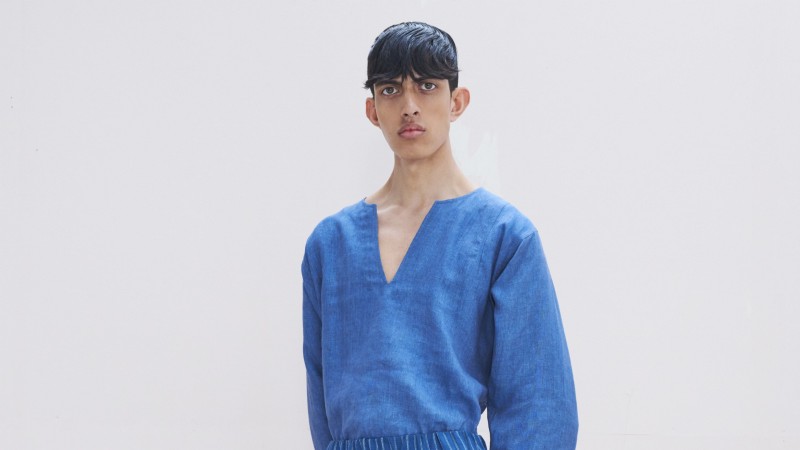 London-based brand, Barak London, creates clean yet vibrant collections, combining the elegance of British sartorial heritage with an edge of cross-cultural cool to present a casual-luxe aesthetic.
A seamless balance between classic and modern elements achieves an effortless street-style finish. Barak references British heritage designs while offering a contemporary hit through creative pattern cutting and minimalist silhouettes.
A sophisticated neutral colour palette of sand and muted greens is accentuated by crimson, fresh blues, and mellow browns that draw from the natural hues of the Egyptian countryside. The collection draws inspiration from Youssef Chahine's 1969 film, AlArd — The Land.
Martial-styled outerwear gestures towards political themes, and structural, crop-sleeved blazers offer a refreshingly up-to-date take on classic menswear staples that can be worn with ease. Linen and cotton form the foundation of the collection, which adds softness to the functional tailored style. Additional elements of nappa leather, waxed cotton and light merino wool provide an aesthetic contrast while retaining the lightweight elegance of the garment's construction.