If you're looking to get your health and fitness back on track, or just looking to meet a few new people, then a gay sports club could be exactly what you need.
Have you ever thought about giving field hockey a try? It's a fast-paced team sport, that traces its origins back to the Middle Ages in Europe. There's lots of running around, you get to wear cool shorts, and hang out with a bunch of guys who know how to have good time — ask around, hockey players have a reputation.
I spoke with Tom Simpson from the London Royals to see whether I had what it takes to pick up a stick and hit the pitch at their upcoming Pride Cup on 30 June 2018.
What's the Pride Cup?
It's an opportunity for us to celebrate the general principles of the Pride movement — diversity in gender, sexuality, passions and interests — with a hockey tournament which expressly welcomes all comers, regardless of background or ability. Whoever you are, if you want to be there, we want you there.
We're hoping for 20 teams of 7 players, so 140 players and just as many spectators, supporters and significant others as we can fit into the venue.
When was London Royals established?
The club started about 12 years ago, when a small group of LBGT hockey players grouped together to meet and play some mixed, social hockey.
These were people who played hockey regularly with their own club teams but wanted a space where they could play hockey with other LGBT people, and perhaps be more open about their sexuality on and off the pitch.
Why is there a need for a gay hockey club?
Being LGBT in hockey is generally very well accepted, but it isn't something that's talked about freely yet in a hockey environment. That may be because people just aren't too bothered, but sometimes that's just not quite enough.
We have incredible role models on the women's side of the game, namely in Kate and Helen Richardson-Walsh, a same-sex married couple who won Olympic gold on the pitch together. This is a complete game-changer in terms of LGBT acceptance in our sport, and we'll be talking about this for years to come. But more can be done to show that it's okay to be a gay man and play hockey, and more needs to be done across the board, especially for trans people.
That's why we feel like we have an important role to play in hockey and in LGBT sport more widely. We offer an inclusive and safe space for LGBT players to completely be themselves. Not only that, but the breadth and depth of playing opportunities within the club allows us to cater for a very wide range of players, and that's why we continue to see our numbers grow.
How many members does London Royals currently have?
We have over 600 members signed up, but in any one season we may have anywhere between 50 to 80 active players across our men's, women's, and mixed teams. Some members may only join us when we go on national or international tours.
Our membership is growing, both in terms of active players and those who choose to have a more intermittent or social association with the club.
We're always accepting new members. We're able to provide a host of training and playing opportunities appropriate to individuals' previous levels of experience, even if none. We aim to get people onto the pitch for some real game-time as soon as we can after joining, regardless of their skill or experience. The club offers discounted fees for students and also offers a hardship fund for those individuals who can't afford the costs of kit and regular training match fees.
Whilst the majority of hockey clubs are great at catering for children and teenagers and coaching them in the basics of the game, it's much less common for adults to join and learn the game from scratch. Additionally, for LGBT adults, there may also be a number of other perceived barriers to picking up a sport — perhaps a worry about acceptance as an individual, and also a worry about learning as an adult in an environment which isn't always as well set up for that. But this is what the Royals caters for so well.
We have some very experienced coaches within the club, and have been very active in sourcing coaches from outside the club to help develop the basics for those new to the game.
What's the gender split of the club?
We don't have specific data on this, but the split is probably 70 percent male to 30 percent female.
At the moment we have two full-time mens teams, with a third team probably starting up in the near future, and we have one women's team. But we also have a very large mixed social section of the club too.
The gender balance may represent a slight difference in the route into hockey for the men and women in our club. Many of the male members of the club have learned hockey with the Royals, and so the men's side of the club is larger because we're the first and only place many of them have played hockey. The women's side of the club tends to be much more made up of people who have played hockey for a longer period of time and who've already established relationships with other clubs, who they stay committed to. Come tour time, when we travel nationally or internationally, the numbers tend to even out a lot more.
We have historically had players who identify as trans or non-binary, however currently we're not aware of anyone within the club from these communities. We are actively exploring whether this is because of any perceptions about hockey as a sport, or the Royals as a club, however we've always and will always welcome individuals of all backgrounds and identities. The environment we play in has always been incredibly welcoming and supportive to us as individuals, and we would truly hope this is the same for trans and non-binary individuals, and we would actively welcome more members from these communities.
Do you have to be LGBT to be a member of the club?
Absolutely not! We welcome anyone who wants to play hockey in a friendly, welcoming, social, and non-judgemental environment, and indeed we already have members, both male and female, who identify as straight.
While our core ethos will always be about providing the LGBT community with a place to learn and play hockey, we'll never turn anyone away on the basis of sexual orientation or gender identity. Some of our straight members are very proud to be a part of an LGBT club, and are incredible allies for the LGBT community, and we're so proud to have them too.
What are some of the biggest challenges in running the club?
Our challenges are the same as those for every hockey club in London — mainly finding pitch time in central London. There are a limited number of pitches, and there are lots of clubs trying to find spaces for their teams to train and play matches.
Whilst this is a significant challenge, other clubs in our area have been incredibly supportive to us along the way, particularly London Wapping and East London.
What sort of standard of hockey does the club offer?
We pride ourselves on our ability to introduce adults to hockey, breaking down those barriers for individuals to learn the game in a friendly, social and completely inclusive environment. The lifeblood of the club is our social, mixed set-up. We play in a range of mixed competitions throughout the year, from social friendly leagues to more competitive summer league hockey. We have mixed training sessions on the first Sunday of every month where we invite all newbies to come down and then find their own path within the club.
As well as developing beginners, the Royals also offers an increasingly competitive pathway too. Our teams play mainstream league hockey during the season. Our men's first team won their league and cup competitions last year, scoring 132 goals in 20 games.
The club also offers a fantastic opportunity to travel, each year we organise at least one domestic and international tour. In the past two years. we've toured to Leeds and Brighton within the UK, we played at the EuroGames in Stockholm in 2015, and at the Out Games in Miami in 2017.
All of this work resulted in the club being shortlisted for England Hockey's Club of the Year in 2016. Although we didn't win, this is something we're hugely proud of as it puts us in the top 10 clubs in the country and sends a very strong message to the rest of the hockey community.
What are some of the key events or competitions coming up for the club?
In August we'll be heading to Paris for the 10th Gay Games, where we'll be taking on hockey teams from all over the world.
Plus there's our annual appearance in the Pride in London parade, and of course our Pride Cup in June. If you want to give field hockey a try, come down and be part of the Pride Cup. We get so excited to see new players, you'll soon forget your nerves and you'll wonder why you didn't try it years ago.
Does the club take part in any community activities or outreach, or is the primary focus the hockey?
While we have historically focussed primarily on developing ourselves as a hockey club, we increasingly recognise that the world is not necessarily becoming a better place for LGBT individuals for a multitude of reasons, so we're looking at how best we might be able to engage with wider political and social campaigns in an effective way.
We've taken part recently in England Hockey and Stonewall Rainbow Laces campaigns, encouraging more LGBT people to take up sports and to challenge prejudice within team sports.
We want to hear your opinion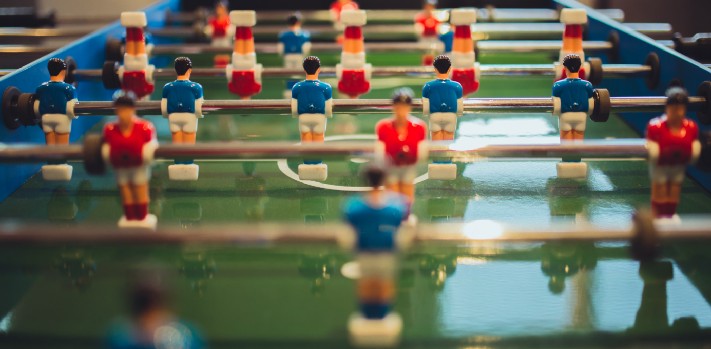 Although it's surprising that there aren't more gay guys playing football at an elite level, the reality is that sport doesn't get much gayer than soccer.
If you want to demonstrate that you're up-to-speed with the off-side rule, or if you just want to project your locker-room fantasies onto some fit guys, then this selection of some of the world's best footballers is a good place to start.
Yann Sommer, Switzerland
A sexy goal-keeper with strong hands. Known for his love of cooking. I'm dreaming of a romantic fondue date.
Heung-min Son, South Korea
He plays for UK club Tottenham, and his bromance with ex-teammate Kevin Wimmer is adorable. He could invade my demilitarised zone.
Cristiano Ronaldo, Portugal
I really want Ronaldo to take his bromance with Badr Hari to the next level.
André Silva, Portugal
That moustache. That baby-face. It's just all too cute. He plays for AC Milan, but his Instagram suggests that he really wants to model.
Mohamed Salah, Egypt
Mo Salah is one of the greatest players, so it was disappointing to see that during the recent World Cup he and his teammates from the Egyptian squad allowed themselves to be used as propaganda to bolster the image of anti-gay Chechen leader Ramzan Kadyrov. Chechnya was selected as the training base for the Egyptian squad.
Nacer Chadli, Belgium
Chadli gets bonus points for his nude photo shoot a couple of years ago. It's an example that more players should follow.
David Silva, Spain
Those eyes, those cheekbones. Silva has recently become a father. Total Xaddy.
Philippe Coutinho, Brazil
Signed to Barcelona in one of the most expensive deals in football history, it's Coutinho's tattoos that have got my attention. Every inch of him is inked. Well, maybe not every inch, but a lot of him.
Kylian Mbappé, France
He's only young, but Mbappé is already making a name for himself as an intelligent and articulate leader on and off the field.
Mats Hummels, Germany
Handsome, moody, but also has a playful side. Hummels is known for his charitable work — particularly focused on helping to bring football to under-privileged kids.
Nicolás Tagliafico, Argentina
His Insta feed is full of loved-up photos of Tagliafico and his girlfriend, but there's something about Argentine guys that's just irresistible.
James Rodríguez, Colombia
He looks young and fresh-faced, but Rodriguez has a lot going on. He's just launched his own crypto-currency. But what I like are the salsa moves he performs after a scoring a goal, and he scores a lot of goals.
Maya Yoshida, Japan
A rock-solid defender, Yoshida plays with UK club Southampton. He's surprisingly tall.
Dele Alli, England
With a fashion line already released, Dele is a stylish guy. I really like his brotherhood bond with Harry Hickford. Dele moved in with Hickford's family when he was 13, and they've been close ever since. They're still living together, but they've upgraded to a fairly massive house in Hertfordshire.
Edinson Cavani, Uruguay
One of Uruguay's top-scorers, Cavani gives good hair-ography.