I caught up with Skyy Knox to talk awards, underwear, and his ideal man.
What led you to start exploring a career in porn?
Before my porn career started, I was a professional dancer — travelling the world with different productions and shows. I was then asked on social media one day — by people who worked for Men.com — if I was interested in filming.
I'd never given it a thought until that moment. It didn't take me long to say Yes, and start filming my first scene with them. The director was shocked to hear it was my first scene, he told me it seemed like I'd been doing this awhile. I was hooked, and determined to make it to the top.
Would you describe yourself as an exhibitionist?
I am 100 percent an exhibitionist. I was born to be on stage or in front of a camera — it's where I can open up, express myself, and really be free. I enjoy sex in every way you can imagine. Sex is more than just fucking for me — it's pure passion and art mixed together. Whether I'm filming a scene, or doing a live sex show, I'm giving my whole body and energy so that everyone can enjoy what I do.
You won Best Newcomer at the Grabby Awards — how did that feel?
Hearing my name being called was a feeling like no other. Every newcomer works for this award, and to be chosen really makes me feel like all the hard work I've been doing paid off. When I was on stage giving my speech, I almost cried with the emotions I was feeling. I couldn't have done this without my Falcon family. Their love and support is all I need. Of course, I also need love and support from my fans, and they give it to me every day.
What category will you be aiming for at next year's awards?
I'll be aiming for Best Bottom, Best Supporting Actor, or Best Actor.
What's your ultimate gay porn fantasy?
My ultimate gay porn fantasy is to film a huge group orgy, like Falcon used to do. Having all the huge cocks pounding my hole good, with lots of different combinations of double-penetration action. Just hot muscle-men fucking and cumming everywhere.
Who are some of you gay porn heroes or inspirations?
My gay porn hero and inspiration is and will always be Arad Winwin. He's the most amazing man that I've met while starting out in this industry. I wish I lived closer to him so we could spend more time together. Not only is he my ideal man, he also has the most beautifully kind soul and energy.
Can we talk underwear?
Lately I've fallen in love with G-Strings. I can't stop wearing them. This summer is dedicated to wearing G-strings as much as I can. I love getting fucked in a G, having the guy just pull the string to the side as he slides his huge cock in — turns me on.
As for the gym, I actually don't wear underwear that often, but when I do it's old trashy briefs that get nice and sweaty.
The kind of underwear I prefer on other guys really depends on the guy. I love making a power-top wear my G-strings, and of course seeing a juicy big ass in a jock always makes me rock hard.
What are some of your goals and ambitions for the remainder of 2018?
I want to focus on making as many beautiful movies as I can. There are a lot of great projects coming up with my studio that I'm very excited for. I also want to focus on my fans. I have a lot of tours lined up, and can't wait to meet as many of you as possible. This summer is going to be one to remember, and I can't wait to share it with everyone!
We want to hear your opinion
Word of the Day: Chacal
Travelling to Mexico City? Add this to your vocabulary.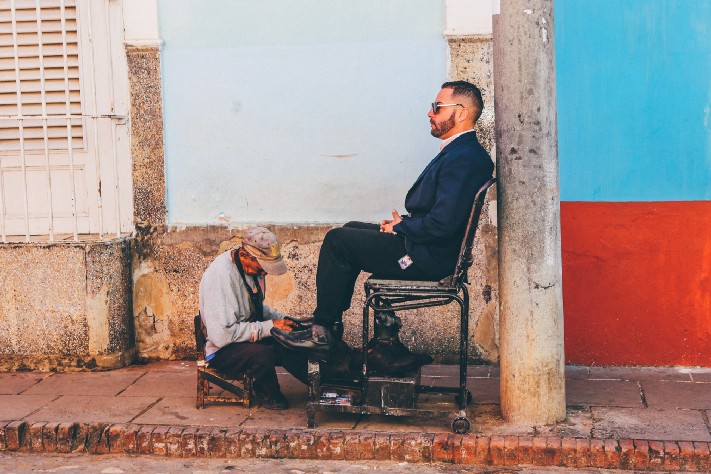 Chacal is a term used in Mexico City — it describes a masculine guy who fucks other guys. A rough top.
The Urban Dictionary helpfully shows how to use the term Chacal in a sentence: "Total bottoms love chacales…"
Let's put to one side for the moment the ridiculous labelling as anyone as a 'total bottom' — just because a guy enjoys a bit of anal play doesn't define his identity — but you get the idea.
In some ways, Chacal is the Mexican version of Masc4Masc — but Latino culture has a complicated obsession with all things macho. In places like Mexico City, your identity as a man, your masculinity, is defined by how you project a macho image to the world. Being gay isn't easily reconciled with being macho. The chacales are trying to have it both ways — projecting an uber-macho image to the world, and totally getting off on having sex with guys.
In the interests of cross-cultural investigative research, here's some examples of guys who seem to me to be channelling a bit of the Chacal vibe.
Chacal. It's our word of the day.