Do you like a bit of erotic fiction? If you're looking for some reading material to help fuel your fap fantasies, then you might be interested in the festive flair of Bad Boys' Book Club.
This is a collection of short erotic encounters between men, for some one-handed reading at its finest.
Volume 3 of the series has recently been re-published, and it now includes a Christmas story about what happens when a bad boy sits on Santa's knee.
If that sounds like your kind of thing, then check out some of the steamy extracts below.
"What's your name, kiddo?" asked the Santa, as he helped Kevin find a comfortable position on his lap.
"Kevin!" replied Kevin. "I'm trying to see if I can see my Dad out there, I want him to come and take a picture of me. There he is! The one with the moustache!"
"He's a good-looking daddy…" acknowledged the Santa. "Does he let you sit on his knee?"
"He says I'm too big for that…" laughed Kevin, snuggling closer into the Santa's embrace. "But I like sitting on your knee."
"Tell me, Kevin…" growled the Santa, his breath hot on Kevin's cheek. "Have you been a good boy this year?"
"I've done my best, Santa…" nodded Kevin. "But it's not easy… Sometimes I wish that it was bad boys who got all the presents."
"Bad boys get their own rewards…" acknowledged the Santa, wrapping his arms tightly around Kevin and pulling him closer.
When Kevin walked into the toilets, the Santa was washing his hands at one of the sinks. Their eyes met in the mirror, and Kevin smiled to himself as the Santa followed him into the end cubicle.
"Ready for your present?" asked the Santa, locking the door behind them. Kevin was already on his knees, undoing the loose trousers that the Santa was wearing, pulling down the briefs that the Santa was wearing to release the thick cock that was already hard with anticipation.
"I want to get my mouth on your candy cane…" grinned Kevin, wrapping his lips around the Santa's cock-head, tasting the pre-cum that had already begun to flow.
"I've got a heavy sack that needs to be unloaded…" growled the Santa.
"That's exactly the kind of gift I want…" grinned Kevin. "Are you going to fuck me with your big candy cane? Are you going to stuff my stocking?"
The Santa pulled Kevin up off his knees and bent him over the toilet – pushing his jeans and his briefs down to expose his smooth ass.
"Are you ready for this?" growled the Santa, spitting mouthfuls of spit into the palm of his hand so he could slick up his cock-shaft and loosen up Kevin's tight boy-hole.
"Fuck yeah, Daddy Santa…" grunted Kevin. "Give it to me!"
"Daddy Santa…" chuckled the Santa, as he pushed forward, pushing inside. "Yeah, I like that. Fucking Daddy Santa come to give you the presents you've been dreaming about. Give you the presents that your Daddy doesn't give you."

Here's the geo-specific links on how to get your hands on a copy of Volume 3 of Bad Boys' Book Club:
We want to hear your opinion
Is gymnastics the hottest gay sport?
We study the evidence.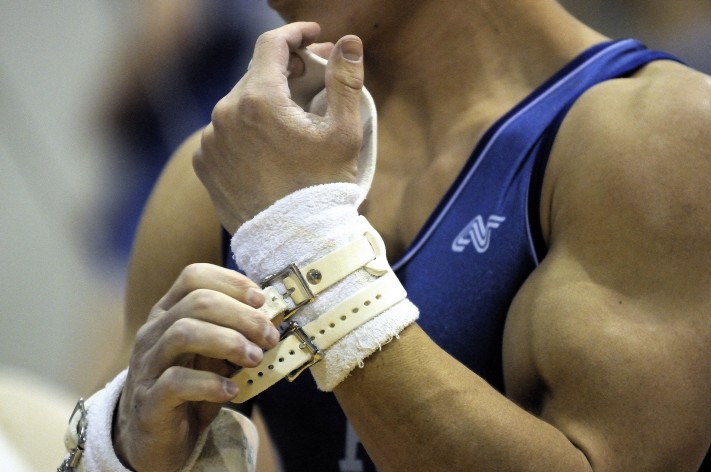 I have a little fantasy that all male gymnasts are gay. Well, the hot ones at least.
This is a sport that requires strength, agility, and the self-confidence to wear short-shorts and muscle vests.