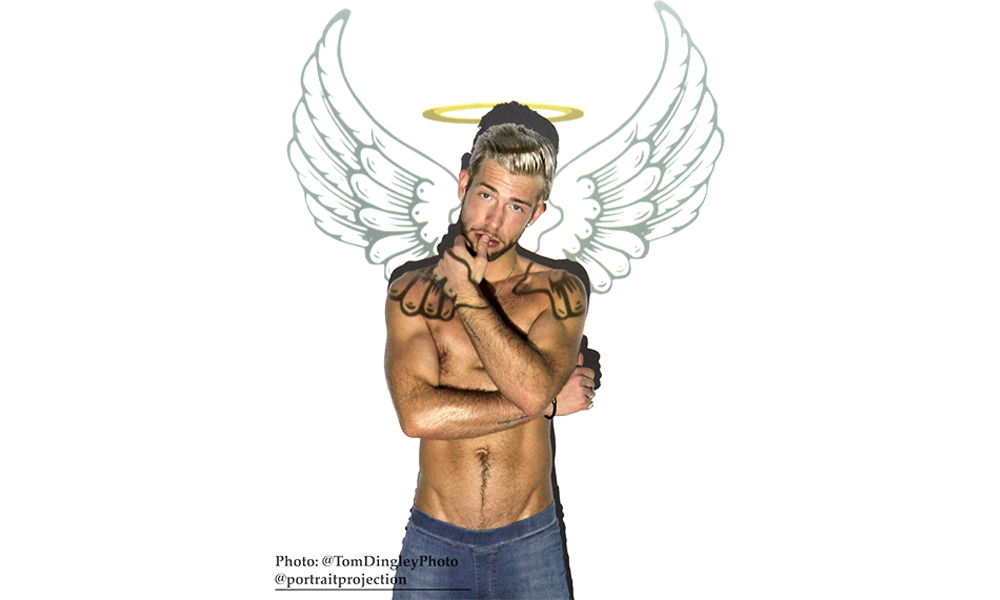 Sign us up for the nude work-outs!
Sign us up for the nude work-outs! Gabriel Phoenix: "I'm naked 90 percent of the time…"
I caught up with Gabriel Phoenix to talk acting, nude work-outs, and super-powers.
What led you to start exploring a career in porn?
Porn is something I'd always considered doing. I enjoy sex, and I enjoy showing off, so the option to combine the two and earn some money really appealed to me.
People are sharing photos and videos of themselves naked or performing sexual acts all throughout the internet - porn stars just have the business acumen to be paid for it.
Would you describe yourself as an exhibitionist?
Totally - I love being observed, and I love to know that people appreciate my hard work and performance. At the same time, I find being naked so liberating - I'm a free-spirited lad, I'm naked 90 percent of the time, regardless of whether there's an audience. I particularly like getting naked outdoors in nature - I take any opportunity I can to shed my clothing and reconnect.
You picked up Best Jock at the Prowler European Porn Awards - how did that feel?
It's a wonderful feeling to receive any recognition for your work. It shows us that we're appreciated and that we're on the right path with how we work. It also enables us to feel more connected with the fans, as it's them who made it possible for the win.
So for me, it works both ways - it makes me feel proud and helps to stroke my ego, but at the same time creates a humble feeling as you realise it really is the viewers who hold the power and decide who is relevant or not. I'd like to give a huge thank you to everyone who voted for me and everyone who voted for my friends and colleagues.
Who are some of your porn heroes or inspirations?
To be honest, I've been lucky enough to meet most of my porn heroes, which has been unbelievable.
The guys in porn who I really look up to or aspire to be like are the guys who like to give something back to the community, and who drive forward-thinking and innovation. I really love my good friend Kayden Gray who has really helped to raise awareness for people who are living with HIV. I also appreciate guys like Dominic Ford, who has established a lucrative and successful business and business platform for other actors.
What's your ultimate porn fantasy?
My ultimate porn fantasy would be a glossy, blockbuster-style parody movie. I absolutely love acting and always wanted to be an actor, so that would really be an enjoyable experience - especially with how outgoing porn actors can be. I mean, could you imagine how every day on set would be? Fine asses, great dicks, and constant laughter.
Otherwise, if it's just straight up sex, then I want my favourite top, tied down, and willingly made to bottom by other guys, of my choosing, in tandem while I watched over him. Then, when everyone has finished, it would be my turn to make his ass mine!
Can we talk underwear?
I'm actually a commando kind of lad. Recently, I have started wearing jocks in the gym, because commando in sweats is just a bit too revealing. I have to admit, wearing a jock in the gym is so fucking sexual - especially when doing squats. Otherwise, I'm an old-school boxers guy - like CKs, or Tommy Hilfiger.
What are some of the projects that you're currently working on?
I'm working on several projects, both sexual and not. I'll be heading to Paris to film a feature porno, which will be a parody of a recent major movie - top secret stuff. I'm also soon starting nude workout and gym classes - they'll begin in November. I want to show that nudity can be a very freeing and social thing, and that working out naked is a fantastic way to remove restriction and allow one another to also appreciate the male form.
What are some of your goals and ambitions for the remainder of 2018?
I'd like to be as happy as I can be. I hope that by 2019 I've continued to form great bonds with fantastic and diverse people both in and out of the industry, and that I'll continue to please the fans by working hard and creating amazing and sexual content. Also, I'd like to be able to move things with my mind.
Follow Gabriel Phoenix on Twitter














We want to hear your opinion
Joel Someone is living his gay porn fantasy
I caught up with Joel Someone to talk about porn, sex, and underwear.
What led you to start exploring a career in porn?
It was my dream to shoot with Treasure Island Media — something about the fearlessness of their exploits inspired me at a young age. Gay sex meant fear to me, as long as I could remember.
The longer I waited to seek out my sexual identity, people were pushing me away from my passions to things that were more stable. I was attempting to live a hetero-normative life, against my own inner desires.
Honestly, porn saved my life. I wasn't happy with my direction and career, I love porn — it was a natural transition.
Would you describe yourself as an exhibitionist?
The act of creating porn is exhibition, so I would say — Yes, absolutely. In my own personal life, I enjoy sexuality that's honest and playful. It's hard for me to put titles on what I find to be exhibitionism.
I'm more an exhibitionist with my speech — I love talking explicitly with people who are truthful about their desires.
Who are some of your porn heroes or inspirations?
Rocco Steele was someone I admired from a very young age. His appearance inspired me to start working on my fitness.
Ron Jeremy taught me that you can be the nicest, kindest, most professional man, and you can build a career out of your great interpersonal skills. Having a large penis obviously helps.
Cutler X — because he's a sweet and lovely person, but can still fuck like a demon. He was never corrupted by a persona.
Armond Rizzo was the first time I was deeply attracted to someone who was very boyish — up until that moment I chased 'daddy' type guys. He made me want to become more of a dom-dad.
Buck Angel altered my perception of what masculinity was. Seeing him made me search deep for what my inner gender was, which made me appreciate the masculinity of bottoming or being a vessel for another man.
Marco Napoli is the man I'm seeing, and he really is inspiring me. To see the dedication of leaving the past behind and starting fresh. He's on this journey with me, and it's nice to have someone to share this roller-coaster with.
What's your ultimate porn fantasy?
My greatest fantasy is having sex with twins. During different parts of my life, this fantasy kept reoccurring. Just recently, I was able to fulfil my fantasy with the Morgan brothers. I was really aroused by the silent connection the two had with one another while they were being brutalised by 17 men — the symmetry of their bodies as each boy was placed in a pose and then fucked.
They were very quiet during this event, you could see the concentration on their faces. I thought it would be odd to see two brothers being fucked at the same time, but after the experience I was amazed to see the very cool close bond they had with each other.
Can we talk underwear?
I love bikini-cut with a pouch, or jockstraps — always in black. I love anything that cups my balls and lifts my cock up.
At the gym, I usually have gym shorts with a lining already sewn in.
On other men I like to see fresh clean underwear. Mine occasionally are musky from my balls. I like having a boy telling me that mine need to be changed.
What are some of your goals and objectives for the months ahead?
I've really enjoyed the partnerships I've made with several studios. I'm happy to have a good relationship with them and to be trusted to work with talented performers. I want to develop more partnerships with studios and performers.
I enjoy working inside and outside the porn industry. I love acting and creating — this platform has offered me the ability to do both. My favourite activity is discovering and working with talent on Instagram.
Follow Joel Someone on Twitter
Follow Joel Someone on Instagram