I caught up with Gabriel Phoenix to talk acting, nude work-outs, and super-powers.
What led you to start exploring a career in porn?
Porn is something I'd always considered doing. I enjoy sex, and I enjoy showing off, so the option to combine the two and earn some money really appealed to me.
People are sharing photos and videos of themselves naked or performing sexual acts all throughout the internet - porn stars just have the business acumen to be paid for it.
Would you describe yourself as an exhibitionist?
Totally - I love being observed, and I love to know that people appreciate my hard work and performance. At the same time, I find being naked so liberating - I'm a free-spirited lad, I'm naked 90 percent of the time, regardless of whether there's an audience. I particularly like getting naked outdoors in nature - I take any opportunity I can to shed my clothing and reconnect.
You picked up Best Jock at the Prowler European Porn Awards - how did that feel?
It's a wonderful feeling to receive any recognition for your work. It shows us that we're appreciated and that we're on the right path with how we work. It also enables us to feel more connected with the fans, as it's them who made it possible for the win.
So for me, it works both ways - it makes me feel proud and helps to stroke my ego, but at the same time creates a humble feeling as you realise it really is the viewers who hold the power and decide who is relevant or not. I'd like to give a huge thank you to everyone who voted for me and everyone who voted for my friends and colleagues.
Who are some of your porn heroes or inspirations?
To be honest, I've been lucky enough to meet most of my porn heroes, which has been unbelievable.
The guys in porn who I really look up to or aspire to be like are the guys who like to give something back to the community, and who drive forward-thinking and innovation. I really love my good friend Kayden Gray who has really helped to raise awareness for people who are living with HIV. I also appreciate guys like Dominic Ford, who has established a lucrative and successful business and business platform for other actors.
What's your ultimate porn fantasy?
My ultimate porn fantasy would be a glossy, blockbuster-style parody movie. I absolutely love acting and always wanted to be an actor, so that would really be an enjoyable experience - especially with how outgoing porn actors can be. I mean, could you imagine how every day on set would be? Fine asses, great dicks, and constant laughter.
Otherwise, if it's just straight up sex, then I want my favourite top, tied down, and willingly made to bottom by other guys, of my choosing, in tandem while I watched over him. Then, when everyone has finished, it would be my turn to make his ass mine!
Can we talk underwear?
I'm actually a commando kind of lad. Recently, I have started wearing jocks in the gym, because commando in sweats is just a bit too revealing. I have to admit, wearing a jock in the gym is so fucking sexual - especially when doing squats. Otherwise, I'm an old-school boxers guy - like CKs, or Tommy Hilfiger.
What are some of the projects that you're currently working on?
I'm working on several projects, both sexual and not. I'll be heading to Paris to film a feature porno, which will be a parody of a recent major movie - top secret stuff. I'm also soon starting nude workout and gym classes - they'll begin in November. I want to show that nudity can be a very freeing and social thing, and that working out naked is a fantastic way to remove restriction and allow one another to also appreciate the male form.
What are some of your goals and ambitions for the remainder of 2018?
I'd like to be as happy as I can be. I hope that by 2019 I've continued to form great bonds with fantastic and diverse people both in and out of the industry, and that I'll continue to please the fans by working hard and creating amazing and sexual content. Also, I'd like to be able to move things with my mind.
Follow Gabriel Phoenix on Twitter














We want to hear your opinion
River Wilson is changing the narrative
"People are into the idea of seeing me naked…"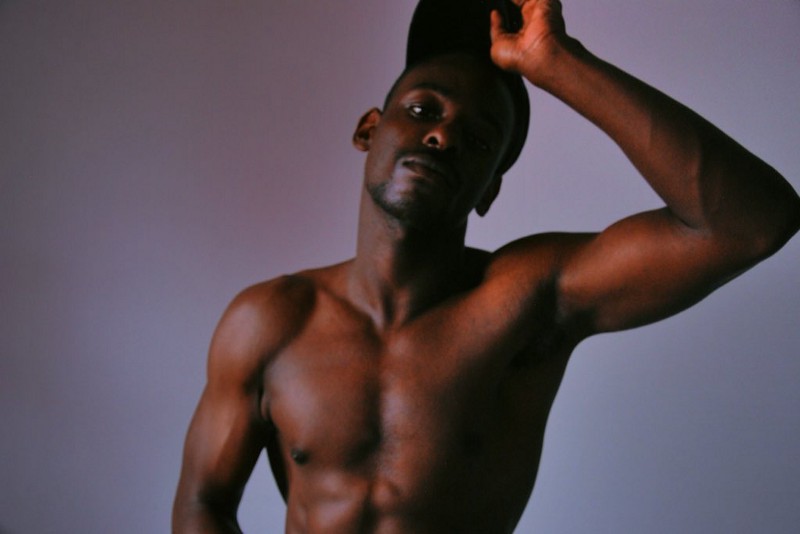 I caught up with River Wilson to talk heroes, underwear, and house-sitting.
What led you to start exploring a career in porn?
My curiosity for sex. I've always been fascinated with this world, so when I was old enough I started doing some research about the industry. After I gathered all the info I needed and felt comfortable, I started the steps to get in.
Would you describe yourself as an exhibitionist?
Not really, I always see the worst in my body, but find it interesting that people are into the idea of seeing me naked — I fake that confidence until I can get to a place where that energy of acceptance goes through my entire body.
Who are some of your porn heroes or inspirations?
I don't think I have porn heroes. I definitively have people inspiring me to want more and to change the narrative already written for a young black man of colour in a place ready to put me in a box.
The Housesitter looks like a great production — how did that project come about?
I was having dinner with my dear friend — J of Socalled — about films, erotica, the industry, and he told me about a project he did back then at Cinema L'amour with a movie by Toby Ross. I thought it was an amazing perspective, so that night we decided to try to make our own production and see where it would go.
Is this the first film that you've produced?
It was a lot of work, but so worth it and I'm planning on doing it again for another project. Figuring out the casting and raising the money were the two challenges that almost got me questioning the whole thing, but then I was inspired and determined so I had to double the work.
Can we talk underwear?
I love wearing boxers — I find them most comfortable, and I'm all about comfort. For the gym, I prefer briefs — especially when I do squats. On other guys, I love them in boxer briefs because then I can see their butt well.
What are some of your goals and ambitions for the months ahead?
I'd love to get into acting and production more — if I can combine it with porn and erotica, then great. In that same breath, I'd also love to be more artistic with these visions.
Follow River Wilson on Twitter