Sam Stanley and his partner Laurence Hicks relocated from London to Sicily, where they've established Casa Piccolo Paradiso — a home-stay accommodation.
Sam also runs a fitness studio and offers personal training for guests.
I caught up with Sam to see if we should be adding Sicily to our travel wish-list.
What makes Sicily a great vacation destination?
Sicily has a lot of history, having been invaded by many different forces — these different influences are apparent across the island.
Places worth checking out include Palermo, Catania, Taormina, and Giardini Naxos — where the first Greek colony settled. We live in Gioiosa Marea. The many beautiful old hill towns always go down well with visitors. Not to forget Mount Etna, which is something to behold.
Plus, the weather is obviously a main attraction.
Where do most of the guests at your home-stay come from?
We started in July 2017, and so far we've had guests from nine different countries. The UK is where the majority come from, but it's nice that we've had a good mix of different cultures and mindsets come and stay.
How is a home-stay different to a hotel or an Airbnb?
A homestay is very similar to a B&B — where breakfast is provided within the cost — but it's more intimate than a B&B. As opposed to shutting yourself off — which you can still do if you want to — it's like renting a room, with the ability to use the facilities, and be welcomed into the everyday lives of whoever owns it.
What sort of personal training or fitness advice do you offer to guests staying with you?
It really depends on what the guests have come to stay for. A lot of them associate the holiday with relaxing and doing nothing, or just travelling to different towns. The few that have been up for training I just normally give them advice on what they're thinking about when performing exercises.
There's not a lot you can really do in one or two sessions, so it's important for them to take away something worthwhile — our movement, and how we perform an exercise is the most important thing.
What's the easiest way to maintain health and fitness while on vacation?
It depends on what you want out of your holiday. Some people come to Sicily for the pizza and pasta, so it's not easy to maintain a high standard of eating and exercising.
My advice is to try and compensate — eat less throughout the day if you know you're going to be eating a big amount in the evening. It comes down to calories-in versus calories-out — if you're on a weight-loss journey, just have a think about how much you're consuming.
What's the best time of year to visit Sicily?
If you're someone who enjoy's the heat, then June to mid-September is the best. There have also been some beautiful days in April and May. Hottest month is definitely August.
Book your stay at Casa Piccolo Paradiso
Follow Sam Stanley on Instagram
We want to hear your opinion
Underwear trends? Guys are into briefs.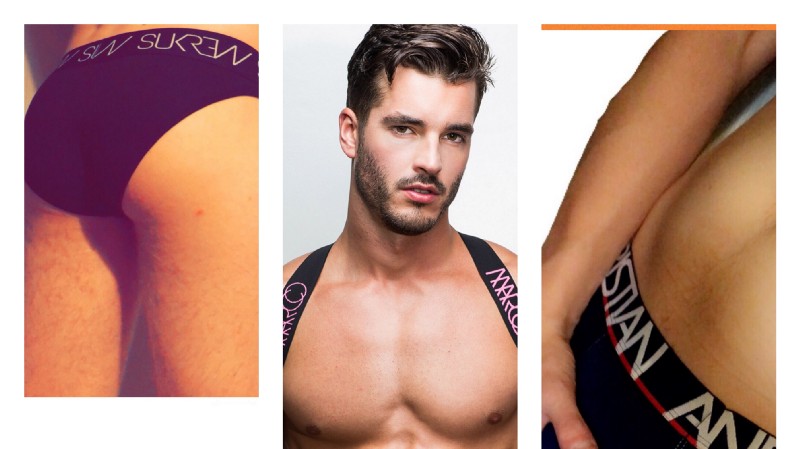 I caught up with Rob Heitzman, founder of RB Underwear, to talk about turning your passion into your career.
What makes underwear such a big deal for gay men?
We believe that underwear is no longer a daily necessity. Guys are increasingly choosing bolder designs to really make a statement. It's not only about comfort or expressing yourself, but also you've got to feel fabulous!
What were some of the brands that first got you excited about underwear?
My first purchase into underwear other than your day-to-day boxer was an Andrew Christian jockstrap. As soon as I put it on I felt great. My bulge lifted and supported, my bum looking peachy, and my confidence increasing. That's why the first brand we approached was Andrew Christian, as we want other guys to feel that way too.
What style of underwear do you prefer to wear on a day-to-day basis?
Day-to-day I prefer a tight boxer style underwear. However, my partner tends to wear briefs. Occasionally we do have a day when we feel particularly naughty and wear a jock strap.
What style of underwear do you wear to the gym?
Boxers. When you're running on a treadmill or going all out on a rowing machine, you need everything contained and don't want any escapees.
What style of underwear do you prefer on other guys?
Depends on my mood. My partner looks great in anything! But if I had to choose, then it would have to be briefs — perfectly showing off in all the right places.
What led you to establish an online underwear store?
Both myself and my partner work full-time with large companies. I'd been thinking about starting some sort of business for a while, and on one quiet day RB Underwear was born. I'd always been interested in doing something I was passionate about and had a real interest in. I love underwear, so why not make it into a business? Now, every day I get to look at good-looking men in good-looking pants.
Which are the brands that you're featuring in your online store?
At present, we're featuring Sukrew, Andrew Christian, Marco Marco, and Fetish Gear. We're always on the look-out for other brands we love, and are currently in talks with some new suppliers.
Who is your target market?
Our target market is gay men. Somewhat selfishly, we've been buying lines we like and would buy ourselves, but we realise that that's not necessarily to everyone's taste so we're broadening our range. The trend is leaning towards briefs more and more, so keep your eyes peeled for more great briefs.
RB Underwear is based in Northamptonshire and offers men a range of underwear including boxers, briefs, and jockstraps.
Follow RB Underwear on Twitter
Follow RB Underwear on Instagram