Dutch architectural engineer Rinke Feenstra has founded Ynside Underwear — a new range of underwear that uses organic material and is designed to help soften and restore the skin of the exposed glans of a guy's circumcised penis.
I caught up with Feenstra to talk circumcision, and how his underwear could be a game-changer for men around the world.
At what age were you circumcised?
I was three years old. It was done for medical reasons — I was diagnosed with Phimosis, a condition where the foreskin is too tight to be pulled back over the head of the penis.
Is it common in the Netherlands for boys to be circumcised?
I grew up in the rural north of Holland, where circumcision is rare. Around the cities it's a bit more common because of different cultures.
I was the only one who was circumcised on my soccer team, which made me aware of the fact that I was a little bit different.
When did you start to think that your circumcised penis might have a different sensitivity to an uncircumcised penis?
As a teenager and as a student, I read things online that made me realise that my sensitivity might have been impacted by my circumcision.
At that point I was mad that procedure had been done to me, and I talked about it with my parents.
There was a lot of information available online and I realised that I was part of a much larger community of circumcised men.
What was the process that led you to start thinking about creating underwear specifically for circumcised men?
I was doing a lot of cycling, and experiencing friction on my penis. I started to focus on my condition as a problem to be fixed, but in doing so I grew more frustrated.
The whole experience brought me to a turning point, I decided that it's better to focus on the positive and make the best of it.
I was educated as an architectural engineer, developing a critical view of things I see in my surroundings. As a child I also grew up with very health-conscious parents. I think that this combination led me to think about finding a natural, nourishing, and protective solution.
Back then I didn't know that I was going to create a brand. That thought grew during the years after because I wanted to give men the opportunity to use my designs and feel the difference.
How long was the design and testing process until you found a product that you were happy with?
I started making concepts in 2007, and began distributing some test designs in 2014. The first production run took place at the end of 2015.
My prices are higher than your average underwear because they're made from silk. We researched and tested the most skin-friendly fabrics and silk gave us the best results. But it's not just your regular silk, but an animal friendly, certified organic, and top-quality silk that's treated carefully throughout the entire process.
On average, the genital skin is about 90% more absorbent than other skin areas, leaving it extremely vulnerable to toxins and other irritants. Silk is a protein fibre, and the protection it gives helps to repair and nourish your intimate skin.
When rethinking the design of underwear, we integrated the most important comfort and health aspects, including the extra space pouch, and special protective elements.
Our products are manufactured in Europe, and our designs have been sold across 12 countries on five continents.
What's really pleasing is that preliminary scientific tests conducted in the US have proved an increased sensitivity and a better skin structure as a result of wearing our designs, so we're really motivated to do more research on this next year.
What's the response been like, from circumcised men who have tried your underwear?
Great, we have a lot of repeat customers.
It's still quite a challenge to get men interested in the products. Circumcision is a taboo, and here in Europe many man don't see the point of my focus.
Also men aren't used to being open about personal things or feelings. There's still a lot of ego hidden in a man's pants.
Would this style of underwear potentially also have benefits for men who are not circumcised?
Yes, totally. Silk boosts a man's comfort and sensitivity naturally. In general, our organic, animal-friendly silk is a nourishing, soft fabric that prevents irritations. For example, if you're a guy who shaves or trims your pubic hair, then you'll benefit from the softness of our underwear.
Silk is also a very good temperature-regulating fibre, combined with the extra space pouch which supports a man's reproductive health too.
The underwear is available for pre-order, if someone places a pre-order with you, how long until you expect to be able to deliver the underwear?
Because we're a young company, the crowdfunding campaign we're running now helps us to pre-finance the next stage. We're ready to send our improved collection into production.
Delivery will be made in late February 2018, but we've got gift cards available so they're the perfect Christmas gift.
We want to hear your opinion
Insta influencers in their underwear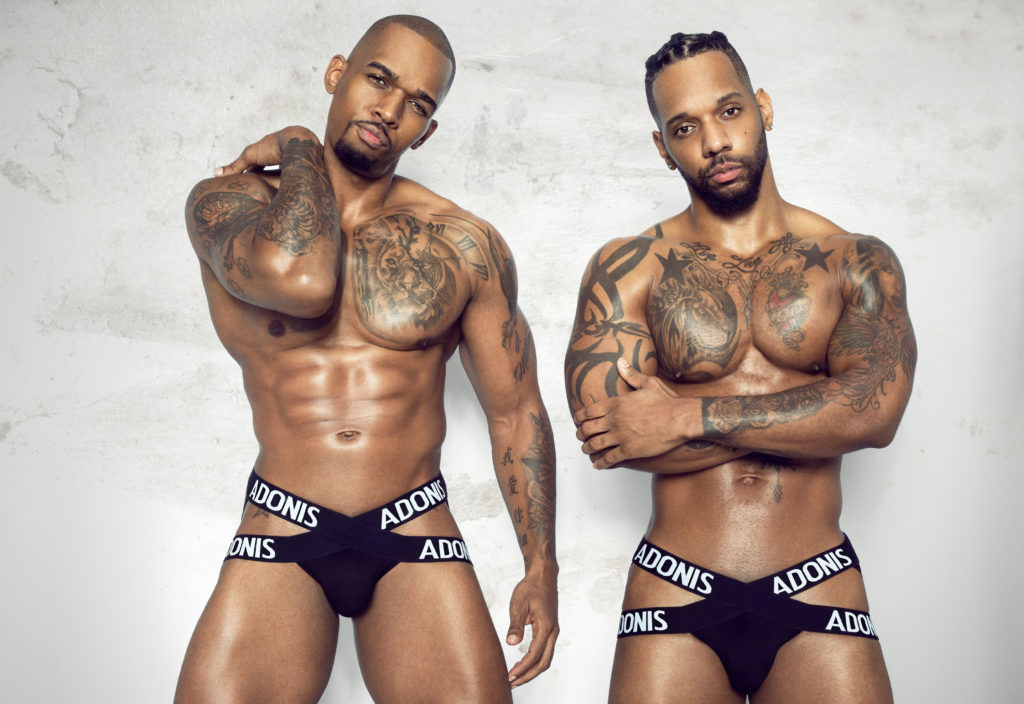 In the world of Instagram, Johnnell Terrell and Tyrone Wells are a big deal. They're a real-life couple with a combined Insta following of over 360K.
In their first photo-shoot together, they're showcasing the latest range from Adonis underwear. The campaign has been shot by Elvis Piedra.
"I feel there are not enough black men who are able to express their art in the underwear industry as white men are usually given the majority of opportunities…" said Terrell, speaking about the campaign. "I feel, as gay black men, we can really push limits on the freedom of expressing that art while using a platform to be recognised for. We believe in this new wave of social media, it creates more outlets of diversity."
"It's always great working alongside my partner…" added Terrell. "Doing the photo shoot together has opened our minds to be able to work creatively and feed off each other's energy."
Adonis Underwear was founded in 2015 by Kyhry Taylor.
"I choose Johnnell and Tyrone to be models for this campaign because I wanted to show two guys that are comfortable with embracing each other…" explained Taylor. "It's important to show a positive representation of gay men and gay love."