Established in 1988 in the small English village of Trowbridge, BodyAware has found a niche in the highly competitive men's underwear market.
I caught up with founders Kristina and David Bonfield to find out why men's underwear is coming over all sexy.
How did you make the move into starting an underwear business?
We were both working in China, which is where we met and got married. On our honeymoon trek across the countryside of China, we purchased some Chinese silk underwear and fell in love with the lightweight fabric that kept us warm at night. The only think we didn't like about the underwear was the drab colors that it came in, so we decided to create our own brand of men's underwear that combined silk with vibrant colors. Since then we've grown the business to offer other fabrics and designs.
We've also established a second brand called Xdress which creates feminine-inspired lingerie for men.
Both brands are only sold through our online store and our customers come from around the world.
What are the differences between the people who buy from BodyAware and the people who buy from Xdress Lingerie?
People who buy from BodyAware tend to be men of all shapes and sizes who like to make statements with their underwear. Rather than wear the boring underwear of the past, BodyAware customers dress to impress in our comfortable and durable designs.
Xdress customers tend to be men who think outside of the box. Men who are comfortable with their bodies and their sexuality. Whether it's for cross-dressing purposes or to satisfy a sexual kink, XDressers aren't afraid to wear the pink, frilly underwear that their female counterparts are accustomed to wearing. Pink is the new blue.
Why is underwear so important for men?
Men love DIY. They like to embellish their cars, their boats, their bodies. What better way to amplify a man's natural talents than with an excellent pair of soft, colourful, and ultimately comfortable pair of undies.
How do you market to your target customers?
In the beginning, we used mail-order catalogs to reach our customers. Today, with the advent of digital technology, we use social media extensively. From a tweet to a pin to a gram, BodyAware stays abreast with what's trending.
Do you have many competitors in this market?
Like any industry, there is always competition. What separates us from the pack, is that we've been at the forefront of the drive to set new standards in fashion and fun in the design of men's underwear. At least 90% of BodyAware's products are manufactured in the United States, allowing for better quality control and rapid development of new designs. More importantly, our designs are modern, stylish and comfortable.
Where will growth for your business come from?
Our recent growth is due in part to opening up our on-site manufacturing facility in the US. With this facility, we can go from concept design to production to e-commerce in less than 24 hours. Being able to to respond quickly to an ever-changing underwear market puts us ahead of the competition who rely mainly on overseas manufacturing.
Which has been the most popular product that you've created?
For both BodyAware and Xdress, our lace range of underwear has always been the most popular.
We want to hear your opinion
Insta influencers in their underwear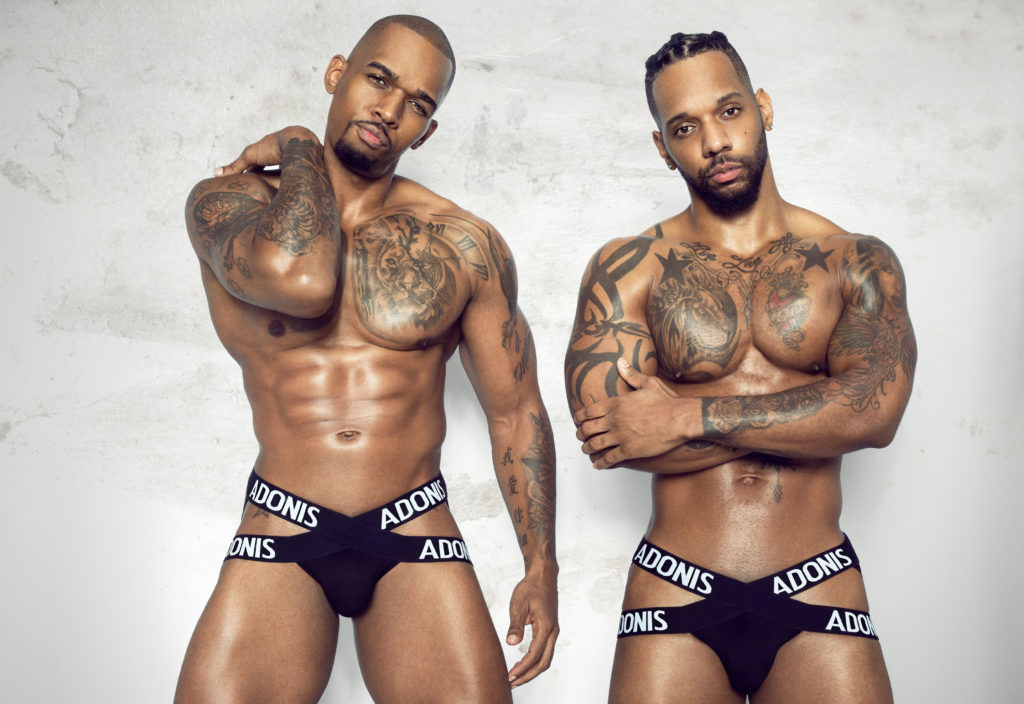 In the world of Instagram, Johnnell Terrell and Tyrone Wells are a big deal. They're a real-life couple with a combined Insta following of over 360K.
In their first photo-shoot together, they're showcasing the latest range from Adonis underwear. The campaign has been shot by Elvis Piedra.
"I feel there are not enough black men who are able to express their art in the underwear industry as white men are usually given the majority of opportunities…" said Terrell, speaking about the campaign. "I feel, as gay black men, we can really push limits on the freedom of expressing that art while using a platform to be recognised for. We believe in this new wave of social media, it creates more outlets of diversity."
"It's always great working alongside my partner…" added Terrell. "Doing the photo shoot together has opened our minds to be able to work creatively and feed off each other's energy."
Adonis Underwear was founded in 2015 by Kyhry Taylor.
"I choose Johnnell and Tyrone to be models for this campaign because I wanted to show two guys that are comfortable with embracing each other…" explained Taylor. "It's important to show a positive representation of gay men and gay love."