I caught up with Rafael Alencar to talk travel, underwear, and retirement.
What led you to make the move from being a dentist to start exploring a career in porn?
One of my patients made me an offer that I'd earn twice more than what I'd make that day as a dentist if I posed nude for a magazine. Then, there I was — on the cover of a magazine and the entire country could see me. The porn studios hunting for new models sent me emails.
I love to travel and fuck. When I was a dentist, I couldn't travel as much. I chose my first movie because of the location — Guatemala. Maybe I wouldn't make as much money as I would as a dentist, but I'd certainly have more fun.
I went back home and sold my dental practice. I was ready to start a new career.
Your first film was with Kristen Bjorn?
Yes — he has a great talent, and I admire him a lot for being so international in all his movies. He's able to put together in one scene five different nationalities all speaking their own languages. The best.
His studio is well known for muscle and well-hung models from all over the world. Even though I only did two scenes for his company, his style of filming multi-national models together still remains my favourite.
Before the Kristen Bjorn movie, I'd already visited over 50 countries and lived in Israel and Germany for a big part of my life. After his movie, I went back to Germany for three more years, then I moved to the US. Falcon contacted me the following week, and brought me to San Francisco. That was my first movie in the US — Getting it Straight with Josh Weston and Tyler Gunn.
My third movie was for Studio2000, where I signed a contract and remained with them for the next four years.
You've announced that you're retiring from porn — does that mean that you're no longer doing studio porn and focusing on creating content for your subscribers on JustFor.Fans?
Yes! Let's make it official. After I announced my retirement from porn, I received emails from several studios asking for one more last movie. Plus I also received hundreds of messages from fans asking me not to stop doing movies.
My last studio movies were with Men.com — the company I truly love the most — and also with Lucas Entertainment. Before that, all my movies — over 400 of them — for all the studios I worked with, were all with condoms.
Last month I finally created two subscription channels — on JustFor.Fans and also 4my.fans. I've been posting three new videos a week in each of them — that means creating six new videos each week.
What do you enjoy most about performing a live show?
When you're a porn star, the world thinks you can dance and strip. During my career, I've performed in clubs in all the five continents. I never knew how to dance, I just knew how to fuck. Seriously, all my dance performances were lousy until I pulled my dick out of my pants and that's where the show begins.
In the last 10 years, I've been only performing at The Nob Hill Theatre in San Francisco — unfortunately it's now closed. I'd often hear from the audience — The last thing we care about is if you dance well, just bring your dick closer to my face. That's what I like the most about a live show.
What sort of impact is the increasing regulation of sex work in the US having on you?
Even though it's a legal and common practice in several countries, sex work has been always regulated in the USA, and it looks like it's getting worse. I've never had a problem, but I can't deny that it affects both sides — who hires and who gets hired.
Clients are afraid to identify themselves, they use blocked or concealed numbers and escorts never pick up the phone for those numbers.
Money-wise it's about the same. Let's say, I used to get 50 calls a day. Today I get 20 calls a day — so, nothing has changed since I barely can handle one or two a day.
For the last two years I've preferred to stick to the clients that I already know — they're nice, fun, and very generous. They're able to take a good care of me.
Can we talk underwear?
I prefer boxers, or loose and comfortable briefs. At the gym I definitely wear no underwear. I sweat a lot, and I like my dick shaking right to left when I walk — since there's mostly gays at the gym, we all stay happy. On other guys, I like them in a jockstrap, to start.
Travel is one of your big passions — which destinations are on your wish-list?
Travel is what I do the most, more even then sex.
On my wish-list are the countries that I haven't visited yet. I've been to 156 countries, so I'm missing 39 countries to finish the world. Hopefully I'll go this year to Eritrea, Djibouti, Bangladesh, Mauritius, and Comoros.
What are some of your goals and objectives for the months ahead?
Travel to the remaining countries, keep getting my dick sucked, and produce my own home made movies. Volunteers to appear in my videos are welcome — get in contact via my website.
Follow Rafael Alencar on Twitter
We want to hear your opinion
How much porn do gay men watch?
Check out the results of our survey to see how you measure up.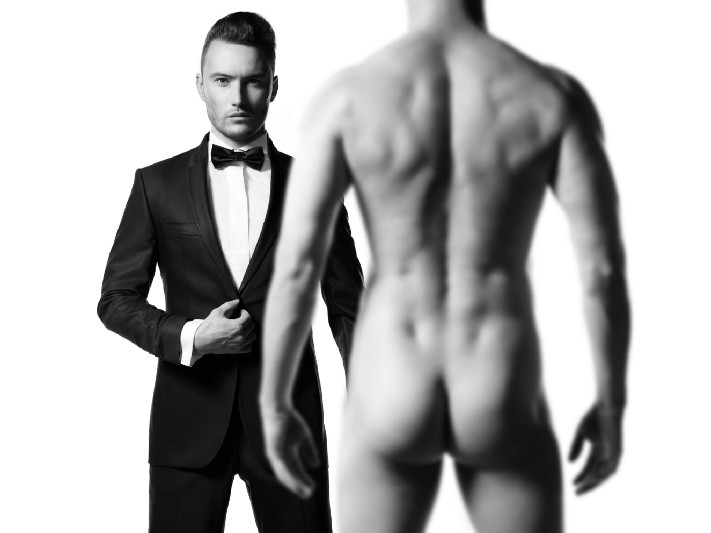 In the interests of serious investigative journalism, we spoke with 341 gay men from around the world and asked them some personal questions about porn.
We then checked our findings with a panel of experts — consisting of porn actors, porn directors, a health professional, and a relationship counsellor.
Here are the results.
How often do you watch porn?
Over 80% of gay men watch porn at least once a week, and 39% of gay men watch porn every day.
"I watch porn every day — I check out clips that show up on my Twitter and Tumblr feeds. The convenience and ready access we have to porn these days has played a big role in the rise in everyday porn consumption."  —  Christian Mitchell, porn actor
Pretty much all gay men watch porn sometimes. We found 2% of respondents who reported that they never watched porn.
"I only watch it when I can't be bothered to find a guy from a hook-up app." — Yoshi Kawasaki, porn actor
We did a follow-up focus group with 28 gay men to ask them about when they watch porn, how long they usually watch porn for. The average across that group was 27 minutes each session, with 39% of respondents reporting that they generally watch about 30 minutes at a time.
It's not an exact science, but the picture that's emerging is that most gay men are watching at least one hour of porn each week, and for many guys it's a lot more.
"There are a number of ways that you can argue that porn can give people a distorted image of what sex is like, but it would be naive to think that it's porn's role to educate. The ease of accessing porn makes it all the more vital that LGBT-inclusive sex and relationships education is taught in schools, to counter some of the myths and misinformation that porn fantasy might support."  —  Matthew Hodson, Aidsmap
How do you usually watch porn?
In terms of what device guys usually watch porn on, it's fairly evenly split between watching on a laptop (50%) or watching on a phone (44%) — 4% of guys watch their porn in some other way, and 2% of guys reported that they don't watch porn.
This technology and device question will be an interesting one to track over time, as with the increasing shift to mobile it's likely that mobile will soon become most people's go-to option when it comes to porn.
"I take my iPad with me to the gym and watch porn while I'm on the treadmill. It's excellent inspiration. The guys using the equipment around me seem to like it too." — Christian Mitchell, porn actor
Who do you watch porn with?
82% of gay men generally watch porn by themselves.
15% of gay men watch porn sometimes by themselves and sometimes with someone else.
3% of gay men generally watch porn with someone else.
"Use of pornography does get discussed by gay couples coming for counselling. Pornography is like all other issues couples bring to counselling — it's not whether the use of pornography is right or wrong, but whether the couple are able to navigate and find a solution if they have different opinions and desires." — Nicholas Rose, relationship counsellor
What makes good porn?
This was a free text response, but we manually coded responses to do some analysis on what guys were telling us.
49% of guys want their porn to feel real, authentic — they want the actors to be into the sex, and to have a connection with each other.
"Fucking for porn is completely different from fucking in your private life. That's why on camera, I try to give actions that are as genuine as possible. The audience can definitely tell if the actors are really having fun or just acting." — Yoshi Kawasaki, porn actor
22% of guys want some sort of narrative or context to the sex that they're watching.
19% of guys want their porn to feature a specific type of guy — whether that's bearish guys, muscle guys, big cocks, or something else.
17% of guys want their porn to have high production values — they want good lighting, clear sound, interesting camera angles.
10% of guys specifically prefer amateur porn over professionally produced porn.
"Everyone's a porn star these days, and it feeds into that insatiable need for more." — Rogan Richards, porn actor and director.
8% of guys want their porn to be free of condoms, for them it needs to be bareback in order to be considered good porn.
7% of guys want their porn to have intensity — they want the sex to be rough, verbal, and very physical.
"I enjoy porn. It's good at what it does. It arouses you and it's fun to watch while jerking off. It has a real value. But we're looking to use the tool of gay erotica in a different way — not just to get you off, but to get you in touch with pleasure, connection, intimacy, and so much more." — Davey Wavey, Himeros.TV
4% of guys are looking for porn that features some sort of kink.
3% of guys enjoy it most when cum-shots are featured.
2% of guys think porn is at its best when it features group action.
"I like to keep tabs on what my followers are into and what they find especially hot. I'll make a mental note of it, so if the opportunity arises, I can work it into what I'm doing on camera." — Christian Mitchell, porn actor

"People respond to the rawness and honesty of my films, or they just respond to how I look and fuck. When I film porn, I try to have as much fun and turn myself on as much as possible, knowing that the end result will have the same effect on my audience." — Rogan Richards, porn actor and director
What are your fantasies?
This was a free text response, but we manually coded responses to do some analysis on what guys were telling us.
25% of guys are looking for scenarios that reflect everyday, realistic encounters. Meeting up through a hook-up app, or boyfriends having sex. They want something that's believable.
11% of guys are looking for inter-generational scenarios between older guys and younger guys. 5% of guys would like these inter-generational scenarios to include incest-themed stories such as father/son.
9% of guys are looking for scenarios that involve threesomes, group sex or a gang-fuck.
6% of guys are looking for scenarios that involve sports or gym encounters.
6% of guys are looking for scenarios that are specific to a workplace — such as an office, a hospital, or a warehouse.
4% of guys are looking for scenarios that involve curious straight guys, students, cruising, uniforms, or outdoor sex.
3% of guys are looking for scenarios that involve dystopian, fantasy, or super-heroes, cuckold, massage, hostage, hitchhiker, kink, historical, or home-invasion.
"The one constant I see is that viewers get tired of seeing the same formula after a while, and then they want something new and different." – Kristen Bjorn, porn director
How could porn be better?
This was a free text response, but we manually coded responses to do some analysis on what guys were telling us.
21% of guys want their sex to be more realistic. A lot of guys find porn that's 'over-produced' to be a bit of a turn-off.
17% of guys highlighted bad acting, or bad dialogue as things that could be improved.
4% of guys highlighted that they don't want music in their porn.
Guys talked about wanting to see the faces of the men having sex, not just wanting penetration close-ups, wanting to see guys undress, and for there to be some foreplay.
But there's also a lot of guys who just want the actors to get down to it — 8% of guys highlighted that they wanted their porn to have less build-up and more action.
"Technology has made it easy for guys to film their sexual encounters and post clips online. However, the quality is all over the place — it's just not well done, faceless, and downright boring." — Christian Mitchell, porn actor.
13% of guys want more diversity in their porn. They want to see lots of different guys — not just muscle guys, but guys of all shapes, ages, and ethnicity. 10% of guys are specifically looking for porn that features guys with more realistic or everyday bodies, not physiques that they feel are unattainable.
"A subscriber posted a comment in our forum complaining that our models were too versatile. He said he wanted to see more tops who never bottom, because when they do, it ruins the fantasy for him. Another said that he wanted to see more solo scenes. It can be difficult to please everyone." — Kristen Bjorn, porn director.
5% of guys highlighted that they want to see less bareback sex, more condoms, and more of an awareness of health issues. In contrast, 2% of guys highlighted that they want to see less condoms, and more of a celebration of bareback sex.
2% of guys also talked about the cost of porn. For these guys, the porn that they want to access is too expensive — they want it at a lower cost or for free.
"Porn is fantasy sex. It's not surprising that many people don't want to grapple with the realities of sexual health in their fantasies. A GMFA porn survey found that a lot of gay men felt that watching porn influenced their own sexual behaviour, including the sexual risks that they were taking." — Matthew Hodson, Aidsmap
What does this tell us?
Porn is part of the everyday life of gay men. It's something that they're comfortable talking about, it's not something they're embarrassed about. The survey results were anonymous, but we had a lot of interaction with guys during the survey process — guys who were keen to take part, wanting to let us know when they'd completed it, looking forward to seeing the results and being able to compare their experiences.
What's interesting is that porn is something that gay men have a definite opinion about, they have an emotional investment in it, they want it to be better, and they can articulate what they want their porn to be.
However, these results only give us part of the picture. We don't have a clear view of how much gay guys are prepared to pay for the porn that they want to watch. In a rapidly evolving distribution landscape for gay porn, that's something that would be interesting to understand.
It looks like we're going to need to ask a lot more questions, and it looks like we're going to need to watch a lot more gay porn.
"We're looking forward to making the world a more orgasmic place, one gay man at a time." — Davey Wavey, Himeros.TV
Suggest a porn scenario that you want to see
We got some fantastic suggestions in response to this question, with a lot of guys keen to see their fantasies reflected in the porn that they watch. Here are some of our favourites:
Man walks in on his son's friend smelling his used briefs. Tells him to get on his knees, or he'll call the cops. The boy obliges, and gets down onto the floor with the briefs in hand. The man unzips his pants and points to his fat bulge in his tight white briefs. The boy starts vigorously forcing his face into the man's crotch. He takes the man's dick out through the fly and starts worshipping his cock until the man busts in the boy's mouth, then pulls out to finish on his face.
Two 'down low' guys meet in line at the store, sense each other, then discover they live in the same apartment building. They get together to watch a football game, and the guest finds a gay porno mag in the host's bathroom.
Journalist tries to get a story from a government minister, but he's captured by security because he knows too much. They're in a war situation, and the journalist is put under house arrest. The journalist is sexually abused and used by all the security guards and rebel fighters. The government minister is captured along with the journalist, but is detained in the revolutionary guards' prison, where the prison guards fuck the minister to get information. The torture is extreme anal penetration by monster cocks, but the journalist gently fucks the minister back to health.
A curious twink, fresh out the closet, running away from home. Along the way, he meets a colourful array of fit guys of every body type. It'd be a sexy coming-of-age story, with jizz.
Two young gas station attendants, one gives the other a ride home at the end of the day. The driver invites the other guy in to cool off, smoke pot, and eventually go skinny dipping in the backyard pool. The kid's dad comes home, teases them, then joins in.
High school team on a bus, they've just won the state championship. Bus breaks down on the way to the whorehouse for celebration. All the guys are horny and have to take care of each other's athletic bodies.
A black tie formal event where the guests get blowjobs as part of the event, while they stay formally suited. I love formal wear and I hate it when the porn-stars get naked.
Guys from 2018 go back in time to the golden age of porn, and recreate some of the hottest scenes in gay porn history.
Gay Wipeout. Like regular Wipeout, but with naked dudes having to complete obstacles without succumbing to the assorted temptations around them. If you cum before the finish line you're out.
Starts with a lad stumbling in on his Dad making out with the lad's boyfriend. Lad watches, gets aroused by his Dad fucking the lad's own boyfriend. Boyfriend sees him, Dad turns around, and then son joins in.
A teen is home alone while his parents are abroad. He invites friends over. A group of older burglars break in, and force the guys to have sex.
"Bareback porn now seems mainstream. I'm hoping that kink and fetish porn — watersports, fisting, BDSM— will become more popular." — Yoshi Kawasaki, porn actor
Survey Methodology
We ran the survey via SurveyMonkey for seven days at the end of April 2018.
The survey was promoted through Twitter and Facebook. No incentives were offered for survey completion.
341 responses were received.
Detailed demographic data regarding respondents wasn't collected, but from observation, respondents appeared to be from numerous different countries, of different ages, and backgrounds. Social media insights indicate that most respondents were either in the UK or the US and were aged under 35.
Analysis of the survey results was completed manually.
A follow-up focus group was conducted with 28 gay men on 1 May 2018, focusing on the question of:
When you watch porn, how long do you usually watch porn for? This focus group was conducted via direct message on Twitter.
Initial analysis was shared with industry experts to source expert comments and insights.