I caught up with Keith, owner of gay B&B Pride Lodge, to find out what makes Blackpool one of the best gay destinations in the UK.
How long have you lived in Blackpool?
I was brought up in the town many moons ago!! but Tony ( my partner came up here from the Midlands to work with me almost 20 years ago).
When did you establish Pride Lodge?
We opened In November 2007. We had however owned the building for almost a year before we got it to how we wanted, before we could take in any paying guests.
Who is your target market?
We attract the LGBTQ community although with today's discrimination regulations, any business must welcome anyone without question. Just as we in the LGBT community expect to be welcomed ourselves. We only do direct bookings over the telephone. This then gives us a chance to explain what our business is all about and the type of guests who mainly stay with us, so then everyone is in the picture and people know what to expect and everyone then gets along.
What makes Blackpool a great gay destination?
Blackpool is just so free and easy …. Whatever people 'are' It seems to be a very tolerant place to be. There are lots of bars and venues which specifically target the Gay community, all within a concentrated area, right on our doorstep, so it's quick and easy to get from place to place on nights out.
What's the best time of year to visit Blackpool?
Blackpool is no longer a 'holiday' resort as I remember it as a kid. We were busy back then only in the summer. It is now more of a 'tourist' and 'short break' destination, VERY busy for the short break market. The summer does seem to be busier but the winter weekends are very active and can be a good time to take a break, with many of the venues open year round. Accommodation and entertainment costs are also VERY low here, compared to other places, which means it can be a very cost effective place to enjoy a short break.
In fact we are not 'cheap' by Blackpool standards, but nationally you would be hard pressed to find a 4 star silver rated place to stay at the prices we charge.
Where do most of the visitors who stay with you come from?
We have guests from all over the UK staying and some from overseas. When you consider Blackpool's geographical position, it is a perfect base to use for days out. Handy for day trips to the Lake District, Manchester, Liverpool and Yorkshire…etc. All in little over an hour from here!! So this is also handy for people who live in those very areas to come and stay with us, as it is so quick and easy to get to and from with it's great transport links.
What are some of the hints and tips that you give to visitors to Blackpool?
There is so much to do and see in and around the town, with lots of visitor attractions to keep most people busy for longer than they they expect during their stay. In fact, the number of guests who simply have to return time and time again just to try and fit some more of what is available in. There are also lots of other local towns and villages on our doorstep well worth a visit.
World famous - Funny Girls is a 'must see show' during a stay here in Blackpool, which we offer all our guests free standing tickets to see! This is just one of 11 venues we recommend people visit and there are also 3 gay saunas close by.
What makes Pride Lodge a good base from which to explore Blackpool?
We are right in the heart of the Gay area of Blackpool so it's also a handy spot to get to the many bars, saunas and venues around the town and it's quick and easy to get home at night, without the cost of taxis. We are also the closest LGBTQ property to the train station which is right opposite us. The town centre is also only a very short walk away with it's many shops, restaurants and attractions to explore.
Pride Lodge is a gay-owned B&B in the heart of Blackpool's gay village.
We want to hear your opinion
Underwear trends? Guys are into briefs.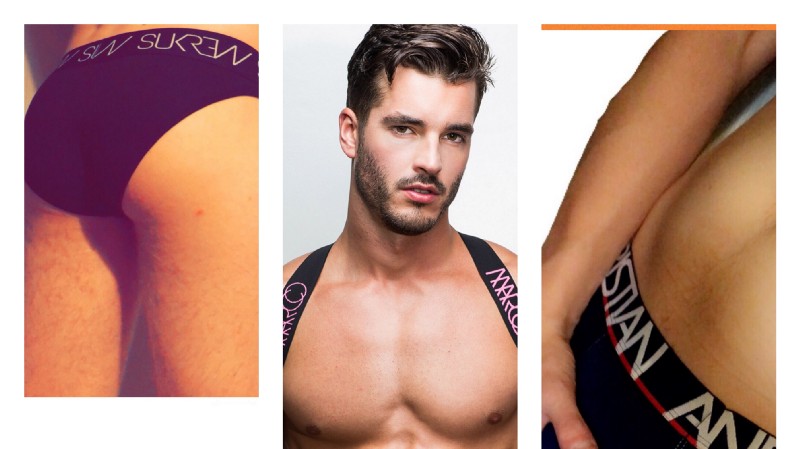 I caught up with Rob Heitzman, founder of RB Underwear, to talk about turning your passion into your career.
What makes underwear such a big deal for gay men?
We believe that underwear is no longer a daily necessity. Guys are increasingly choosing bolder designs to really make a statement. It's not only about comfort or expressing yourself, but also you've got to feel fabulous!
What were some of the brands that first got you excited about underwear?
My first purchase into underwear other than your day-to-day boxer was an Andrew Christian jockstrap. As soon as I put it on I felt great. My bulge lifted and supported, my bum looking peachy, and my confidence increasing. That's why the first brand we approached was Andrew Christian, as we want other guys to feel that way too.
What style of underwear do you prefer to wear on a day-to-day basis?
Day-to-day I prefer a tight boxer style underwear. However, my partner tends to wear briefs. Occasionally we do have a day when we feel particularly naughty and wear a jock strap.
What style of underwear do you wear to the gym?
Boxers. When you're running on a treadmill or going all out on a rowing machine, you need everything contained and don't want any escapees.
What style of underwear do you prefer on other guys?
Depends on my mood. My partner looks great in anything! But if I had to choose, then it would have to be briefs — perfectly showing off in all the right places.
What led you to establish an online underwear store?
Both myself and my partner work full-time with large companies. I'd been thinking about starting some sort of business for a while, and on one quiet day RB Underwear was born. I'd always been interested in doing something I was passionate about and had a real interest in. I love underwear, so why not make it into a business? Now, every day I get to look at good-looking men in good-looking pants.
Which are the brands that you're featuring in your online store?
At present, we're featuring Sukrew, Andrew Christian, Marco Marco, and Fetish Gear. We're always on the look-out for other brands we love, and are currently in talks with some new suppliers.
Who is your target market?
Our target market is gay men. Somewhat selfishly, we've been buying lines we like and would buy ourselves, but we realise that that's not necessarily to everyone's taste so we're broadening our range. The trend is leaning towards briefs more and more, so keep your eyes peeled for more great briefs.
RB Underwear is based in Northamptonshire and offers men a range of underwear including boxers, briefs, and jockstraps.
Follow RB Underwear on Twitter
Follow RB Underwear on Instagram