I caught up with Ashley Conrad to see what it takes to be a red-carpet entertainment reporter.
When did you decide to specialise in red-carpet interviews and presenting?
Presenting started many, many years ago. It was hearing Vanessa Feltz on the radio around 12 years ago, in my Dad's car — it changed my life. I loved the way it felt like she was talking to me and me alone about anything and everything — I'm still hooked today.
From those teenage years, I studied and listened to various presenters. I shadowed and contacted a fair few radio shows before getting myself a show on a small local radio station in Kent. Entertainment news, celebrity gossip, and sex tapes were easy to talk about and make fun of, and it just grew from there. I had guests — musicians, bloggers, community leaders, comedians.
Red carpet presenting was a chance I took when I invited myself onto someone else's shoot at a fashion show. Being near tee-total, I had two alcoholic drinks that night, and just made it my mission to find out who these people were, in the most entertaining way, in a short amount of time.
The red carpet is unscripted , unpredictable — I get to wear something a little flamboyant, and it's fun.
How hard is it to break into the world of entertainment reporting?
I feel that I'm still trying to break into it. How often do we see new faces on TV presenting or reporting ? It's incredibly hard, and unfortunately there's no set path. But with the invention of streaming services on social networks, and with the right personality and looks, anyone can be a 'reporter' — the quality of the report is another thing.
Who are some of your of your entertainment reported heroes or inspirations?
I love female presenters. I adore Joan Rivers. Joan's red carpets were legendary — you got a laugh , some information, an outfit, and she moved on.
I'm a Wendy Williams mega-fan. Putting aside some of the unkind and formidable things she's said, I admire her work ethic, and the lengths she went to in order to make it to where she is today. Also, no one beats Old Wendy's radio interviews — her interview with Whitney Houston was legendary for me — it will go down in history. Whether Wendy came out on top or not, an image of Whitney was definitely built in our minds.
On my local BBC radio station, I listen to a presenter named Jo Good. Her red-carpet style of interviewing which then broadcasts on radio is a very interesting and a humorous listen, and much like all the previous presenters I've mentioned, Jo shows a very human side which just brings the audience much closer, and and makes you feel like you're listening to an amusing relative.
Growing up in London, there was a black radio station called Choice FM. Each Saturday morning, Geoff Schumann had an excellent phone-in show — it was fun, but he'd also tackle and challenge controversial issues. I remember him once having a debate with a member of the BNP — listening to that as a young black man was just as hard-hitting as it was inspiring.
What have been some recent pop culture moments that have made a big impression on you?
The splitting up of Ant and Dec — who saw that coming? I hope it's temporary. I grew up watching Ant and Dec on SMTV Live. I was stunned, but as a presenter, it was interesting to watch Dec present and entertain so well without Ant.
Wendy Williams passing out on air, and the Daily Mail's expose of her husband's alleged cheating. Wendy is one of my all-time idols, and to watch as the tables were turned on her was insane. I watched Wendy passing out a few times — it got a tad voyeuristic — and I even filmed my own super-fan version as Wendall Williams.
Meghan Markle joining the royal family. I'd actually never heard of Meghan before, but I loved all the media attention and frenzy she brought with her, without her actually doing much. She was stylish and beautiful and mysterious. With the build-up to the wedding, I followed the whole saga from start to finish. It was glorious.
Stormy Daniels telling her story about the affair with Donald Trump, and how she spanked him. If he wasn't the President, this would have to be a comedy sketch. There's just so many bizarre layers. I'd have loved to asked Stormy some questions — "What did you see when you spanked Donald?" "How was the hair?" "Did you enjoy yourself Stormy?" So cringe-worthy and embarrassing but hilarious.
What are some of the pop culture moments we should be keeping an eye out for in the months to come?
The Kardashian men — especially Kanye. The men in that family seldom have an easy time. Pick any one of them and there's a story. I feel like I'm in the zoo waiting to see who the lion tears apart next.
Brooklyn Beckham — he gets a ton of press attention for not doing very much, so there has to be something — a scandal, a talent, something has to drop eventually.
Jeremy Meeks and Chloe Green. Watching his progression from the "hot felon" to now being the baby-daddy to the Top Shop heiress. What will his next move be? He was previously married with children and jumped ship to get with Chloe — will history repeat itself?
What are some of your goals and inspirations for the remainder of 2018?
Despite everyone saying less and less people are watching TV, I'd like to be there. I feel that there's a huge gap in the market for some fresh faces. I think I'd fit in nicely as an entertainment reporter on breakfast television.
I'd also love to fall in love, and live in a penthouse like Joan Collins in Dynasty.
Follow Ashley Conrad on Twitter
We want to hear your opinion
Underwear trends? Guys are into briefs.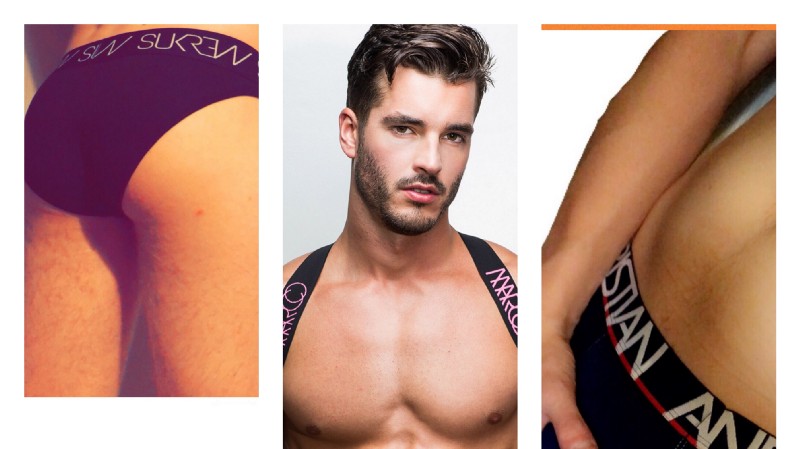 I caught up with Rob Heitzman, founder of RB Underwear, to talk about turning your passion into your career.
What makes underwear such a big deal for gay men?
We believe that underwear is no longer a daily necessity. Guys are increasingly choosing bolder designs to really make a statement. It's not only about comfort or expressing yourself, but also you've got to feel fabulous!
What were some of the brands that first got you excited about underwear?
My first purchase into underwear other than your day-to-day boxer was an Andrew Christian jockstrap. As soon as I put it on I felt great. My bulge lifted and supported, my bum looking peachy, and my confidence increasing. That's why the first brand we approached was Andrew Christian, as we want other guys to feel that way too.
What style of underwear do you prefer to wear on a day-to-day basis?
Day-to-day I prefer a tight boxer style underwear. However, my partner tends to wear briefs. Occasionally we do have a day when we feel particularly naughty and wear a jock strap.
What style of underwear do you wear to the gym?
Boxers. When you're running on a treadmill or going all out on a rowing machine, you need everything contained and don't want any escapees.
What style of underwear do you prefer on other guys?
Depends on my mood. My partner looks great in anything! But if I had to choose, then it would have to be briefs — perfectly showing off in all the right places.
What led you to establish an online underwear store?
Both myself and my partner work full-time with large companies. I'd been thinking about starting some sort of business for a while, and on one quiet day RB Underwear was born. I'd always been interested in doing something I was passionate about and had a real interest in. I love underwear, so why not make it into a business? Now, every day I get to look at good-looking men in good-looking pants.
Which are the brands that you're featuring in your online store?
At present, we're featuring Sukrew, Andrew Christian, Marco Marco, and Fetish Gear. We're always on the look-out for other brands we love, and are currently in talks with some new suppliers.
Who is your target market?
Our target market is gay men. Somewhat selfishly, we've been buying lines we like and would buy ourselves, but we realise that that's not necessarily to everyone's taste so we're broadening our range. The trend is leaning towards briefs more and more, so keep your eyes peeled for more great briefs.
RB Underwear is based in Northamptonshire and offers men a range of underwear including boxers, briefs, and jockstraps.
Follow RB Underwear on Twitter
Follow RB Underwear on Instagram