When I was researching for an article about gay cuckold fantasies, I came across the Twitter account of Cuckold Husband.
I'm a curious person, so I reached out to Cuckold Husband to dig a bit deeper.
When did you discover and start to explore a gay cuckold fantasy?
Like most people, I honed in on my fetish through porn. I discovered my interest in BDSM and foot fetish. I discovered that I was submissive. But I always kept returning to cuckold porn. I never watched other forms of straight porn, but straight cuckold porn was the only outlet that had the power dynamic that I identified with. Gay cuckold porn is non-existent.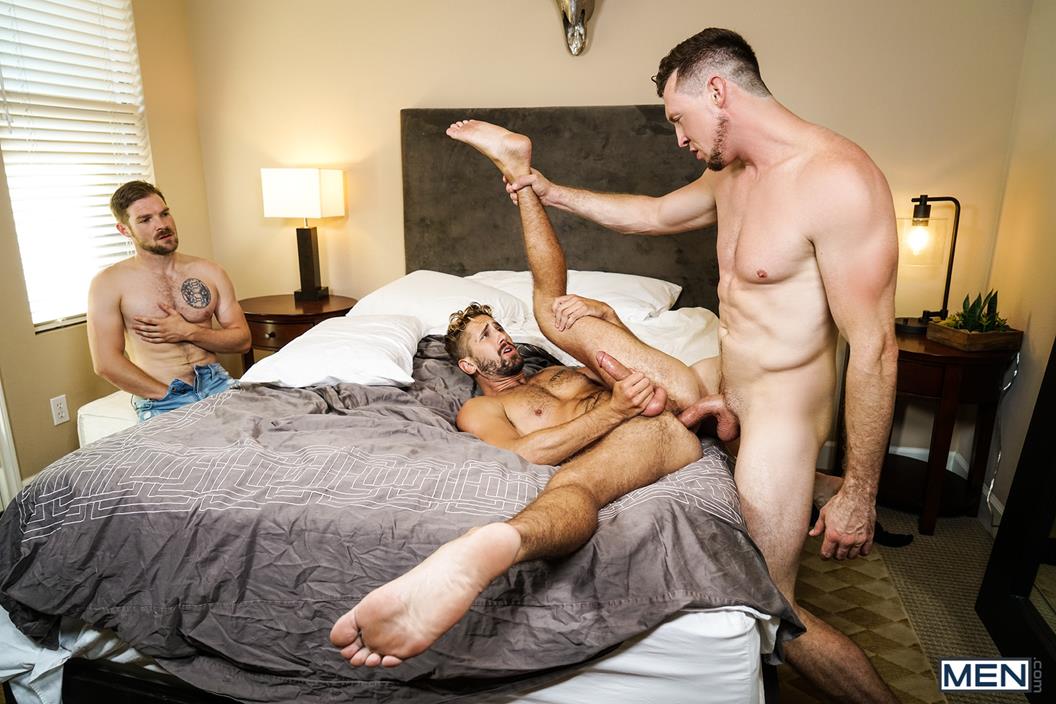 How would you define a gay cuckold?
I think being a cuckold is mostly self-identification. Some people think of it as simply being a sub or being denied orgasm.
For me, it's a gay man whose partner has sex with other men — with or without the cuck's approval — and this causes erotic humiliation and shame to the cuckold.
Why is the cuckold scenario something that fuels your fantasy?
I'm not exactly sure what it is about this scenario that appeals to me so strongly. I've always been monogamous-minded, and I'm completely monogamous to my husband. Him seeking sexual pleasure from others challenges that. To me, it's taboo and exciting.
There's also lots of BDSM aspects to this — being denied orgasm, being humiliated, being compared to a more masculine male.
An added element for me is that I'm 98 percent top, and having another man provide more satisfaction to my husband than I can is incredibly hot for me.
How long have you been running your Twitter profile dedicated to gay cuckold fantasies?
I started my Twitter account about two years ago, as a companion piece to my Tumblr. I never expected that I'd have so many people interested in the content that I post. I have 28,000 followers on Tumblr.
Follow @gaycuckhubby
What sort of feedback and engagement do you get from your followers?
I get mixed reactions from people on social media. The main one is from other gay cuckolds who are glad that they've found an outlet. Many think that they're the only ones who feel this way or have this fetish. It's not very common in the gay community. A lot of what I talk about online is real life applications of the fetish and our fantasies. Including aftercare.
I also have some people message me with criticism. People who criticise me for the fetishism of 'cheating'. The most of criticism I've heard is from gay men who feel like the fetish shouldn't belong with gay men, that it's too hetero-normative, that it relies too much on the expectation of monogamy, and that queer people should not feel the sexual shame that a lot of us cuckolds exhibit.
Have you ever explored your gay cuckold fantasies in real life?
I have, and it's gone great! Although, my experiences are not as prolific as the fantasy I portray online. My husband and I got married young, and were monogamous for the first ten years of our relationship. We intended to remain that way.
Although I've had cuckold fantasies since my late-teens, I didn't share them with my husband. I thought they were too weird or that he wouldn't understand them. As he grew older, his sexuality blossomed, and he started talking about the potential of opening up our marriage. That's all the nudging I needed!
I sent him a couple articles about cuckolding in general, and gay cuckolding specifically. I told him how much I identified with that. He surprised me by quickly falling in love with the role of 'hot husband.' It gives him a sense of power and desirability.
In our marriage, he's free to have sex with other men. But I'm not. We do have rules in place — for us, it's important that the interactions with the 'bulls' is a physical one and not an emotional or romantic one. Plus, I get to hear all the juicy details, or I get to watch.
What's your ultimate gay cuckold fantasy?
Coming home from work locked in my chastity cage. I open the front door, I can hear my husband moaning upstairs and the bed creaking. I enter the bedroom to find my husband being pounded by an alpha stud.
The bull ties me up, gags me, and continues to fuck my husband right in front of me, and I'm forced to watch. They both humiliate me verbally, including SPH — small penis humiliation. My husband is looking straight at me and is obviously having the time of his life.
After the other guy leaves, my husband unties me and teases me while I rim him. He tells me how much bigger and better the other guy was.
The Cum Dump Phenomenon
Master Jerry helps us understand it.
The continuing evolution of the sexuality of gay men is endlessly fascinating. There's obviously enormous diversity in the attitude and outlook of gay men in terms of sex.
The reality of being a cum-dump probably has a proud history that stretches throughout time, but embracing it as a sexual identity feels like a relatively new phenomenon.
On social networks like Twitter, and also on dating apps, a large number of users are now identifying themselves as cum-dumps.
Studios like Treasure Island Media and SX Video were among the first to embrace the fetishisation of cum. But, in recent years, many more porn studios seem to have embraced the trend.
A quick search on the video sharing website Pornhub presents you with more that 300 results. The most popular video has more than 1 million views.
It left us wondering, how did it all start?
To help us understand the phenomenon, we interviewed Master Jerry, a Twitter resident expert on cum dumps.
What is a Cum Dump?
Although self-explanatory, we thought it would be a good idea to start with a definition of the term.
Cum-dump is used to describe a man that wants to have as many men as possible cumming in his mouth or asshole. Because the fetishisation of cum is the sexual force behind it, men usually don't use condoms.
Master Jerry simplifies the term by describing a cum dump as "a guy who's willing to take all loads – no questions asked".
The Evolution of Cum Dump
This is a concept that probably emerged from the nihilistic bug-chaser sub-culture, where the rush from no-condom sex was fuelled by the fear of catching a life-threatening infection. Thanks to medical advances like TasP and PrEP, and the reduction in HIV transmission rates, many gay men now feel empowered to embrace the cum-dump experience and identity.
With the fear and danger out of the equation, the appeal of being a cum-dump now comes from a symbiosis between power and control.
"I love sloppy 20ths. I also love being in control", reveals Master Jerry.
Although there is an element of control, Master Jerry's dynamic usually doesn't involve any BDSM kind of fetish kink, "It's about both cum dumps and the tops having fun".
From underground to mainstream
When you're looking at a gang-fuck scenario, the guy in the centre of the action is the cum dump – taking multiple loads of cum in the ass.
"Cum is the best lube – bar none"
Proud of his cum dumps, Master Jerry created is own hashtag on Twitter – #MasterJerryCumDump.
People from all over the world, including some famous names in the gay adult industry, use it to tag their best 'cum dump' pictures.
"My cum dump stable star is MuscleDaddyBottom on BBRT. Also Xybbbottomguy on BBRT is one of my popular stable cum-dumps".
When asked what was his ultimate cum dump fantasy, Master Jerry replies:
"I've pretty much lived my ultimate cum dump fantasies. But I guess that something I'd like to explore is setting up eight cum dumps side-by-side, taking all loads. I'd also like to take a couple of hot cum dumps out into the streets and whore them out to random guys in downtown alleyways."



Find out more about Master Jerry and join his stable:
Follow @MasterJerryXXX