When I was researching for an article about gay cuckold fantasies, I came across the Twitter account of Cuckold Husband.
I'm a curious person, so I reached out to Cuckold Husband to dig a bit deeper.
When did you discover and start to explore a gay cuckold fantasy?
Like most people, I honed in on my fetish through porn. I discovered my interest in BDSM and foot fetish. I discovered that I was submissive. But I always kept returning to cuckold porn. I never watched other forms of straight porn, but straight cuckold porn was the only outlet that had the power dynamic that I identified with. Gay cuckold porn is non-existent.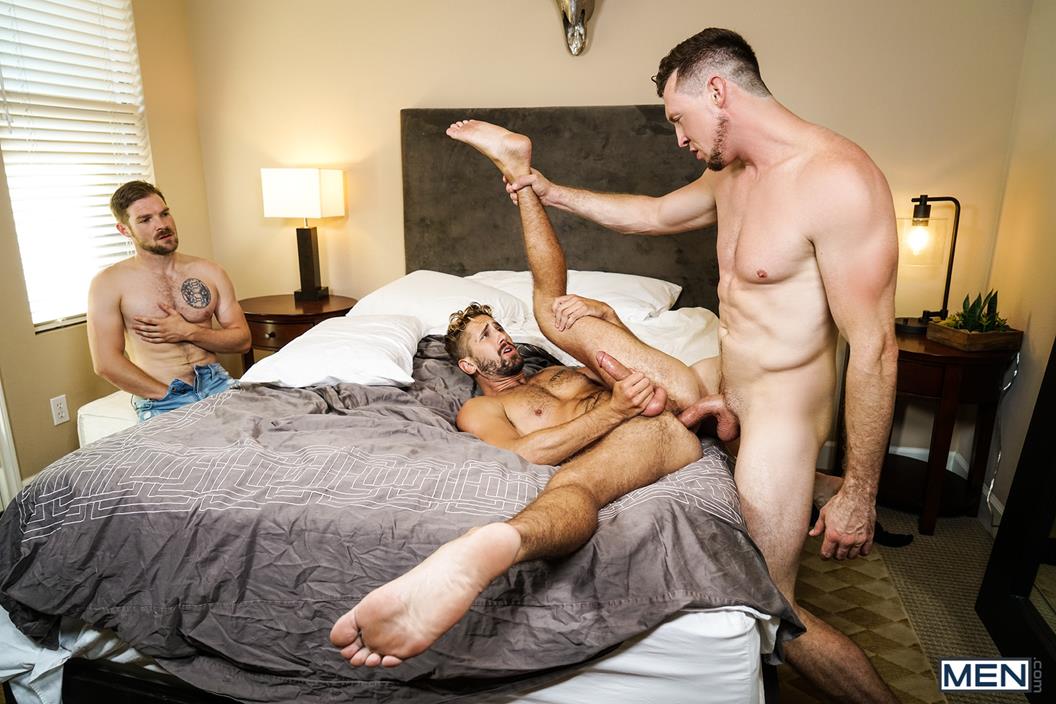 How would you define a gay cuckold?
I think being a cuckold is mostly self-identification. Some people think of it as simply being a sub or being denied orgasm.
For me, it's a gay man whose partner has sex with other men — with or without the cuck's approval — and this causes erotic humiliation and shame to the cuckold.
Why is the cuckold scenario something that fuels your fantasy?
I'm not exactly sure what it is about this scenario that appeals to me so strongly. I've always been monogamous-minded, and I'm completely monogamous to my husband. Him seeking sexual pleasure from others challenges that. To me, it's taboo and exciting.
There's also lots of BDSM aspects to this — being denied orgasm, being humiliated, being compared to a more masculine male.
An added element for me is that I'm 98 percent top, and having another man provide more satisfaction to my husband than I can is incredibly hot for me.
How long have you been running your Twitter profile dedicated to gay cuckold fantasies?
I started my Twitter account about two years ago, as a companion piece to my Tumblr. I never expected that I'd have so many people interested in the content that I post. I have 28,000 followers on Tumblr.
Follow @gaycuckhubby
What sort of feedback and engagement do you get from your followers?
I get mixed reactions from people on social media. The main one is from other gay cuckolds who are glad that they've found an outlet. Many think that they're the only ones who feel this way or have this fetish. It's not very common in the gay community. A lot of what I talk about online is real life applications of the fetish and our fantasies. Including aftercare.
I also have some people message me with criticism. People who criticise me for the fetishism of 'cheating'. The most of criticism I've heard is from gay men who feel like the fetish shouldn't belong with gay men, that it's too hetero-normative, that it relies too much on the expectation of monogamy, and that queer people should not feel the sexual shame that a lot of us cuckolds exhibit.
Have you ever explored your gay cuckold fantasies in real life?
I have, and it's gone great! Although, my experiences are not as prolific as the fantasy I portray online. My husband and I got married young, and were monogamous for the first ten years of our relationship. We intended to remain that way.
Although I've had cuckold fantasies since my late-teens, I didn't share them with my husband. I thought they were too weird or that he wouldn't understand them. As he grew older, his sexuality blossomed, and he started talking about the potential of opening up our marriage. That's all the nudging I needed!
I sent him a couple articles about cuckolding in general, and gay cuckolding specifically. I told him how much I identified with that. He surprised me by quickly falling in love with the role of 'hot husband.' It gives him a sense of power and desirability.
In our marriage, he's free to have sex with other men. But I'm not. We do have rules in place — for us, it's important that the interactions with the 'bulls' is a physical one and not an emotional or romantic one. Plus, I get to hear all the juicy details, or I get to watch.
What's your ultimate gay cuckold fantasy?
Coming home from work locked in my chastity cage. I open the front door, I can hear my husband moaning upstairs and the bed creaking. I enter the bedroom to find my husband being pounded by an alpha stud.
The bull ties me up, gags me, and continues to fuck my husband right in front of me, and I'm forced to watch. They both humiliate me verbally, including SPH — small penis humiliation. My husband is looking straight at me and is obviously having the time of his life.
After the other guy leaves, my husband unties me and teases me while I rim him. He tells me how much bigger and better the other guy was.
Rick Luciano is hitting the gym
The JustForFans model shared with us some of his sexiest selfies
I caught up with Rick Luciano to get some fitness tips and talk about porn.
What led you to start exploring a career in porn?
I started out about four years ago, doing it just for fun.
I was obsessed with Tumblr, and loved seeing regular amateur dudes like me posting homemade videos – so, I decided to start posting some solo jerk-off videos.
The fans on Tumblr were amazing and supportive, and my fan base just kept building over the years. I started to make amateur videos of my hookups, but at that time Tumblr started to filter a lot of content, so my fans asked me to make an Onlyfans account.
For me, porn has been a way to share my journey in fitness, as well as exploring my kinkiest desires with the world.
Who are some of your porn heroes or inspirations?
I have huge respect for Austin Wolf and the huge following he's been able to amass over the years.
Even though he's not a full-on porn star, I absolutely have to shout-out to Diego Barros and his hustle and amazing cock! I'm vers, and I love a huge cock in my ass! For that reason, I'd love to film with Pierce Paris.
Also I love the work of some of my peers that also get into exhibitionism – guys like Topher Drew, Mucho Harding, and James Tang.
What's your ultimate porn fantasy?
I absolutely need to get into a huge group scene like you see in FraternityX or SketchySex!
I'd love to start out by topping a hot hungry bottom that has a few loads inside him that I could use as lube.
After I've cum, I'd love to take like 5-10 hot hung, top cocks! Gets me hard just thinking about it! I'd absolutely love for it to be all amateur dudes – like, totally into it for the experience and the sexual explosion!
Can we talk underwear?
Yes – let's talk underwear all day! I love underwear, and have a super underwear fetish – I find them sexy and erotic.
On a day-to-day basis, I'm all about my boxer briefs, and I tend to go for the more athletic brand types. My top three favourite brands right now are Nike, Reebok, and Under Armour.
I tend to wear the same type to the gym, but sometimes I will wear compression underwear or tights. Sometimes I love to free-ball and show off.
On other guys, I love seeing athletic boxer briefs, or just briefs. I love those guys that are rocking a jockstrap at the gym.
Would you describe yourself as an exhibitionist?
Fuck yes! I absolutely love showing off in public, and hook-up scenes in public.
My favourite place is public restrooms – there's just something about all the cocks that pass through there on any given day that just gets me raging! Urinals turn me on!
What are some of your goals and aspirations for the months ahead?
I have a huge focus on my fitness and body right now – I hope that continuing to share my journey and improving my physique will allow me to build new opportunities in porn and modelling.
I have a vacation coming up in Miami soon, so I definitely have goals to meet some hot dudes out there and make tons of content for my fan sites.
In the Spring of 2018, I launched my own clothing brand – Broski. We went strong through the summer, but I'm looking to relaunch it soon with new styles and products.
Most importantly, I'll keep enjoying this overall experience, and continue to interact with my fans. I love them so much, and they've been so loyal and supportive.
Click 'See gallery' to see more photos