Part 21
My mind of course was working overtime throughout the entire hour-long journey. Most of it was motorway driving, so there was very little to see along the way, but eventually we arrived and the whole process happened in reverse. Either the prison service didn't trust their colleagues in other prisons to conduct their searches thoroughly, or they were just plain bloody minded and intent on making our lives as painful and degrading as possible, but after being unloaded, the entire search process happened again. How on earth they thought we could have found any contraband to smuggle in whilst seated in a .7m3 capsule I have no idea but it didn't stop them checking.
After the requisite health check we were interviewed by a peer worker who tried to espouse the benefits of being here, but I was struggling to see its advantages. I had finally managed to deduce that this was a foreign nationals prison, and as far as I could fathom, the last step before the UKBA would push me over the white cliffs of Dover, and banish me from British shores forever under the guise of deportation, however as surprising as it may have seemed, this was the least of my worries. Over the past three or four months I had become so disenfranchised by the whole political climatein Britain that I was beginning to think that it might not be a bad idea to leave this country anyway.
David Cameron was Prime Minister over a Conservative government and personally I thought he'd done a sterling job over the previous five years in tackling issues with the economy, and repairing the damage done by 12 years under Labour's Tony Blair and then Gordon Brown. This had been managed with a Coalition Government which had been formed with Nick Clegg and the Liberal Democrats,and I thought Cameron had managed what had had the potential to be an extremely difficult alliance with a great deal of diplomacy and success. In 2015 he had been returned with an increased majority, and had won enough seats to govern outright, without the need to for the coalition, but the Liberal Democrats had come off decidedly worse, with many of their grass roots supporters turning against them, feeling they had sold out to the Tories, and therefore let them down on issues of austerity and Budget cuts.
The main problem as far as I could see though, particularly having had to deal at close quarters recently with the Crown Prosecution service, the Police, Legal Aid lawyers and Her Majesty's Prison Service was that over the past 30 years or so this Country had become so institutionalised and lazy, that they had lost all pride in themselves and their country, so employees within Government departments were not interested in helping to re-build the country. The only thing they cared about was what the government could provide for them - in a sense Britain had become a Nanny state. Instead of having pride in their nation and thinking of ways to increase efficiency and save money which could be spent in other areas, they were grabbing for whatever they could get in case the government took it off them and handed it to someone else - irrespective of whether they needed or deserved it! I was absolutely certain that this had not been the case when I had lived in England in the 1980's, and it was a sad indictment of a country which was on it's knees, with its citizens too lazy or too apathetic to want to make it better.
If the UKBA had come to me, explained the options and answered my questions, I think I probably would have very quickly decided that I wanted to leave. One of David Cameron's election platforms, in response to UKIP's constant badgering about Britain being better off out of the European Union, was to promise a referendum on EU membership, following a series of meetings where he would try to lobby the other 27 EU nations for reform in order to get a deal which was fairer to Britain as a nation, but I had thought this was complete and utter folly at the time. I for one didn't want to live in a Country in Europe that was outside the EU, and I didn't think Britain would be better off for it.
Following the Election, and back in February of this year, Cameron had gone to the EU to stake his claim, but had not got nearly the leeway the British Public expected, but that had been hardly surprising. The deal that Nigel Farage from the UK Independence party had been proposing basically demanded that we have all the benefits of the common European Market, with no freedom of movement for EU nationals, and no economic contributions for EU infrastructure projects, but anyone with half a brain knew that this could not happen, and in fact should not be allowed to happen. Farage had played into the hands of Middle Britain, who were largely content to sit back and receive government benefits whilst crying constantly, with statements such as "Those Fucking Foreigners are taking our jobs!" When firstly, the large proportion of them were engaged in manual labour which the vast majority of the British population were not prepared to take on, and secondly, the bulk of these immigrants who were taking lobs in healthcare, education and agriculture were not in fact EU nationals, but rather from non- EU areas such as South Asia and Africa.
UKIP and their allies had whipped up a frenzy over foreigners coming to Britain and putting strains on the NHS, when in fact the biggest contributor to the strain was the fact that people were living longer, and that the entire Baby-Boomers population of citizens who had been born just after the second world war, were now reaching retirement age and needing far more medical assistance in their old age. Throughout the entire referendum campaign, those in favour of leaving the EU had conjured up a litany of lies designed to convince the uneducated, with outrageous statements advertising that the £350 million per week that we are spending on the EU could be directly spent on the NHS. We knew that this was a complete exaggeration, but somehow those campaigning to remain in the EU had rather thought that it was a foregone conclusion that they would win, so they did little to refute these outrageous claims, and I was worried that the vote might well go the other way. If that was the case, and Britain decided to leave the EU, even if I wasn't going to be deported I would make use of my permanent Swedish residence and move anyway.
I had never wanted to live permanently in the UK, and the thought of not having the freedom to move from Country to Country in Europe did not bear thinking about. I also wondered whether these stupid British had thought about the Millions of Brits who were living in countries such as Spain, France and Italy. It was pretty certain that if the UK stopped freedom of movement for EU nationals coming to Britain, then the same restrictions would also be invoked towards Brits living abroad, and the large proportion of these were elderly, and in the event that they were forced to return to England, they would place even more pressure on the NHS. I wondered whether these so called 'Brexit' campaigners as it was now being dubbed (Britain's Exit) had really thought all the issues through, but I was pretty sure that Mister and Missus average had absolutely no idea of the full extent of the problems it would incur. The referendum was to be decided in three days time, so it would be fascinating to see the outcome and would play a huge part in my decision to stay or leave.
Meanwhile, interviews and searches over, and we were escorted through the prison to the induction wing. Maidstone was an old Victorian Prison, and one of the facilities which was earmarked for closure within the next few years once the new modern prisons were built to house the ever increasing number of criminals which were being locked up each year. Of course with the current climate towards racism and discrimination towards foreigners in Britain, there was more and more pressure on the government to deport as many people as possible too, so we wondered whether the two statistics bore any relationship to each other.
It stood to reason that if the government wanted to look good in the face of the voting public, one sure fire way to shore up votes would be to improve the statistics of foreign nationals who were given hefty prison sentences which could then be used as an excuse for deportation. Prison sentences in general seemed to be the flavour of the month, with the numbers rising on a monthly basis, and perhaps as foreign nationals we were merely being paranoid, but it did seem that foreigners received far greater sentences for the same crimes than British citizens.
The induction wing was an old stone structure with shared cells, much the same as those in Pentonville, although it struck me as we were walking through the grounds that the gardens were immaculate. I was shown to a cell and introduced to my cellmate, a Dutch national of Moroccan descent. My nerves were still on a knife-edge, but he seemed nice enough, and very soon took it upon himself to show me around. Again, much the same as Pentonville, the wing was of a similar design with a long central landing and twin cells opening off every side, four storeys high. Hassan introduced me to a few of the other guys on the wing and we all made our way out to the garden area which, as it was summer, was opened every lunch time and afternoon, weather permitting.
We sat around in groups talking and as usual, before long, they started talking about the reasons they were here, and what was happening with their case, and this time I was fascinated. They all seemed like really nice guys and before too long I started to relax a little and for the first time in months I actually felt relatively safe. It still didn't make the nightmare of moving any easier, especially given that I would probably have to move again in about six weeks, once my proceeds of crime hearing was confirmed, but things were definitely looking up. At least I had been assured by my new mates that I would be able to get all the information I needed from the UKBA and make a final decision on my future.
Meal-time arrived and the first thing that struck me was how polite and orderly everyone was. If this had been Thameside, everyone would have been pushing and shoving to get their meals first, whilst at the same time trying to bully the servers into giving them extra portions. As with every prison, as it was my first night I was on default vegetarian ration, but by and large the food didn't seem to look too bad. It certainly looked better quality and far more selection than what I had been used to for the past few months, Perhaps things weren't too bad after all.
For the next couple of days I spent most of my time either locked in my cell, talking to Hassan, or chatting with a few of the others on the wing. Some of the stories they regaled were atrocious and I realised that I had in fact had things quite a bit better than some of the others. Of our group, all the others had spent the first half of their sentences in HMP Elmley, which was also in Kent, but conditions had been really bad, with three in a cell the same size as ours. Apparently there were three level bunks, which of course was illegal under EU law, but in true British style, the Government didn't care about that, they just paid the fine to the EU each year and continued in the same vane!
Of the four others I became friends with, none of them had had any intention of staying in the UK. Steve, another Dutch national had been driving to London for the weekend and had forgotten that he had left a game-shooting gun in the boot of his car. He had been stopped in a routine search and they had found it in the trunk of his car, arrested him and sent him to court where he had tried to explain to them the reason it was there, but his duty solicitor had not mentioned any of the mitigating circumstances so he had done almost 12 months, and was going to be deported back to Holland. Hassan had been caught driving an Iraqi woman and her daughter across on the ferry, and both had been carrying false passports, so because they had been caught he had been charged with people smuggling, and had served over a year, but was also being deported.
Both of these guys had only intended on staying in the country for a maximum of three days. They had been arrested when the ferry docked in Dover, so their cars had been parked in the long term parking near the docks. Both he and Hassan were now having to organise someone to come and collect the cars once they were released as once removed, they would be banned from Britain for a period of ten years at least. The sensible mode of deportation would have been to escort them back to their cars, deposit them back on the ferry and wave them goodbye, but no, that would be too simple and too efficient. Instead, having served a year in prison at a cost to the taxpayer of around £40,000 each, when neither of them had been any threat to immigration numbers at all, they would instead be transferred from Maidstone to the detention centre near Gatwick, then escorted to the airport and placed on a flight, incurring more expense in prison transfers and flights, not to mention the immense waste of time involved when they were already within 10km of the ferry terminal.
Valerio had been a little different, in that he'd bought a fake passport in Germany, which he had hoped to use to open a bank account in another country, to assist him in minimising his tax obligations, but was unsure how effective it would be, so had decided to drive to London for the weekend and take it to a specialist for scrutiny - interesting that the experts in fake passport authenticity were in fact British! He had actually been travelling on his genuine passport, but the border authorities had searched his car and found the fakes, so he had been charged with conspiracy to fraud and again, served twelve months, before being shipped off in the same way as the other two, with his car still sitting in Dover.
It was no coincidence though that all of these guys had received just over the twelve months sentencing threshold, which meant that they could be automatically deported, rather than just removed, which would mean that they were eligible to return after only a 1 year ban. By receiving a 1 year sentence the figures would look far better, and I listened with amusement on the eve of the referendum when Theresa May, the Home secretary very proudly announced that she had deported over 5000 foreign nationals in the past year. This may have been true, but the vast majority of them were either never intending to stay in Britain in the first place, or were in fact not EU nationals!
Double Bubble is the third book in The Chemsex Trilogy - a series of books written by Cameron Yorke about his experience with Chemsex, addiction, and imprisonment in the UK.
We are serialising Double Bubble on Mainly Male. This is the 21st instalment in the serialisation. Go back to read earlier instalments.
We want to hear your opinion
Photography that embraces naked men
"Stop comparing ourselves to strangers on the internet…"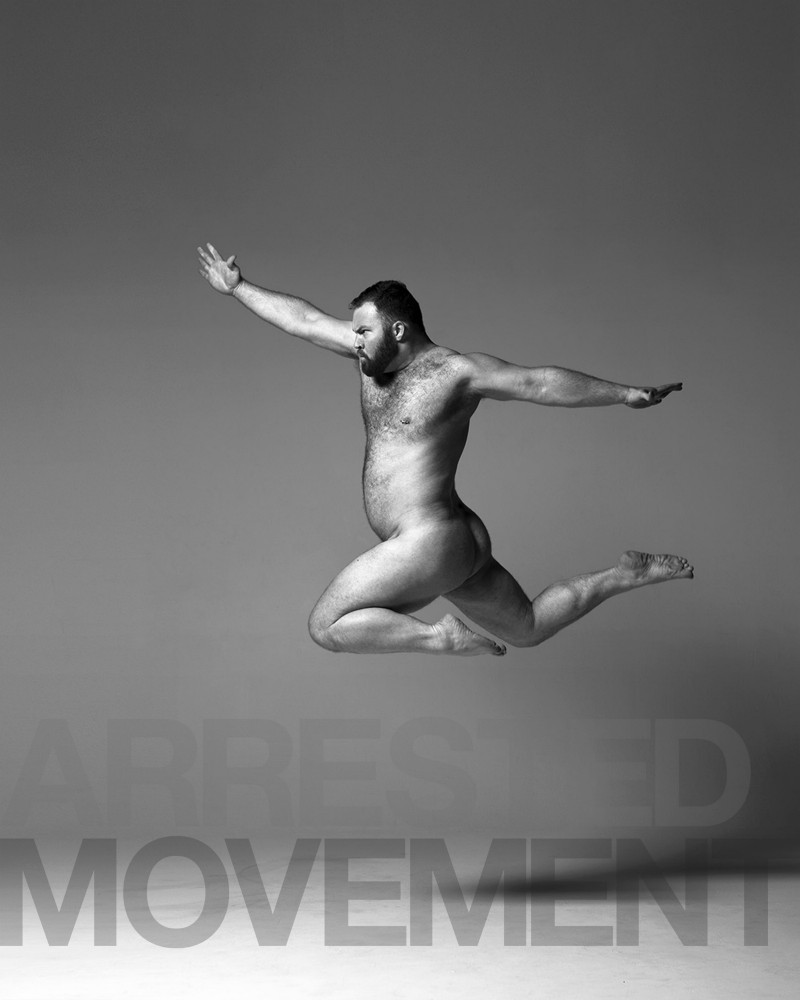 I caught up with photographer Anthony Patrick Manieri to talk about his ongoing series of work known as Arrested Movement.
Why do you think this project has captured the imagination of gay men around the world?
Because we're all the same really, except we don't all look alike. We usually just see what society deems to be the 'perfect' body types, flashed across TV and social media all the time.
This project encompasses a wide variety of men that are photographed equally and beautifully. I feel that the variety of men and body shapes being highlighted are recognisable to most men. We need to see diversity represented more in the media. That, and also the idea of male body positivity is refreshing in a world where the media seems to only push female body positivity. In this day and age, where depression and anxiety are extremely commonplace, it's nice to know that we're not alone in the struggle.
Why are men so keen to be photographed by you for this project?
Because we all want to fit in. We all want to be accepted, and here is a photographic series celebrating all men, all body types, and showcasing them artistically. I think men look at this and can relate and identify with some of the participating models, because they see themselves in the photos.
Most of the men you've photographed for this project appear to be first-time models, most likely being professionally photographed naked for the first time. Was that experience confronting for many of your models?
From what I've seen, and from what some of my assistants mentioned to me, for most of the men that participate there's a definite shift in their overall energy levels from when they first arrive at the studio to when they're done. One assistant asked me — "What is going on in the studio? Because when they arrive they're quite scared, some even shake with nerves, but when they leave they glow and have this sense of empowerment."
I make sure that the studio is private and a safe space for them to try and feel as comfortable as possible. I brief them, and coach them with suggestions of possible body movement. I also stop periodically to show the gentlemen their progression so far in the shoot.
Most men, after seeing themselves on the screen during the shoot, are delightfully impressed by how they look. They look at themselves in a positive light artistically, and not what they usually expect to see. I talk to them about how their hands are positioned, their facial expressions, pointing of their feet, and the overall lines of their bodies in the frame.
When you're not quite happy with your body, putting yourself out there is brave. I watch some men almost lose themselves in the moment and in the music. I'm grateful that I get to witness such a personal moment of self-evolution. For others, they're determined to take an amazing photo, so they push themselves so that their final image is strong and unique.
Should everyone tackle a naked photo shoot at some point in their lives?
I don't know if that's the answer. What people should do is take time to appreciate and accept themselves, to put themselves first. Fill their own cups before extinguishing their energy with others. Uniqueness is special. It's okay to look different on the outside, because we're all the same on the inside.
How is the project continuing to evolve?
I'm currently working on the design of the book — I'll be releasing a Kickstarter page this Fall. I'm also looking at gallery spaces to have the first of many shows.
Are you still actively shooting guys for this project?
I'm still actively photographing men. If it were up to me, I'd be in a different city every weekend photographing.
Since I'm funding this myself, I need to take breaks between cities. Travelling, studio costs, and hotels add up quickly. There are a few cities in the US, Canada, and Mexico that I'd like to do before heading back to Europe. Beyond that, there's talk of Australia, and possibly some cities in South America for 2019.
How can we help each other feel better about our bodies?
I think we really need to be kind to ourselves, and each other — daily. Judgement and self-judgement is such a human flaw, it's like a vibrational plague. We should be detaching ourselves from our smart-phones and social media regularly. Yoga and meditation are great ways to feel centred and grounded, to be in tune with our higher self. Eating right always makes for a happier body and mind. We need to encourage and validate each other to be the best we can be.
What do the images that you've captured through this project tell us about gay men and their relationship with their bodies?
Gay culture is meant to be inclusive, and we celebrate that inclusiveness. Though within the gay community, there's such a divide between men. We're labelled and put in categories, therefore creating almost a hierarchy of what's acceptable.
Body-image and self-esteem start in your own mind, not on Instagram. We need to literally stop comparing ourselves to strangers on the internet. We need to make mental health a priority in the gay community.
I hope that when people see this project, they know their worth, they know that they're beautiful, and that it's okay to be different.
Meet the participants
Follow Arrested Movement on Instagram