Our social correspondent P-Man has filed this report from his recent adventures in Provincetown celebrating Carnival.
The Parade
The besties
The beach
The pool
The P-Man story
What do you enjoy about Twitter?
Interacting with others, sharing posts and what we like — especially when we have mutual interests. You get to share posts with all kinds of interesting people, from all walks of life.
What sort of content do you normally post?
I mostly post about the adult industry, gay porn in particular. I do try to keep up with what's happening with our gay community, Afro-American issues, sharing things that are most important to us, some political things but not too much — I like to keep my page filled with positivity.
What sort of feedback or engagement do you get from your followers on what you post?
I try and posts things that interest me, and hope that others share that as well. Usually we like the same things, and that makes it fun. My followers are amazing, we all support each other — whether it's gay porn, or if one of us is feeling down or some tragedy has struck, we always bring each other up. We're like family.
Why is it more fun to share your love of gay porn with other guys through Twitter?
I get to interact with more people and fans of many of the gay porn-stars that I love and respect. Someone may like a post on a particular porn star that I like, and then we start a conversation why we like them, and go back and forth trying to top the other with why we like them, with funny jabs — nothing but love, it's all good.
It's also a great way to network and promote porn-stars that we admire and respect, and it gives you a chance to interact with them as well.
If they have something they want to get out there, they will tag you or send you a direct message, and it starts from there. Roman Todd was one of the first ones I started tweeting about when he first posted on Twitter — I've known him since 2010, and I think he's one of the best versatile talented hot performers around, and a great guy. It's not the muscles or good looks with me when it comes to Roman or anyone, what's most important is what's in the inside.
Who are some of the porn stars that inspire you?
I post a lot about Billy Santoro — he's a great guy, funny, smart, hot, sexy, and an all-round sweetheart. I don't know him personally, but to me he seems to be one determined man — he always reinvents himself, he's determined, always follow his dreams, and he looks out for others in the adult industry. Billy helps models when he can, like a mentor, he's a great entrepreneur, and such a great down-to-earth person — also having hot scenes and a hot body, he is a total package.
Nica Noelle is another person I admire, as a great director. She has had a lot of obstacles in her way, but she never let that stop her from reaching her goals and being the best at what she does.
Gabriel Alanzo is another hot and great man always striving to be the best. Plus I can't forget Chi Chi LaRue — he's an icon, I've been watching him direct for years — he knows what it takes to stay on top.
What's your ultimate Twitter gay porn fantasy?
I would have to be in it — believe me, I can hold my own. The scene would feature Roman Todd, Billy Santoro, Michael Roman, Tobias, Armond Rizzo, and Gabriel Alanzo — these men are the best of the best. It would be a game like Truth or Dare, with as little clothing as possible.
We want to hear your opinion
Travel Tips: Cancún, Mexico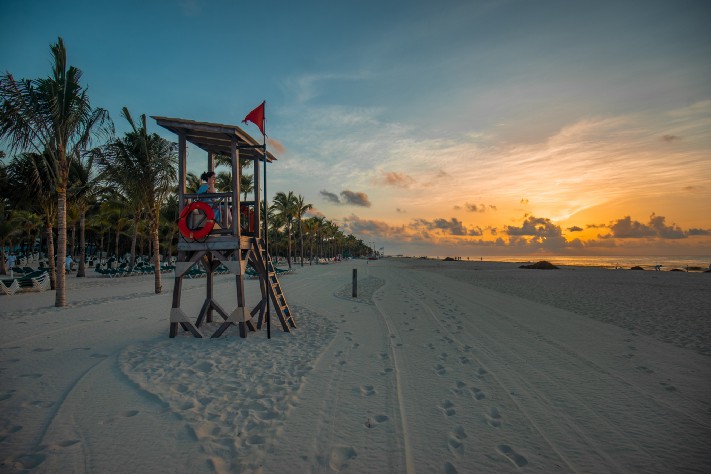 Situated on Mexico's Yucatán Peninsula, bordering the Caribbean Sea, Cancún is known for its beaches, resorts, and nightlife.
Cancún is composed of two distinct areas — El Centro which is the more traditional downtown area, and Zona Hotelera which is a long, beachfront strip of high-rise hotels, nightclubs, shops, and restaurants.
How to get there
There are direct flights to Cancún from most major airport hubs across North America.
If you're flying for Europe, you'll most likely have to change once. Prices start from around £600 per person.
British Airways does offer some direct flights from London Gatwick to Cancún.
Package holidays might be the most cost effective way to experience Cancún. Options include Club Med and Tui.

When to go
Peak season for Cancún is December to April.
Wettest months are generally September and October. It can rain at any time of the year, but rain is generally short bursts that clear quickly.
Hurricane season rarely impacts Cancun. The highest likelihood of a hurricane would be in the period between August to October.

Spring Break
Cancún is a hugely popular destination for college students during their universities' spring break period.
Peak period for Spring Break is March, although February through to April will be a popular time of year for students to vacation in Cancún.

Gay stuff
Cancún is generally more of a family-friendly vacation destination than a sizzling gay hot-spot (if you want uber-gay you should probably consider Puerto Vallarta).
Most of the gay venues are found in El Centro — the downtown area of Cancún.
Playa Mamitas and Delfines are the two major beaches. You'll probably spot some fellow gays on the beach, but they're more likely to be pool-side at the resort.
There is reportedly a nudist beach in Cancún — apparently it's a forty minute walk from the Coco resort, but we haven't been able to verify this.