I caught up with Theo Ford to talk about underwear, awards, and writing the next chapter in his story.
What led you to start exploring a career in porn?
I absolutely can't describe it as "start exploring" — it all went so fast, from the first contact with my first producer to filming my first scene. I was thrown into it not knowing what to expect or what would result from this new adventure.
I never wanted to do porn to be honest. I definitely wasn't in some kind of search for fame or recognition like a lot of people seem to want and need.
At the time, I was working in Paris in fashion, studying in the same fashion school as Francois Sagat — coincidence or fate?
I'd been doing modelling for years, and had professional pictures online. That's how the producer found me.
I've always been welcoming of new adventures, and this one seemed like an interesting opportunity. A week later I was on set, feeling all kinds of awkward and unsure of myself. Funnily enough, I stuck with it and grew into my own.
Porn allowed me to become sexually empowered. Something that I didn't know you could obtain. It also pushed me to be my most authentic self.
When you can't hide much, then don't hide at all. Owning my life, my career, myself — it was liberating. With all the challenges I've lived through, I know that 'regret' is not in my vocabulary.
Would you describe yourself as an exhibitionist?
Not really. I don't have the need to show off. I guess I'm sexually free, I don't particularly get off on being watched, I don't do sex shows or home movies.
When I'm not filming, I love to do what feels right in the moment — without having to think where the cameras are, which angles are ideal, where my best light is, or thinking of transitions between positions.
I specifically adore having the best connection possible with my partner and that's why I'm a relationship kind of guy. I love having a boyfriend, to explore each other, and being able to feel comfortable no matter what.
You picked up the award for Best Couple, with Gabriel Cross, at the Prowler European Porn Awards — how did that feel?
I'm so thankful people enjoy my work.
This award was from the public so it just made it overwhelmingly special.
Also the award was for the ghost-hunting Men.Com series Paranormal, produced by the amazing Alter Sin.
I love it when everything comes together, and we get an award-winning result. Even the casting changed last minute, I had a choice to film that scene in particular with either Gabriel or Logan Moore's ex — I guess I made the right call in pushing for Mr Cross!
Who are some of your porn heroes or inspirations?
I'm not too sure who I look up to. There's so many incredible people in the industry. What I remember is being young and seeing the cover of the Falcon Studios VHS — yes, I am that old. The guys on the covers were the epitome of perfection in some way. It felt surreal to film for Falcon myself.
I truly believe porn actors can have a positive impact on society. Using our popularity and platforms to promote positive changes around us within the LGBT community and beyond. Being able to give back has been my biggest inspiration.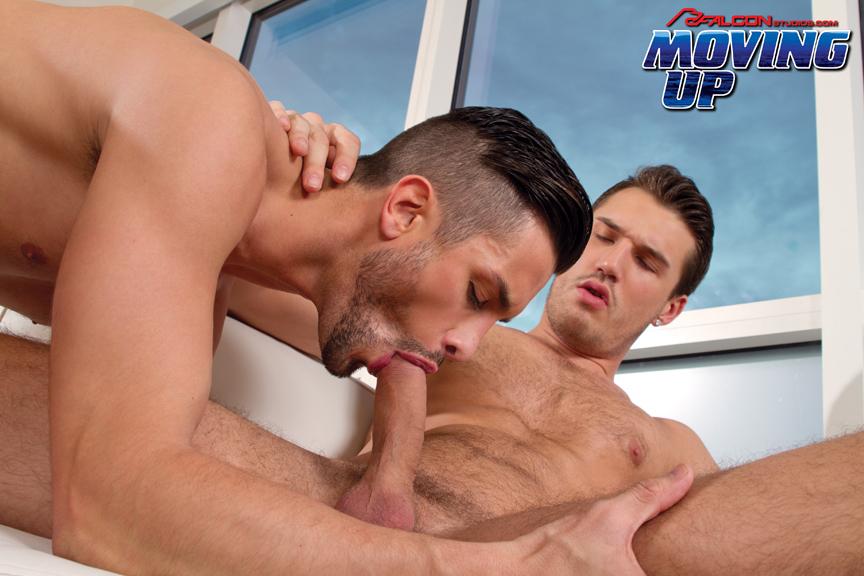 Can we talk underwear?
I love underwear! I live in just underwear — unless I have to be social and leave the house. I must have over a thousand pairs at home. From briefs, tangas, and boxer shorts, to jocks and thongs. I usually wear loose boxer shorts around the house, so everything stays breezy during the summer — especially in shorts. Although I recently started to love jocks and thongs on me — it makes me feel sexier.
At the gym, I adapt my underwear according to what I'm wearing. Commando with loose longer shorts, jocks with short shorts, and thongs with compression pants. I don't like to see the underwear mark in compression pants.
On other guys, I'm pretty flexible as long as it's not something a teenager could wear, or old and ripped. Being a grown-up means having new and clean undies! If the guy has a nice bum, a jock is ideal, a thong can also be very hot. I do love my JJ Malibu and Versace underwear.
You've written about your struggles with depression, why did you feel it was important to share those issues publicly?
I've always believed communication is key. Whether it's in a relationship, at work, or in your personal life. Opening up about personal and intimate struggles allows for others to hopefully identify with you and feel less alone.
The main issue with mental health is the lack of discussion around the topic. Mental issues are not visible in most cases, which makes it difficult to comprehend and assess them. The key is visibility so that people know how and where to get the help they might need.
For me, opening up also meant accepting my depression and alleviating the pressure it put me under.
What are some of the current projects that you're working on?
I'm continuing to write, now that I've settled in my London life after years of travelling. Also, I've been working a lot on promoting sexual education, sexual health, and diversity. I have so many projects ahead and I'm excited to see where life takes me.
Follow @the_theo_ford
Click 'See gallery' to check Theo Ford's hot gallery
Rick Luciano is hitting the gym
The JustForFans model shared with us some of his sexiest selfies
I caught up with Rick Luciano to get some fitness tips and talk about porn.
What led you to start exploring a career in porn?
I started out about four years ago, doing it just for fun.
I was obsessed with Tumblr, and loved seeing regular amateur dudes like me posting homemade videos – so, I decided to start posting some solo jerk-off videos.
The fans on Tumblr were amazing and supportive, and my fan base just kept building over the years. I started to make amateur videos of my hookups, but at that time Tumblr started to filter a lot of content, so my fans asked me to make an Onlyfans account.
For me, porn has been a way to share my journey in fitness, as well as exploring my kinkiest desires with the world.
Who are some of your porn heroes or inspirations?
I have huge respect for Austin Wolf and the huge following he's been able to amass over the years.
Even though he's not a full-on porn star, I absolutely have to shout-out to Diego Barros and his hustle and amazing cock! I'm vers, and I love a huge cock in my ass! For that reason, I'd love to film with Pierce Paris.
Also I love the work of some of my peers that also get into exhibitionism – guys like Topher Drew, Mucho Harding, and James Tang.
What's your ultimate porn fantasy?
I absolutely need to get into a huge group scene like you see in FraternityX or SketchySex!
I'd love to start out by topping a hot hungry bottom that has a few loads inside him that I could use as lube.
After I've cum, I'd love to take like 5-10 hot hung, top cocks! Gets me hard just thinking about it! I'd absolutely love for it to be all amateur dudes – like, totally into it for the experience and the sexual explosion!
Can we talk underwear?
Yes – let's talk underwear all day! I love underwear, and have a super underwear fetish – I find them sexy and erotic.
On a day-to-day basis, I'm all about my boxer briefs, and I tend to go for the more athletic brand types. My top three favourite brands right now are Nike, Reebok, and Under Armour.
I tend to wear the same type to the gym, but sometimes I will wear compression underwear or tights. Sometimes I love to free-ball and show off.
On other guys, I love seeing athletic boxer briefs, or just briefs. I love those guys that are rocking a jockstrap at the gym.
Would you describe yourself as an exhibitionist?
Fuck yes! I absolutely love showing off in public, and hook-up scenes in public.
My favourite place is public restrooms – there's just something about all the cocks that pass through there on any given day that just gets me raging! Urinals turn me on!
What are some of your goals and aspirations for the months ahead?
I have a huge focus on my fitness and body right now – I hope that continuing to share my journey and improving my physique will allow me to build new opportunities in porn and modelling.
I have a vacation coming up in Miami soon, so I definitely have goals to meet some hot dudes out there and make tons of content for my fan sites.
In the Spring of 2018, I launched my own clothing brand – Broski. We went strong through the summer, but I'm looking to relaunch it soon with new styles and products.
Most importantly, I'll keep enjoying this overall experience, and continue to interact with my fans. I love them so much, and they've been so loyal and supportive.
Click 'See gallery' to see more photos