I caught up with Dillon Diaz to talk about getting started in the gay porn industry.
What led you to start exploring a career in gay porn?
I started working as a go-go, stripper, and erotic dancer in the spring of 2018, as a new adventure for myself. I like to push myself out of my comfort zone as much as possible and grow from the experiences. I met lots of people this year that helped open my mind and supported me through the process. Everyone from club owners, to promoters, other dancers doing what I do, and also some porn stars.
It was after meeting guys like Andrew Fitch, Skyy Knox, Johnny Knox, Dolf Dietrich, Kris Karr, and Hans Berlin that I started to consider it as an option for myself. My perception of what it was like to work in adult entertainment and be a porn star totally changed when I met these guys. I saw that they had normal healthy lives, normal healthy relationships, and a great income.
I got to do live performances with a couple of these guys at club bookings, and I loved it. I realised that I could be a porn star too. So, with the help of my new sexy mentors, I started to send my photos to some of the gay porn production companies out there. I've received a great response, and I believe I'm close to setting a date for my first scenes.
Would you describe yourself as an exhibitionist?
I'd describe myself as an introvert with exhibitionist tendencies. Before I started working in this industry, I avoided nightlife all together. I wasn't into the bar or club scene with its crowds and loud music. I need lots of space and me-time.
But what I found is that even though I'm in the middle of the crowd, I'm still apart from it. I'm usually on a stage or a box, and it gives me a little height and distance where I can be by myself and be on display. The loud music became therapeutic. I got lost in the music and found a new me, or a side of me that I didn't know was there and I like it.
It's really not bad having all eyes on you. It's kind of hot to be the centre of attention. I found my inner-performer on stage in the gay bars of NYC. Progression has always been important to me, and going into gay porn feels like a natural progression from dancing. It's onward and upward for me — no turning back.
Who are some of your gay porn heroes or inspirations?
I'm about to show my age. I remember rubbing it out to Tyger Tyson and the other guys of Latino Fan Club. Back then, those guys looked like the guys that were giving me a hard time in school. It was hot to see them all fucking each other.
Today, my heroes are the guys I've met and who are helping me to get to where they are — or at least in the same neighbourhood. Andrew, Skyy, Dolf, and Hans — they're my friends, mentors, and gay porn heroes.
What's your ultimate gay porn fantasy?
There are so many! I'm looking forward to being directed and producing some hot scenes for everyone to enjoy, but I'd like a good interracial group where I get to flip fuck.
Can we talk underwear?
When I'm not performing, I wear just a basic and comfortable brief of any kind — from a boxer brief to a bikini brief, I like my goods kept close. When I'm performing, I like to change it up and be creative. I'll look for options with sheer panels, cut outs, interesting textures and colours. Then, of course, I accessorise the whole look to completion.
At the gym, it's either no underwear or I'll wear a jockstrap.
When it comes to other guys, I like them to wear anything that's flattering to their body. But, if I could choose it for them, I'd pick a nice jockstrap.
What are some of your goals and ambitions for the remainder of 2018?
I'd love to film my first scenes before the year is out. I want to get my dick wet in this industry and make more contacts to carry me into 2019, growing as a performer.
We want to hear your opinion
River Wilson is changing the narrative
"People are into the idea of seeing me naked…"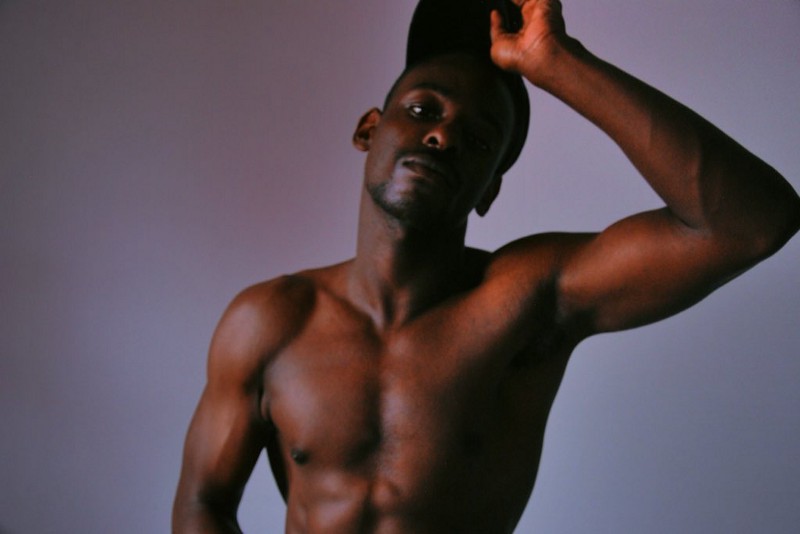 I caught up with River Wilson to talk heroes, underwear, and house-sitting.
What led you to start exploring a career in porn?
My curiosity for sex. I've always been fascinated with this world, so when I was old enough I started doing some research about the industry. After I gathered all the info I needed and felt comfortable, I started the steps to get in.
Would you describe yourself as an exhibitionist?
Not really, I always see the worst in my body, but find it interesting that people are into the idea of seeing me naked — I fake that confidence until I can get to a place where that energy of acceptance goes through my entire body.
Who are some of your porn heroes or inspirations?
I don't think I have porn heroes. I definitively have people inspiring me to want more and to change the narrative already written for a young black man of colour in a place ready to put me in a box.
The Housesitter looks like a great production — how did that project come about?
I was having dinner with my dear friend — J of Socalled — about films, erotica, the industry, and he told me about a project he did back then at Cinema L'amour with a movie by Toby Ross. I thought it was an amazing perspective, so that night we decided to try to make our own production and see where it would go.
Is this the first film that you've produced?
It was a lot of work, but so worth it and I'm planning on doing it again for another project. Figuring out the casting and raising the money were the two challenges that almost got me questioning the whole thing, but then I was inspired and determined so I had to double the work.
Can we talk underwear?
I love wearing boxers — I find them most comfortable, and I'm all about comfort. For the gym, I prefer briefs — especially when I do squats. On other guys, I love them in boxer briefs because then I can see their butt well.
What are some of your goals and ambitions for the months ahead?
I'd love to get into acting and production more — if I can combine it with porn and erotica, then great. In that same breath, I'd also love to be more artistic with these visions.
Follow River Wilson on Twitter