Matt de Iturriaga and his brother Tim are the men behind the Adonis Lounge gay strip-club brand.
It's a family business, and Matt has recently had his 16-year-old son Braden visiting.
I caught up with Matt to talk being a father in the world of gay strippers.
How did the visit from your son go?
Other than him walking into my apartment to the sight of 10 inflatable dicks, Pride promo cards of half-naked dudes everywhere, and my computer screen being open to a page of naked male porn stars, it was great!
He definitely got quite the shock, but he was laughing and taking it all in his stride. He even snapped a few photos of the inflatable dick balloons to show his buddies!
How often do you get to spend time with your son?
Unfortunately, not enough. He lives in North Carolina with his mom, and much of the past nine years since I moved to LA after rehab have been a slow and gradual building process to re-connect and build the trust and bonds required to have a solid parent-child relationship.
Plus, due to my work schedule and the fact that he's on the East Coast, it's tough to get adequate time in. But we make the best of the opportunities when we get the chance to see each other a few times per year.
Was there a time that you had to explain to him that you run a gay stripper business, or is that something that he's always been aware of?
That's also been a slow and gradual process. It's only over the past few years that he's learned I'm in the nightclub and entertainment world, but he hasn't really known too many of the details.
This past trip was very informative for him on that level — he even came to the bar to help me blow up and hang dick balloons! He's got a much better idea of what Adonis and the gay shows are about now.
Is he interested in getting involved in the family business?
I'm not sure male strippers and their diva dramas, All-Male Nude Parties, blowing up dick balloons, and the insane work hours are what he has his heart set on yet as a career. But, he's still only 16 years old, so there's time, we'll see. For now, he's thinking about the military, possibly.
What are some of the challenges in being the father of a 16-year-old guy?
What aren't the challenges might be a better question! Fatherhood is still a challenging concept to me. There never seem to be easy answers to situations, and a lot of time I find myself almost preaching to him what not to do, not to repeat the same mistakes I've made.
Overall though, he's a really good kid and as parents his mom and I just try to balance imparting wisdom, advice, and guidance while still allowing him to make more choices and decisions for himself as he gets into his late teens. If helping me hang dick balloons provides that direction, I'm all for it.
What are some of the key pieces of advice that you're giving your son so that he can hopefully learn from your mistakes and successes?
Pretty general, but important things. Just to do well in school, as it will open up more options for him in life. Be kind to people, surround yourself with good influences and positivity. Stay open to life, opportunities, directions. Don't be lazy and apathetic. Work hard and always put forth best efforts in your endeavours. And play less video games! That about sums it up.
Dive into the world of Adonis Lounge
Read more from Gareth Johnson
We want to hear your opinion
How to navigate a gay sex club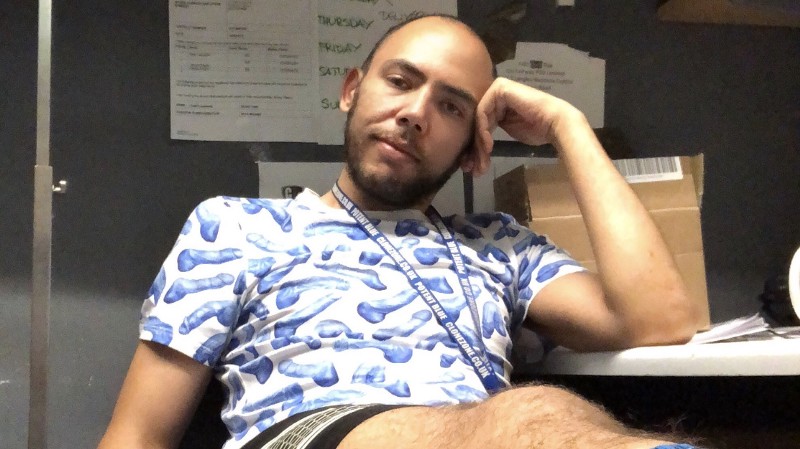 Ever wondered how a gay sex club or a sex party works? I caught up for a coffee with my Twitter buddy Dick Baker to swap tips on how to navigate a club full of horned-up guys.
What led you to try out a sex club for the first time?
Hard On in London was the first sex club party that I went to. I'd never been to anything like that before, but I'd heard a lot about it on social media. I wanted to experience it, to try it out, experiment. I wanted to see if it was any good.
How does a club like Hard On work?
You walk in, and then you get changed.
The dress code for Hard On isn't as strict as some other places. Hard On caters to a wide range of fetishes — rubber, leather, sports wear, or full-on naked
They have a basic locker-room changing area, so you don't have to ride the tube in your gear.
But you are getting changed in front of everyone — this isn't the place to come to if you're modest or shy.
What did you wear on your first visit to Hard On?
A jock-strap, sports socks, and a harness.
These days I always start off wearing a jock-strap, but I end up taking that off pretty quickly and just stuff it in one of my socks so I don't lose it. I get more attention when I'm naked.
Who do you go with?
I generally go by myself. There's hundreds of guys there, but it can sometimes feel a bit lonely by yourself. I generally know a few people there, people to chat with when you're grabbing a drink or having a smoke. It would be nice to go with a group of guys, that way you can go off and have some fun and then come back together to drink and chat and dance.
What's the layout of a club like Hard On?
Downstairs there's the main dance floor, the main bar, and two play areas. Upstairs is the main dark room, sofas, and a corridor with slings, benches, and private cabins.
It gets so busy that sometimes you feel like you can't move.
What's your general strategy?
It depends a bit on how I'm feeling, but generally I walk in, get changed, have a bit of a dance, walk around and scope out the place, then go upstairs and see what happens.
Generally, it doesn't take more than eye contact. You lock eyes with a guy and you know — okay, here we go. If it's busy, sometimes a guy will just wrap his hand around my cock to get my attention.
What happens if someone is making eye contact with you or trying to get your attention and you're not up for it?
You can just ignore their attempts at eye contact. If someone touches me and I'm not interested, my facial expressions are very expressive and can send a clear message. If someone doesn't get the message then I'm just very direct and tell them that I'm not interested. That rarely ever happens though, as long as you're clear with your signals you won't have a problem.
You shouldn't feel pressured to do anything you don't want to do, or behave in a certain way. The venue is just providing the environment and the opportunity, it's up to you to find your own pace. You can just have a bit of fun with a couple of guys, or you can get comfortable in a sling in the dark room and make it clear that you're not bothered by who is taking a turn on you.
How many times would you have sex at a party like Hard On?
I usually have some fun upstairs, cum, go downstairs to get some water and have a cigarette, have a dance, then head back upstairs for some more fun. Generally I'll cum at least twice, possibly three or four times.
I take Viagra when I got to a party like Hard On. It means I'm always ready for action and can last for longer. I also wear a cock-ring — I wear a necklace with some of my favourite cock-rings.
What sort of guys go to a party like Hard On?
All sorts of guys. I'm 31, but there's a varied mix of guys of all ages. I've noticed recently that the crowd seems to be getting younger — maybe PrEP has something to do with that.
There's lots of condoms available at Hard On, but generally guys don't use them. It's a personal choice — they're readily available if you want them.
What hints or tips would you give to someone who was thinking about going to their first sex club party?
Try and go with a friend, at least for the first few times. Know what you want — set yourself some boundaries.
Fetish gear can be really expensive, but you can just go with something simple. A jockstrap and a pair of sports socks is a classic look — you're covered but not covered. If you want a harness of some kind, you don't have to splash out on a leather harness, there are fabric harness options available that are more affordable.
You don't have to look like the guy on the poster. There's lots of ordinary, everyday guys at these parties. Everyone is just out for a good time.