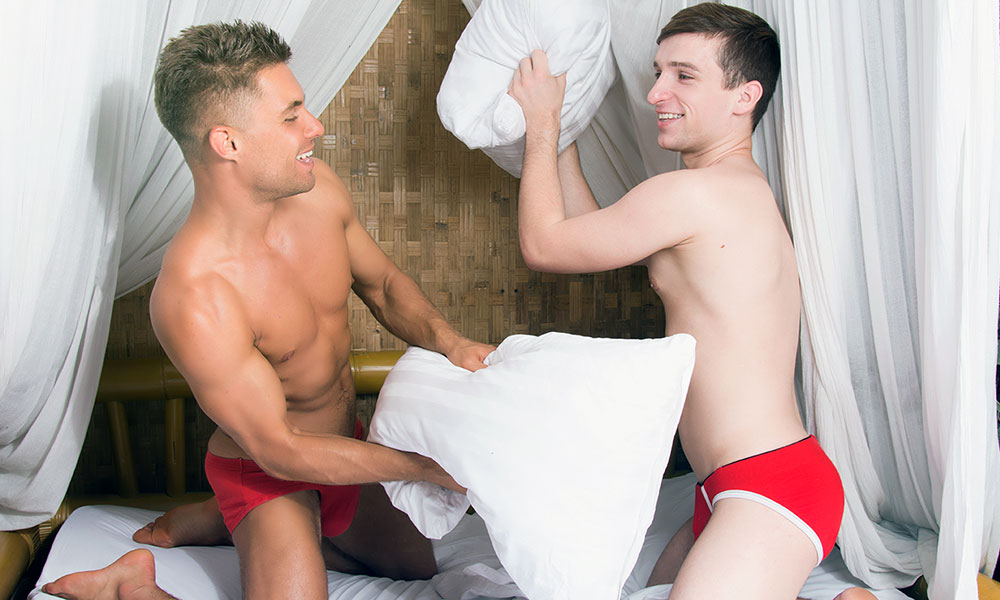 A step-by-step guide to a gay underwear party
Your first gay underwear party can be a bit daunting. Here are some tips to make your first gay underwear party memorable.
I used to be a bit of a gay prude.
Growing up, I wasn't particularly confident about my body and wasn't particularly confident about who I was — I hadn't really got my head around my identity, my sense of self, or what it meant to be a gay man. I was quick to disapprovingly judge the exhibitionist, gym-toned guys who would eagerly take their tops off in any situation — slut-shaming comes from a place of envy and insecurity.
As you get a bit older, you realise that your insecurities are fairly baseless. Even if you're not measuring up to the unattainable body images of the underwear models and porn stars that we follow on Instagram, as long as you've got some confidence and a sense of fun then people will find you attractive and want to spend time with you.
But no matter how confident and self-assured you're feeling, your first gay underwear party can be a bit daunting.
I'm not claiming to be the world's foremost gay underwear party expert, but I've been to a few.
My favourite underwear party memories are from my days of competing in gay water polo tournaments. One of the highlights of any gay water polo tournament was always the underwear party. These parties generally involved a bit of a guerrilla-style approach — everyone was put on notice which night the underwear party was going to be held, the venue was selected (usually a gay bar) but the venue wasn't informed about what was planned. Everyone turned up — black plastic bags and sticky labels were handed out, and then everyone stripped off their clothes and bundled them into the plastic bags (the sticky labels are so that you can mark which bag contains your clothes). We tended to find that other patrons and even the bar staff would happily join in the spirit of the event, and a good night was had by all.
Totally spontaneous underwear parties aren't generally a smart-move — you want a little bit of notice to ensure that you're wearing some decent underwear and that you've got your man-scaping at a level that you're comfortable with. But underwear parties that are too official and well-organised can feel a bit forced and lacking the adrenaline that comes from doing something a bit edgy.
But why would you want to have an underwear party? What actually happens at a gay underwear party?
Underwear parties aren't always about having sex with the other guys that are there, but there is an undeniable sexual energy when you have a room full of guys drinking and dancing in their underwear. Strangely though, after the initial amusement of stripping down while out in public, you seem to quickly forget that everyone is almost naked — it turns into just a fun, strangely liberating night out with your mates.
Here are a couple of gay underwear party lessons that I've learnt over the years:
Don't wear underwear that you're embarrassed about. You need to feel confident — inevitably guys will be judging you on your choice of underwear. This is the occasion when you want to bring your underwear A-game.
If you want to wear a jock-strap, or a g-string, or a j-string, or something a bit sexy and suggestive, then go for it. If it makes you feel good then this is the party to show off the cool stuff that you've got in your wardrobe. Equally though, if you just want to go for a sensible pair of briefs that you know you can dance comfortably in without any wardrobe malfunctions, then that's cool too. Try and avoid boxer shorts – you'll feel weird and out-of-place.
Don't be surprised when guys rub up against you. It's not necessarily a sexual thing, but if you don't like people invading your personal space, or being a bit familiar with you, then this might not be the party for you. When you're on a crowded dance floor and everyone is jumping around in their underwear, don't be surprised if some guys get a bit handsy — take it as a compliment.
What if you get a bit excited and start to get an erection? Who cares. If you weren't getting a bit excited at this kind of party then you should probably question your sexuality. Don't be embarrassed by your body. It depends a bit on the type of party that you're at as to whether guys are going to be busting out boners on the dance-floor, but ultimately you get to set the boundaries on where the night takes you.
My final piece of advice is to embrace this unique experience. If you ever get a chance to go to a gay underwear party, don't judge, don't hesitate, just strip off and start dancing.
We want to hear your opinion
What happens inside a gay bathhouse?
Here's why we still need gay bathhouses.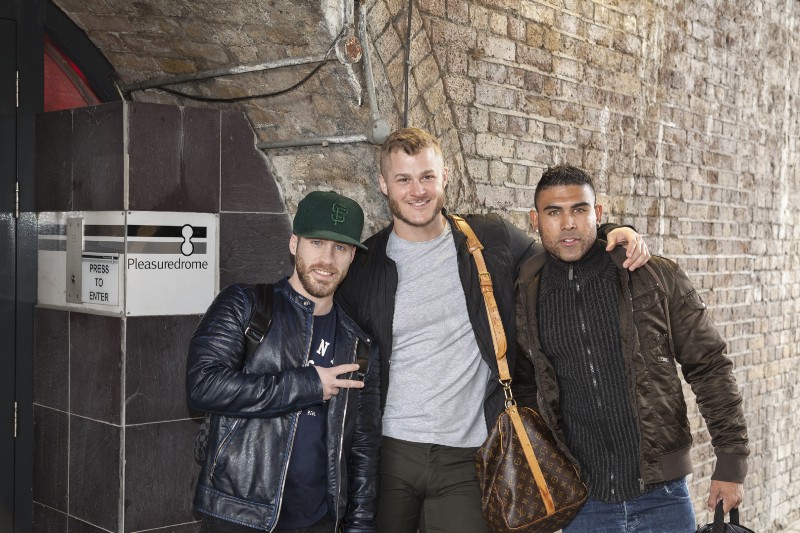 I caught up with Chris Amos, from London gay sauna Pleasuredrome, to talk about why gay bathhouses still matter.
With the rise of hook-up apps, there was a sense that the days of the gay sauna or bathhouse were finished. Why do you think that saunas like Pleasuredrome continue to have a role to play in the lives of gay men?
The rise of hook-up apps has impacted on the gay social scene - especially bars and clubs. However the sauna scene is still flourishing, perhaps even more so. A lot of people are actually using the apps inside the sauna, or to meet at Pleasuredrome as it's much safer to meet here than go to someone's flat. Also, in London, many people share their flats - if you want to hook up privately and can't take them home, Pleasuredrome offers deluxe pods which provide an alternative to expensive hotel rooms.
Men come to Pleasuredrome for all sorts of reasons. Some come after going out, on their way to or from work, some men prefer to not use apps. Lots of visitors to London come too, some men just come to relax and enjoy the facilities.
Plus, in the sauna you can see other guys in the flesh, and hook-up there and then.
Has the way that gay men use saunas like Pleasuredrome evolved in recent years?
With the rise of apps, and the credit crunch that hit the UK in 2008, there has been an erosion of the gay scene, with less venues to visit. But Pleasuredrome is an institution in the centre of London. We never close - we're open 24 hours a day, seven days a week. As venues have closed, more and more men have been trying out Pleasuredrome. Plus, we've noticed a younger crowd coming in since we've offered a discount for under-25s.
We'll soon be expanding Pleasuredrome to make the spa 50 percent bigger. This will enable us to open an additional 22 deluxe pods - with TV, power points to recharge mobiles, and controllable lighting. We're also very excited about creating Britain's first steam maze. A brand new stone spa pool with unique water features will also be added.
What sort of guys go to a sauna like Pleasuredrome?
There's a lot of diversity in London, and this is reflected in the guests that we have. We get young guys, older guys, bisexual guys, married men, guys wanting to experiment, tourists, all nationalities, jocks, slim guys. We have a very open policy and welcome all guys.
What days of the week and times of day are the busiest at Pleasuredrome?
During the week, we're busiest between 4 PM and 9 PM. On Fridays, we're packed from 4 PM to very late, and Saturdays from 4 PM all the way through to Sunday morning and Sunday afternoons. We always have guests.
Is a London sauna, like Pleasuredrome, different in any way to saunas that I might find in other cities around the world?
Pleasuredrome is different to other London saunas, as we focus on offering the best facilities - steam rooms, saunas, spa pool - and keep these clean and well-maintained. With the expansion, we really are aiming to be one of the world's great saunas. The steam maze will be an experience. The owners have visited saunas across the globe and will incorporate the best of what they've seen into the Pleasuredrome expansion.
Do you ever have any shows or performances at Pleasuredrome?
We never do special parties or theme nights - despite many requests from promoters to do so. We've found that the few times we did special events, it put off our regular clientele. Our priority is to always offer a clean, safe environment for our guests - an experience that every time that they visit, they know what to expect, no surprises. At Pleasuredrome, you always know it will be busy, you're welcome, and you know what you're going to get.
If I've never been to a sauna before, but I'm interested in trying it out, what advice or guidance would you give?
Going to a sauna can be daunting experience for first-timers, which is part of the thrill of the experience. There's a degree of freedom and relaxation that can't be found elsewhere. So many men to meet and see in the flesh, as opposed to navigating fake profiles and constant messaging on dating apps -  here, you can see for yourself. Most guys are surprised how friendly people are. There aren't too many men who only come once and never come back - that says a lot.