Phil Dzwonkiewicz was crowned Mr Gay England 2018 and competed for the title of Mr Gay Europe.
The 36 years old was born in Birmingham. Diagnosed with HIV back in 2007, Phil's reign as Mr Gay England has been all about proving that "HIV Doesn't Define You".
The activist took some time from his busy schedule to answer some of our questions.
How did you come across the contest and what made you apply?
I have known two previous winners of the current incarnation of Mr Gay England, and they have brought some incredible campaigns to the table. Joni Valadares (2016) shed light on suicide prevention, and Matt Rood (2017) Gay Adoption rights.
These campaigns are very relevant to issues for the LGBTQ community.
So I had known about the competition for sometime, and I got involved as a friend of mine kept bringing it up, and basically pestering me to do so.
I went on holiday and just pushed it to the back of my mind. As RuPaul would, say my inner-saboteur was shouting in my head: "You are not good enough!" "You are not what they will be looking for!" But the closer the closing date for applications got, all the good things started to surface, and I asked my best mates if I should apply and their answer was a resounding YES!
What does it take to become Mr Gay England?
I can only go by what I see in my predecessors and myself.
You have to have a passion, you need to want to give back, you need to be invested in the LGBTQ community and want to change the things you do not like.
Have a point of view and be able to articulate that.
What changed in your life since you won the competition?
Life has become very very busy which I am no stranger to at all, but more than anything the stories that are being shared with me from other people living with HIV via social media platforms have been incredible and humbling.
Men and women telling me that just by seeing me being vocal and wanting to take up a mantle of showing those around us that it doesn't define who you are and that you can live a healthy happy life, has made them proud and given them hope, and that some of them have even now come out to loved ones because of it. That has been just mind blowing to me, and makes it all worth it.
You centred your campaign on raising awareness of HIV. Why is it important to you?
This is super important to me as it effects me directly.
As HIV positive people we don't have role models in the mainstream. This is changing now with the influence of social media, but visibility is key.
I think that if more people from EVERY walk of life can stand up and say that they are positive, this will help displace misconceptions and stigma that are unfortunately still around today.
For years, I have been helping those around me or those sent to me by recommendation to come to terms with a diagnosis of having HIV.
You talk openly about your status and you are a peer mentor at Positive East helping and supporting others living with HIV. Do you feel people are more educated about HIV or is stigma still very present on our society?
I think that in London people are generally more informed in regards to sexual health. As anyone that works in the health sector can attest, things are London-centric. Once things are trialled in London they tend to get rolled out across the country.
The population of gay men is very dense so the information is distributed well here BUT I still experience stigma on social media and in life.
Common responses are "You are riddled", "Whore", " Sorry, I don't touch people like you, no offence", "Ohhh, you don't look like you have it". All these and many more are why I am stepping forward and expressing "HIV Doesn't Define You" as it shouldn't.
Having this condition (and it is that, a chronic condition) should not stop you from living the kind of life you want to, be it running an office full of lawyers or twirling around on stage.
#HIVDoesntDefineYou is the slogan of your campaign. What does define you?
That's a good one!
I'd have to say work helps define me—I have passion in all I do and give 110% all the time, and how I treat others—I am extremely caring and my family and close friends mean the world to me.
Why did you take part in the Mr Gay Europe competition?
While the UK is generally ahead of the curve in regards to HIV—there is still a lot of work to do, and the stories I receive tell me that we are on the right path—I would love to help those across Europe in the same way, open up dialogue and help break down that damn image of a tombstone, and show all of Europe that even though a person is LIVING with HIV it doesn't stop them from contributing.
Any message you would like to leave with our readers?
If you have questions please ask them.
By asking questions you are showing that you are willing to learn. No matter how scary or stupid you think those questions are, if you ask someone like me or anyone that is open and comfortable with living with HIV we will answer them.
And LOVE the fact that you are open to learning and not judging.
Follow Phil on Twitter to know more about his campaign.
We want to hear your opinion
Who is going to be at Hard On in London?
The pigs are ready for action.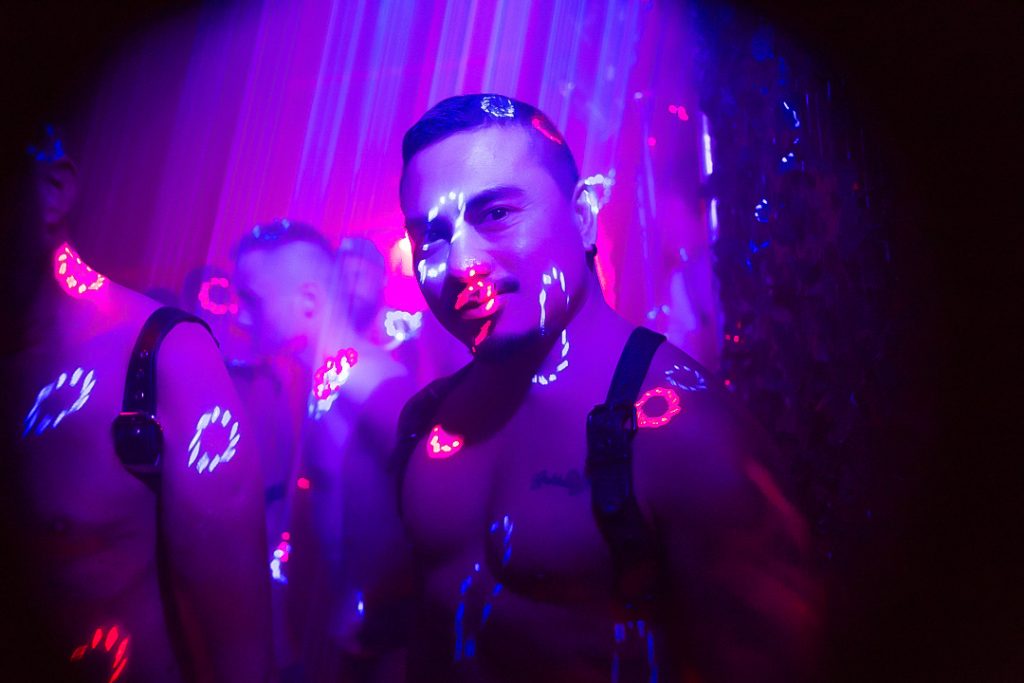 We're only days away from the next Hard On event in London – Saturday 19 January is when the men will be hitting Bloc South in Vauxhall, and they'll be hitting it hard.
One of the many things we enjoy about an event like Hard On, is getting involved in the build-up – figuring out who is going to be there, feeling the energy and excitement building.
At Saturday's event, the music will be provided by Brent Nicholls and the entertainment that has been booked is Aymeric DeVille and Marco Napoli.
If you've been to Hard On, you'll appreciate that the shows are always fairly interactive, and Aymeric has apparently requested a load challenge. So, that should get the party going.
Marco Napoli has helpfully confirmed that his load is probably going to be among the first that Aymeric takes on the night.
We're particularly excited that Marco is going to be bringing some company to London for the event – his boyfriend Joel Someone will be there, for support.
Who else is going to be having some fun? Here's who we've spotted so far:
Just repeating this because it's important. Aymeric Deville – load-challenge.
See you there!