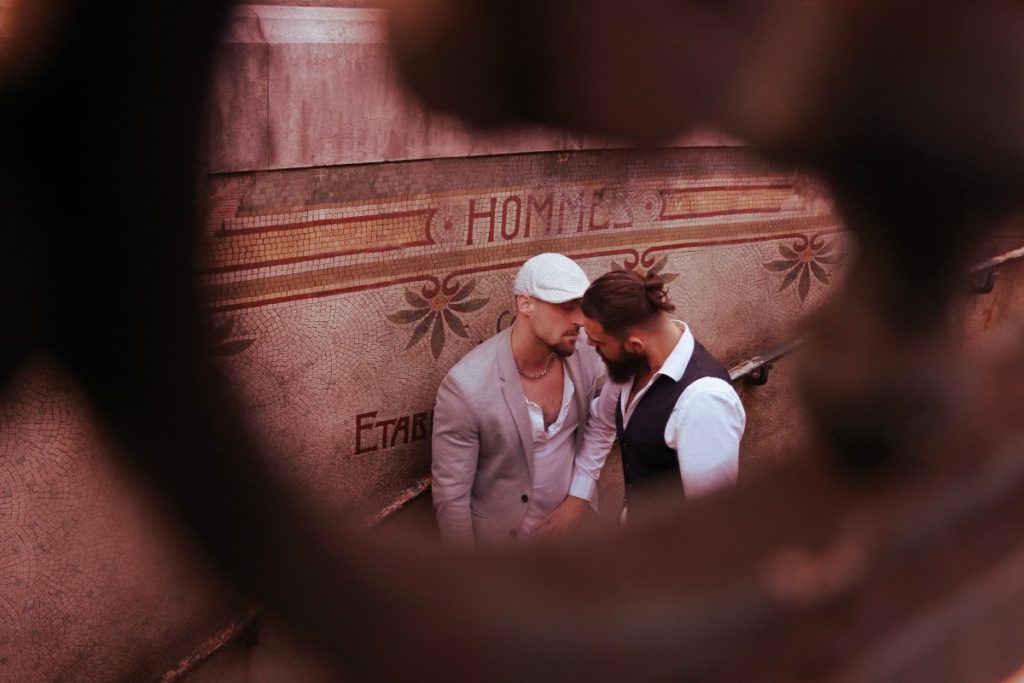 A modern guy's guide to man-on-man cruising
The risk of being caught is the ultimate turn-on
Perhaps surprisingly, the proud tradition of man-on-man cruising is still going strong. Wherever you are in the world, you're not going to be too far from a spot where you'll easily find other men who want to hook up with men. There are plenty of apps and websites dedicated to helping you out if you want to have sex in a public place.
Tom of Finland and the gay culture
As a young gay guy, I learnt pretty much everything I knew about sex from Tom of Finland cartoons. This was a world before the internet.
Tom of Finland created a hyper-masculine world in which sex between men generally seemed to happen spontaneously — at work, in a bar, at a swimming pool, hanging out in a park, or in a public toilet somewhere. These men were constantly hot and horny, constantly on the lookout for sex, constantly cruising.
The sexual landscape drawn by Tom of Finland represented a time not only before location-based dating apps, but also a time when being gay was either illegal or socially unacceptable — a time when there wasn't ready access to safe spaces for gay men to meet, a time when every sexual encounter had an edge of danger and the thrill of the unknown.
The encounters celebrated by Tom of Finland are still very real for the gay men of today.
Cruising as part of UK's gay history
In the UK (and many other countries around the world) police used to actively patrol known cruising areas, actively arresting men, even using decoy officers to entrap people. This type of arrest routinely destroyed people's careers and their lives.
Given the technological and social changes we've seen in most Western countries in recent decades, you could imagine that the need for gay men to go cruising for sex has become a bit redundant. If you want a quick, anonymous sexual encounter (or something more) then you can simply put your smart-phone to work, or head to your nearest sauna or sex-on-premises venue. Right?
Contrary to the approach of a few decades ago, police in the UK will generally only turn their attention to guy-on-guy cruising if they receive some sort of formal complaint that needs to be investigated. There is specific legislation that makes it illegal to have sex in a public toilet, but any sort of sex in a public place could be an offence if it's shown that your actions are likely to cause harassment, alarm, or distress to others.
No matter how discrete you are, having sex in a public place clearly comes with some risks. You're always pretty vulnerable mid-fuck. Homophobic thugs will often target known cruising spots. There are numerous cases of men being mugged or robbed while cruising. Also, the men who frequent cruising spots may pose a greater sexual health risk — they could be closeted, and possibly less-educated about HIV and other STDs.
But all of those risks somehow add to the thrill of it all. There's entire websites, Tumblr feeds, and Twitter accounts dedicated to recording the exploits of guys getting it on in places where they probably shouldn't, places where they could be caught or discovered at any moment, places where other anonymous guys might turn up and who might want to join in the action.
Public toilets, Private affairs
Berlin's Schwules Museum has hosted an exhibition by photographer Marc Martin. His series titled Public toilets, Private affairs celebrates guy-on-guy cruising in public toilets.












Martin's photos, staged with models and using disused train station toilets as locations, are beautifully observed, and celebrate the anticipation, the sexual tension, and the fraternity that can be experienced in public toilets around the world.
The proud tradition of cruising lives on.
We want to hear your opinion
I caught up with artist Marc DeBauch to look at his series of work titled Beach Boys.
When did you discover and start to explore your passion for art?
I started drawing and painting when I was three years old. Before I was five, I remember creating a crayon drawing of the Sinking of the Titanic on the rough plaster of the living-room wall of my parents' house. It was impossible to remove — my parents weren't happy with me, but after that they provided me with enough art materials to pursue my creative interests without destroying their home.
When did you start specialising in painting naked men and creating erotic art?
It was 36 years ago when I started painting male nudes and selling them in a local gay book store. Then, in 1995, I entered two paintings in the Tom of Finland Foundation's Emerging Erotic Artists Contest. I was won first place, which opened the door for my art career, as I was immediately approached by galleries and magazines that wanted to feature my art.
This gave me the confidence and notoriety to exhibit and sell my work at erotic art fairs and gay events. At that time, the internet was just emerging, so my friend Andrew created a website for me, which was a fantastic tool to get my art out to people around the world.
You've written that Tom of Finland is one of the major influences on your work — when did you first encounter the work of Tom of Finland?
I remember seeing Tom of Finland's art in a porno magazine my friend had in high school. I was just amazed at the sexual tension, outrageous anatomy, and attention to detail in Tom's art.
This was back in the early 1970s, so gay porn was just emerging legally in magazines and films. At the time, I wasn't talented enough to draw the human figure accurately. But, I was fascinated enough to want to try. My sister's boyfriend was a photographer, and he gave me his dark room equipment — back then you actually had to develop film, as there were no digital cameras.
I talked a friend into posing naked for me while jacking off, and I developed the film and made some prints. I was 14 years old, photographing another 14-year-old boy. It was very exciting creating my own porn! Unfortunately, my dad — being supportive of my art — wanted to see the photos, and of course I couldn't show him. Not only did he not approve of gays, he didn't want his son to be gay. He would have probably hit me if he knew I was a homosexual creating gay porn! So, I destroyed the photos almost in front of him, while saying — "The photos didn't turn out and I would show him better work at another time."
I was scared and freaked out. I knew I was self-censoring. But I also realised that if I was going to create erotic art that I would have to do it in secret. When Tom of Finland began drawing naked men, he also had to make his art in secret. I think most erotic artists learn to be very careful about choosing the right audience to exhibit their work to.
Where do you draw your inspiration from?
My inspiration comes from people I know. I've been fortunate to see and meet many beautiful men in my life. Capturing their beauty and illustrating them in a unique way, is my goal.
What's your creative process?
My creative process is different every time I paint. Sometimes an idea for a painting just pops in my head and I try to find model to pose for a photo to match my vision — that's often the easiest route.
I rarely work from a live model. My paintings take so long to create — I often work all night on a painting — so, finding a model to sit for that long of a period and whenever I want them, is impossible. I use the photos of my models as reference.
Often, I look through hundreds of images and piece things together in a collage. It's more like a jigsaw puzzle — lots of pieces missing, and my mind fills in those missing pieces with an arm from this model, the chest from another, the dick from another, the face from another, and so on, until I have the entire figure. But then I have to decide how the light and setting will pull all of those puzzle pieces together.
I have dozens of photos that are my references for every detail of plants, animals, rocks, furnishings. I sort through a constant mess of photos — gradually eliminating those references as my brain digests the information and my brush puts it on the canvas or paper.
The paintings that form the Beach Boys series are beautiful — what are some of the challenges in creating beach scenes like this?
Trying to find a balance between the setting and the model is always a challenge. I don't want the model to overpower the beach, or the beach to feel more important than the model. I want my paintings to have a natural feeling, like you could be at the beach with my models.
Who are the men featured in the paintings of the Beach Boys series?
The men in my Beach Boy series are mostly friends that have modelled for me. Sometimes I find a photograph of a model that someone else has taken, that inspires me to use it as a reference pose to work from, then I find one of the photos of a beach that I've visited and I try to recreate a similar pose in a drawing that will eventually become a painting.
What do you hope that people feel when they look at your work?
I don't want to just give the viewer of my art an erection, I want them to feel like they're part of the painting, that they want to invite the men in my paintings into their homes, their beds, their dungeon, their car, their locker room, or the bushes for a hot fuck, butt licking, cock sucking, ass spanking good time.
I hope to excite the viewer visually, emotionally as well as spiritually. It's my goal as an artist and sexually active gay man to paint erotica that continually challenges the views of people who oppose sexual freedom. If my paintings assist the viewer in discovering where they are in the spectrum of human sexuality, then my aim is reaching its target.
Dive into the world of Marc DeBauch