Enrique Doleschy won the 2018 competition of Mr Gay Europe.
The German contestant spoke with us about his experience in Poland, recalls his experience facing the protestors in Poznan, his charity work and his plans for the future.
What led you to participate on the competition?
Caring for others has always been a big part of my life. I cancelled my first studies to stay with my family and have sacrificed a lot for that. Still the spirit of giving back and taking care for others lives within me.
So that's why I do it – for you guys!
Can you describe to us the competition?
It consists of a set of challenges such as a photo shoot, an interview by the judges, a presentation of your campaign or project, discussions and workshops, social media appearances, a sports challenge and so on – it covers a broad spectrum of your public and personal life.
Who's Mr Gay Europe?
It is mostly a representative for you guys.
An ambassador willing to listen to the needs of our community. Someone who is responsible for raising those needs to European leaders, politicians, and other influential people.
Mr Gay Europe is your voice to the big guys – delivering a message from Marathon to Athens like one young man did back in ancient times.
Which task did you enjoy the most?
Interacting with people. I love to get my hands dirty for the nitty gritty. I'm a creator and maker. I love to speak to people and have them listen to what we as a group have to say, but I'll also be the first one in line to help build that community centre or carry signs and chant at rallies and demonstrations.
Some people in Poznan weren't excited by the competition and you had some protesters in Poznan. At any point did you think that things could escalate further?
We were scared to death.
We were shocked at first at what was happening – everything around us was moving so quickly, they got us onto the bus and away from the situation. The Pride parade hadn't even started at that point.
The situation was handled very well by Poznan police, they'd been protecting us all week.
In the end we had two thoughts – what have we done to these people to offend them? But also that this is why we do what we do and why Mr Gay Europe will never be a beauty pageant.
We are activists and fighters!
Did you feel safe during the rest of your stay in Poland?

At all times we had a police escort with us or following us around. I'm very happy that the authorities of Poznan were always by our side.
Do you feel the world is moving forward in terms of LGBTQ rights, or are we reaching a plateau phase now?
Overall, I do feel that we're still moving forward.
In cities and countries where clear majorities have been accepting us, focus has shifted to problems within our community – bi-phobia, trans-phobia, pan-phobia. We're also exploring different life choices compared to what heteronormative society has taught us about relationships – poly-amorous for some, monogamous for others, separated in sexual and romantic love for the next person. All that combined with the discussions of binary and non-binary gender roles, and the stereotypes about safer sex, can create a weird cocktail of misunderstanding and lack of information outside and within our community.
It's a long list of topics – rather than issues – that I'd like to address and work on with each and every member of our community. Let's get it on!
How did it feel to win Mr Gay Europe?

Mirror, mirror on the wall, who's the gayest of them all? Would you believe it's me?
I didn't, but now that I made it, it feels me with deep pride.
No one can take that achievement away from me – the honour of being chosen! Thank you so much to everyone for each and every vote, tweet and hashtag!
Do you think this title will help you reach a wider audience with your activism?
Indeed it already has.
I feel that there's so little time in one day to do something that sometimes I don't know where to start. The only thing that counts though is to do something!
Care for each other every day in everything you do. From the products you buy, to the people you vote for, and the ones you choose to be allies.
Strangers are friends you haven't met yet – and I'm so ready to meet each and every one!
What are your plans for this year?
Change the world!
Well, let's start with Germany and the other European countries. Then we'll move on.
I want people to be interested in their future again – give back, invest some money in projects and charities you like and help them grow, care for each other! It makes the world a nicer place for all of us.
Come out to meet me at events and work with me on my campaign Silver Rainbow to overcome generational conflicts, and to create great living spaces and educational environments for our community.
LGBTQ nursing homes, shared living spaces, and projects like these generate good vibrations – can you feel it?
Next year's competition will take place in Germany, your home-country. Any advice for next year's contestants?
Get to know the host country and region. Everyone loves being appreciated and interest being shown in them.
Stay true to yourself, but present it in the best way!
Live the spirit of the European Union – united in diversity.
Life is about making the right choices for all of us – not for each and every one of us.
Any message you would like to leave to our readers?
Recycle your trash, stop buying plastic, vote on every level you can for the common good, and care for your elders – start by calling your grandparents right now!
We want to hear your opinion
A cautionary tale about Chemsex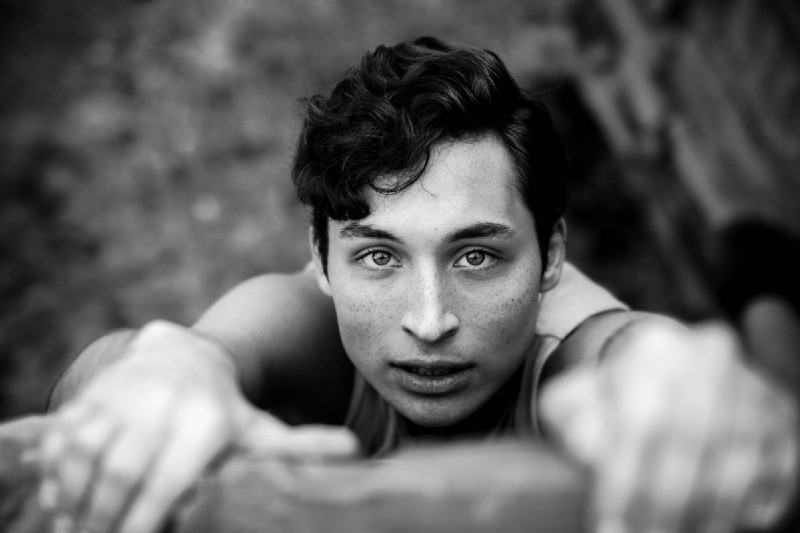 I caught up with author Cameron Yorke to talk about his triptych of books The Chemsex Trilogy.
The Chemsex Trilogy of books documents a fairly turbulent period of your life. When did you decide to chronicle your experiences?
The initial idea came to me one night while I was high. We were sitting around a friend's kitchen table, discussing my financial situation, and he suggested selling a few drugs for the next few weeks to supplement my short term income discrepancy, and I jokingly quipped — 'Yeah, sure! I could write a Secret Diary of a Drug Dealer book about the whole experience!' — not dreaming at that stage for one minute that I would either deal drugs or write the book.
Later, once in prison, and with plenty of time on my hands to reflect, I decided that it might be a good idea to write about my entire experience in the hope that it might help others in similar circumstances. I originally intended on writing the one book, but now I'm on my fourth volume in this series.
In recent years there's been a number of books, plays, and documentaries exploring the appeal and the impact of the Chemsex scene. What does your trilogy of books add to that narrative?
There have been a few attempts at explaining Chemsex through various art forms, but I don't think any of them have offered a balanced perspective, looking at it from all angles.
When I first started writing the books, I wanted them to be entertaining as well as factual. I certainly didn't want to write a 'poor, poor me' missive, but instead a humorous yet factual and informative series which highlighted the process of addiction from introduction right through to recovery. I also want the books to serve as a reference to friends, family and loved ones of victims, who, having never been exposed to this culture, might also be searching for answers and understanding.
How hard was it for you, sitting down to write the books, looking back at that period of your life with sober eyes?
Surprisingly, not difficult at all. This is a period in my life of which I'm not proud, but the biggest battle was in wrestling with how much of the story should be told, and in how much detail, and how much should I omit in order to protect my 'reputation' and keep my friends.
Once I'd started writing, I actually found the entire process cathartic. It forced me to examine actions and reactions, why I'd made some of the decisions which led me down this path, and what I could have done to stop it. It shocked me — looking back, how emotionally and physically drained, and how vulnerable I'd been at the point where I was introduced to Chemsex. Many of the others around me at that time were in the same boat. At the time, I had no idea my state of mind was so fragile.
Later, after my release, I realised ironically that had I not written the books, no-one would have known about my prison term and deportation in the 'real world' as I'd been fortunate in having no press coverage during my trial at all.
It's taken me nine months to gather the confidence to be able to discuss the full extent of my punishment. People who have read the trilogy have presumed that I was writing about others and not myself, initially it was convenient for me to hide behind this.
I finally came to the conclusion that if my friends were going to reject me because I'd been caught and punished for the drugs — when at the height of my indulgence they were all participating — then I didn't need them as friends. These battles have been more difficult than the actual writing of the books.
How would you describe the different periods covered by each of the books in the trilogy?
Chasing the Dragon is all about pressure, experimentation, and indulgence. It tells the story of how various factors led me to experiment, and then to become more deeply involved. The biggest problem with this drug is that it makes you feel so good, sex become a euphoric experience, and for a few hours you lose all inhibition, all pain, you feel attractive, desirable, and wanted again. When those factors are missing in your life, the temptation to do it more and more becomes extremely difficult to resist.
Candy Flipping covers indulgence, addiction, and arrest. It demonstrates the failings of the legal system in general, the ambivalence and laziness of the Metropolitan Police, and the incredible impact austerity measures have had on the Crown Prosecution Service and the legal profession. I also discuss addiction — the psychological addiction to Chemsex. The assumption that Crystal Methamphetamine is physically addictive is an absolute myth, propagated by the government, and adopted by users as an excuse for bad behaviour.
Double Bubble covers arrest, sentencing, and incarceration, and is an exposé of the short-comings of the British penal system, and also explains why I'm convinced that the drugs themselves are not addictive.
My new book The Deported deals with incarceration, deportation, and new beginnings, discussing re-entry to society, coming to terms with life in a country in which one hasn't lived for decades, self examination, lessons learnt, and the best way to rebuild one's life. This is the one of which I'm most proud. It will be available for purchase on 1 August 2018.
There will be a lot of gay men reading your books who will be familiar with some elements of the Chemsex and PnP scene. Would you describe your books as a cautionary tale?
I would hope so — if they stop people from going through what I did then I'll be happy. I'd also like to think that they're a reference point for partners, friends, and family of victims in gaining an understanding of the culture so that that they can better offer support and assistance in breaking the cycle.
My most ardent wish is that the books will raise awareness of the factors involved, so that the government will become better informed in formulating policies, instead of just sticking band-aids without any understanding of a problem which has deep and wide-ranging ramifications.
Not everyone who explores Chemsex and PnP follows the trajectory that you've followed. Were there any specific factors that shaped your story, or is Chemsex a slippery slope that could lead anyone down a similar path?
When I really started to examine my 'path to destruction' I realised that the only reason I became involved at all was because of issues with confidence, low self-esteem, work stress, depression, and anxiety. Like any drug — whether it be alcohol or something stronger — when you have a healthy, sane, balanced state of mind, you can handle any stimulant in moderation and walk away from it. I was using drugs, and Chemsex as a support mechanism to stop myself from sinking into depression — self-medicating, if you like — and it was then that I started to become more and more embroiled in the whole process. Like many people I met during this process, I was convinced I didn't have a problem, right up until the end when I found myself in 'forced detox.'
What do you hope that people feel when reading The Chemsex Trilogy?
I hope that they will identify with the issues discussed, and feel empathy for the people and stories within the narrative. I hope that I will have frightened them enough to discourage them from becoming involved in this epidemic. If they're victims of it already, I hope they feel inspiration, and gain support in knowing that they're not alone in this battle, as well as encouraged to use the support channels to find out where to get help. Most of all, I hope that people see the humour, and enjoy reading the books.
Double Bubble
We are serialising Double Bubble on Mainly Male.
Banged Up
"What on earth are you doing in here?"
"I hadn't had access to a shower in 5 days…"
Cockroaches. Rats. Prison.
It's not what you know but who you know
10 days drug free
Prison boot-camp
"Finally, things were starting to move…"
"Pentonville was inhumane…"
"I showed her the track marks on my arm."
"One step above a special needs facility."
"It looked like I was pleading guilty…"
"A plan was hatched…"
"Another example of monumental waste."
"I very quickly imagined the worst…"
"I was starting to feel vaguely human…"
"An ignorant, aggressive arsehole!"
"It really was a 'them and us' culture…"
"Quite honestly, I was scared for my life!"
"I hadn't asked for a transfer!"
"Perhaps things weren't too bad after all…"
"I just wanted to die!"
"I had a strategy to put in place!"
"I felt like I had turned a corner…"
"I wasn't about to crawl back into the closet…"
"I was now earning £12 per day…"
"I was walking straight into a trap…"