Meet the men from JustFor.Fans
Possibly the best way to connect with your favourite gay porn stars.
We're huge fans of the JustFor.Fans platform. We've been working with a number of the guys who broadcast content to their subscribers through JustFor.Fans to share their stories.
Here's some of the guys that we've featured recently.
We want to hear your opinion
"An X-rated reality TV show about me…"
Rogan Richards: Taking interaction with his fans to the next level.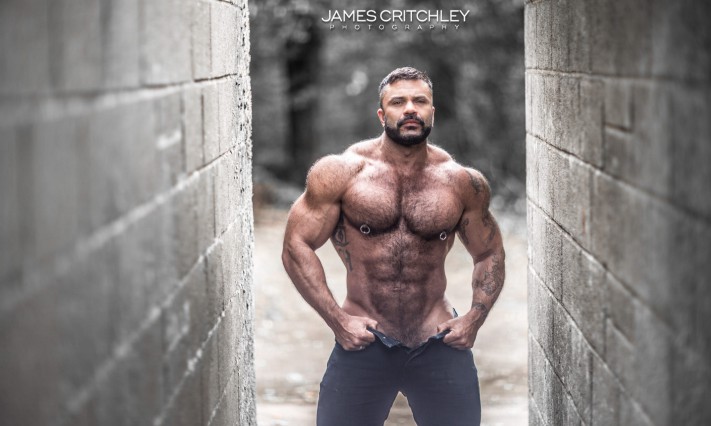 I caught up with filmmaker and performer Rogan Richards to discuss gay men and their relationship with porn.
Feedback from our readers suggests that a lot of guys are watching porn every day. Does that match with your experience?
My daily life is so sexually charged that I have porn on constantly. I don't know if it's because I work in the sex industry or not, but I am addicted to it. I guess one feeds off the other.
Do you usually watch porn on your phone or on your laptop?
Laptop. I hate watching anything on my phone.
Can we talk underwear?
I hate underwear, and I hate wearing underwear. This will sound smug, but I have to wear underwear now because my quads are so huge that when I walk the skin between them rubs and chafes, so I end up wearing grandpa-like bike-shorts.
I don't have a fetish about guys in underwear  -  a naked ass is always going to turn me on more than a covered one.
When you're filming porn, how do you go about creating porn that your audience will want to watch?
Ironically I never wanted to be a porn star or a porn studio  -  before I started filming porn, I hardly watched it. I grew up jacking off to bodybuilding videos and wrestling  -  I still do.
However, I ended up being known for my porn. That's opened many doors for me, and I'm very proud of my work in the industry. When I decided to start producing my own films, I wanted them to be a personal journey of my sexual adventures and explorations. Kind of like an X-rated reality TV show about me.
I guess I'm lucky that people respond to the rawness and honesty of my films. Or they just respond to how I look and fuck. So, when I film porn, I just try to have as much fun and turn myself on as much as possible  –  knowing that the end-result will or could have the same effect on my audience.
What are some of the current trends in porn that you think will shape what we're watching in the coming years?
I definitely think that with social media and things like JustFor.Fans is that amateur porn is becoming much more mainstream and studio porn is becoming cult. Everyone's a porn star these days, and it feeds into the insatiable need for more. I'm happy riding this wave of sexual consumer greed as far as I possibly can.
Why do you think everyone is so keen to be a porn star these days?
It definitely has to do with how easily accessible the internet and social media allows anyone to be a 'porn star' but it also has to do with the increasing epidemic of chemsex integrated into gay sex. Sure, guys might now want to be filmed using, but guys in general are losing inhibitions and becoming much more filthy and dirty  –  that leads into the exhibitionism and wanting to share fuck videos.
The 'Fuck My Fans' series seems like the ultimate fantasy for guys that have watched and appreciated your porn work. Are you getting a lot of applicants keen to get fucked by you?
Heaps  –  from all over the world. My plan is to have a FMF from every country. The idea actually came from the fans, they were constantly asking me on my social media  –  "Would I ever fuck a fan?" That gave me the idea to start this series.
I use my mobile phone while filming, as every guy does these days when they're fucking at home, to give it that more casual look. I also try and make the fan hold the phone so that, as a viewer, you get his POV. I also include my professional camera footage, so it ends up being a porn within a porn. I totally get off on how much my fan is getting off on me.
Follow the adventures of Rogan Richards