Meet the actor from the Daddyhunt series
I came across BJ Gruber watching his successful YouTube series called the Queens Project and the short film on YouTube called Daddyhunt: The Serial. BJ always plays a diverse range of characters and he is a man of many talents. He was kind enough to answer a few questions for me about his life on screen.
I found your web series on YouTube the Queens Project and from the first episode I was hooked. So I see that season three was funded on Indiegogo. Where would you like to see this series go?
My dream for the series is to have a syndicated television show. That'd make me pretty ecstatic. Season 3 is really amazing and it is set for release this summer. Ken, Ra-ey, and I edited it together.
I also found you on Daddyhunt: the Serial, which has over 2.5 million views on YouTube. You play a guy that just moved into an apartment and you think the hot daddy down the hall is the handyman. Then some heartache and romance happens. Are you dating anyone?
I am dating someone.
I had a look at your resume and wow, you have some skills in dance, ballet, tap and hip hop, and you speak German, know hand to hand and knife and sword. Where did you learn all of these?
School. I got a degree in Theatre & dance and used that time to learn new skills.
I see you are also a gamer. Can you tell us a little about who BJ Gruber is?
Sure! I grew up in Richmond, Virginia and went to James Madison University. I moved to New York City six years ago and have worked in theaters all over the nation. I also work in film, tv, commercial, and print pretty regularly. I've also been writing, filming, and editing my own content. Check out my YouTube channel! I'll have some new films out soon.
What is next for you on the horizon?
Riley Thomas and I are looking at shooting a feature film this fall. Season 3 of The Queens Project and DaddyHunt 3 will be out this summer. I'm also writing, editing, and shooting some short films myself that are all about shared human experiences. So be on the lookout for those on my Instagram and YouTube channel!
Thank you for stopping by, be sure to catch BJ Gruber on Season 3 of the Queens Project and DaddyHunt 3 coming out this summer. Also, be sure to follow him on Instagram , subscribe to him on YouTube to find out the latest project he has been working on and you can always check out his website .
We want to hear your opinion
Celebrate the New Year with some erotic gay fiction
Start 2019 with a bang!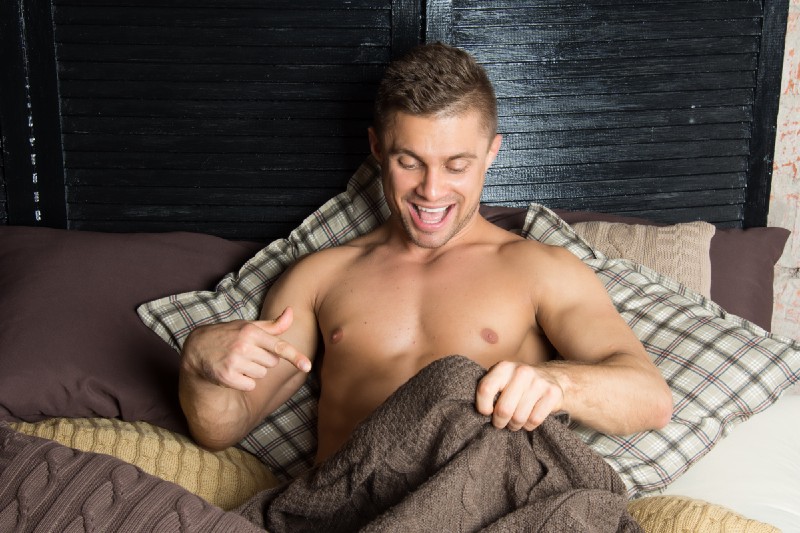 If you're looking for some fap fiction to help fuel your fantasies, you might want to take a look at the Bad Boys' Book Club series.
Volume 5 in the series kicks off with a New Year's Eve celebration which definitely gets corks popping.
Here's some samples.
"I hate New Year's Eve…" grumbled Hamish.
"Don't be so miserable!" laughed Kevin. "You're Scottish! I thought Scottish people loved New Year's Eve?"
"You're right…" acknowledged Hamish. "I hate New Year's Eve in London."
"Maybe you're just homesick?" suggested Kevin.
"It's cold but there's no snow…" explained Hamish. "Wherever you want to go is too busy. You can never find your friends. It's impossible to get home."
"Okay, I get it…" smiled Kevin. "You hate New Year's Eve in London. But, it's New Year's Eve, and we're in London. How about we make the best of it?"
"That's enough talking…" said Tegan, putting his glass down and wrapping his arms around Kevin, bringing their lips together.
There was an awkward moment as Hamish and Jerome looked at each other expectantly. Hamish decided to take charge and moved across to Jerome on the sofa, their bodies crunching as their mouths connected. Hamish immediately felt Jerome's hands on his ass, grabbing him, exploring him. The small shorts that Hamish was wearing were soon being pushed down as Jerome's strong hands kneaded Hamish's muscular butt-cheeks.
Hamish locked eyes with Kevin, confirming the connection between them. Hamish knew that it turned Kevin on to watch him with other guys. In that moment, Hamish realised that Kevin had invited Tegan and Jerome over so that he could watch Hamish being worked over by them both.
Here's the geo-specific links on how to get your hands on a copy of Volume 5 of Bad Boys' Book Club: