Who are the gay men who have made the world a better place?
Obviously, this isn't an exhaustive list. But to mark the end of 2018 – our first year of publication – we wanted to induct a few of our heroes into the Hall of Fame of Mainly Male's Memorable Men.
We've consulted widely to determine which are the memorable men worthy of being inducted into the Hall of Fame, but ultimately the decision is ours to make.
The inductees are:
John Maynard Keynes
The gay man who founded macroeconomic theory.
Born: 5 June 1883
Died: 21 April 1946, aged 62. Keynes died of a heart attack.
Keynes went to school at Eton College, before studying mathematics at King's College, Cambridge.
With the outbreak of the First World War in 1914, Keynes was appointed to a position in the Treasury. Recognised for the valuable work that he had contributed to management of the government's finances during the war, Keynes was appointed financial representative for the Treasury to the 1919 Versailles peace conference.
During the post-war period, Keynes remained an influential voice on economic policy. In 1936, Keynes published what is probably his defining work  -  The General Theory of Employment, Interest and Money. The General Theory is viewed as the foundation of modern macroeconomics.
Keynes was heavily involved in government policy during and after World War Two, helping to shape the establishment of both the World Bank and International Monetary Fund.
A passionate supporter of the arts, Keynes was instrumental in establishing the Arts Council of Great Britain, becoming its founding chairman in 1946.
A key member of the collective of London intellectuals known as the Bloomsbury Group, Keynes was open about his homosexuality. From 1901 to 1915, he kept diaries in which he recorded his numerous sexual encounters with men.

Bayard Rustin
The gay man who fought for civil rights.
Born: 17 March 1912
Died: 24 August 1987, aged 75.
Rustin was raised by his maternal grandparents. His grandmother, Julia Rustin, was an active member of the NAACP. As a child, Rustin was involved in campaigns against the Jim Crow racial segregation laws.
In 1937, Rustin moved to Harlem where he was studying at City College of New York. During this period he became involved in efforts to defend and free the Scottsboro Boys  -  nine young black men in Alabama who were accused of raping two white women. Rustin subsequently became increasingly involved in campaigns focused on labour reform and segregation.
In 1942, as part of a campaign to desegregate interstate bus travel, Rustin boarded a bus in Louisville, bound for Nashville, and sat in the second row. Rustin refused to move to the back of the bus, as required by the laws of segregation. The bus was stopped by police and Rustin was arrested. Rustin was beaten by police but was released without any charges being laid.
Rustin became an early member of the newly formed Congress of Racial Equality  -  a pacifist organisation. In 1944, Rustin was convicted of violating the Selective Service Act  –  he refused to be conscripted into military service due to his pacifist beliefs. Rustin was imprisoned until 1946 in Lewisburg Federal Penitentiary. During his imprisonment, Rustin organised protests against the segregated dining facilities.
In 1947, Rustin and George Houser of the Congress of Racial Equality organised the first of the Freedom Rides to test the 1946 ruling of the US Supreme Court that banned racial discrimination in interstate travel as unconstitutional. During the journey, Rustin was arrested in North Carolina for violating racial segregation laws and served 22 days on a chain gang as punishment.
Rustin subsequently travelled to India to study the Ghandian movement's techniques of non-violent civil resistance. He also met with leaders of independence movements in Ghana and Nigeria.
Rustin was arrested in Pasadena, California, in 1953 for sexual activity with another man in a parked car. Originally charged with vagrancy and lewd conduct, he pleaded guilty to a single, lesser charge of "sex perversion" as sodomy was officially referred to at that time in California. Rustin served 60 days in jail.
In 1956, Rustin began working with Martin Luther King Jr on the Montgomery Bus Boycott, which had been triggered by the arrest of Rosa Parks. Rustin advised King on non-violent civil resistance. Rustin and King worked together to establish the Southern Christian Leadership Conference  –  the SCLC. King was appointed president. Their goal was to form an organisation to coordinate and support non-violent direct action as a method of desegregating bus systems across the southern states of the US. Rustin resigned from the SCLC in 1960, due to concerns raised about his conviction for homosexuality.
Rustin continued to be active in high profile civil rights campaigns - organising the March on Washington in 1963, and also the New York City School Boycott in 1964. Rustin remained active in a wide range of political campaigns throughout his life.

James Baldwin
The gay man who changed the world with his words.
Born: 2 August 1924

Died: 1 December 1987, aged 63. The cause of death was stomach cancer.
Having grown up in Harlem, New York, Baldwin had shown an interest in writing from a young age. At the age of 24, he moved to France to live in Paris. One of his motivations for moving to Paris was to distance himself from the racial prejudice he experienced in America, but it was also an opportunity for him to explore his sexuality away from his family and the church.
As a writer and social commentator, Baldwin's novels and plays explore personal dilemmas within the context of racial divides as well as the experience of gay men.
Baldwin remained in France for most of his life, building his reputation as an American writer but also an exile writer.
Baldwin's second novel, Giovanni's Room was written in 1956 and is perhaps his most-loved work. At the time of its publication, it was controversial because of its homoerotic content. Baldwin's novel tells the story of David  –  a young American man whose girlfriend has gone to Spain to contemplate marriage. While alone in Paris, David begins an affair with an Italian man, Giovanni. The story is narrated by David during "the night which is leading me to the most terrible morning of my life…" when Giovanni will be executed. Giovanni's Room is not just about the experience of gay men, but also explores themes of social alienation, identity, and questions of origin.
In the 1960s, Baldwin played an active role in the civil rights movement in America  -  appearing on television and delivering speeches on college campuses, as well as writing extensively.
Baldwin is widely recognised as one of the greatest writers of the 20th century. Beyond the power of his words, Baldwin fearlessly followed his own path changing the narrative of his own life, and then using his influence and reputation to help change the narrative in the lives of others.
We want to hear your opinion
Photography that embraces naked men
"Stop comparing ourselves to strangers on the internet…"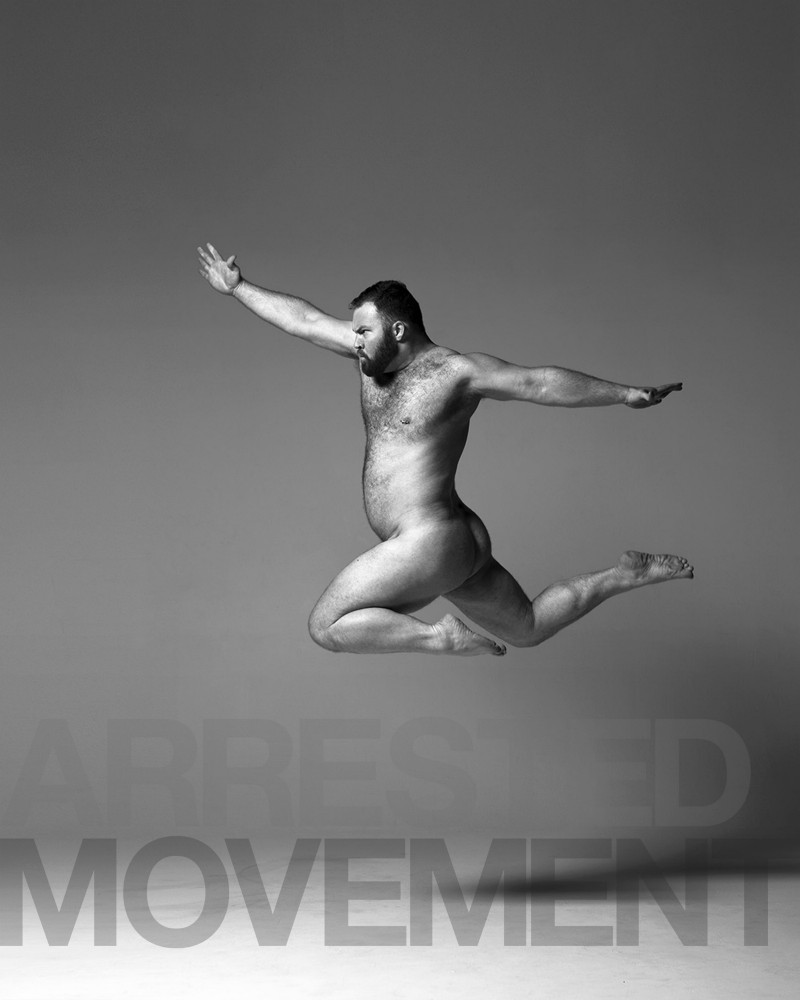 I caught up with photographer Anthony Patrick Manieri to talk about his ongoing series of work known as Arrested Movement.
Why do you think this project has captured the imagination of gay men around the world?
Because we're all the same really, except we don't all look alike. We usually just see what society deems to be the 'perfect' body types, flashed across TV and social media all the time.
This project encompasses a wide variety of men that are photographed equally and beautifully. I feel that the variety of men and body shapes being highlighted are recognisable to most men. We need to see diversity represented more in the media. That, and also the idea of male body positivity is refreshing in a world where the media seems to only push female body positivity. In this day and age, where depression and anxiety are extremely commonplace, it's nice to know that we're not alone in the struggle.
Why are men so keen to be photographed by you for this project?
Because we all want to fit in. We all want to be accepted, and here is a photographic series celebrating all men, all body types, and showcasing them artistically. I think men look at this and can relate and identify with some of the participating models, because they see themselves in the photos.
Most of the men you've photographed for this project appear to be first-time models, most likely being professionally photographed naked for the first time. Was that experience confronting for many of your models?
From what I've seen, and from what some of my assistants mentioned to me, for most of the men that participate there's a definite shift in their overall energy levels from when they first arrive at the studio to when they're done. One assistant asked me — "What is going on in the studio? Because when they arrive they're quite scared, some even shake with nerves, but when they leave they glow and have this sense of empowerment."
I make sure that the studio is private and a safe space for them to try and feel as comfortable as possible. I brief them, and coach them with suggestions of possible body movement. I also stop periodically to show the gentlemen their progression so far in the shoot.
Most men, after seeing themselves on the screen during the shoot, are delightfully impressed by how they look. They look at themselves in a positive light artistically, and not what they usually expect to see. I talk to them about how their hands are positioned, their facial expressions, pointing of their feet, and the overall lines of their bodies in the frame.
When you're not quite happy with your body, putting yourself out there is brave. I watch some men almost lose themselves in the moment and in the music. I'm grateful that I get to witness such a personal moment of self-evolution. For others, they're determined to take an amazing photo, so they push themselves so that their final image is strong and unique.
Should everyone tackle a naked photo shoot at some point in their lives?
I don't know if that's the answer. What people should do is take time to appreciate and accept themselves, to put themselves first. Fill their own cups before extinguishing their energy with others. Uniqueness is special. It's okay to look different on the outside, because we're all the same on the inside.
How is the project continuing to evolve?
I'm currently working on the design of the book — I'll be releasing a Kickstarter page this Fall. I'm also looking at gallery spaces to have the first of many shows.
Are you still actively shooting guys for this project?
I'm still actively photographing men. If it were up to me, I'd be in a different city every weekend photographing.
Since I'm funding this myself, I need to take breaks between cities. Travelling, studio costs, and hotels add up quickly. There are a few cities in the US, Canada, and Mexico that I'd like to do before heading back to Europe. Beyond that, there's talk of Australia, and possibly some cities in South America for 2019.
How can we help each other feel better about our bodies?
I think we really need to be kind to ourselves, and each other — daily. Judgement and self-judgement is such a human flaw, it's like a vibrational plague. We should be detaching ourselves from our smart-phones and social media regularly. Yoga and meditation are great ways to feel centred and grounded, to be in tune with our higher self. Eating right always makes for a happier body and mind. We need to encourage and validate each other to be the best we can be.
What do the images that you've captured through this project tell us about gay men and their relationship with their bodies?
Gay culture is meant to be inclusive, and we celebrate that inclusiveness. Though within the gay community, there's such a divide between men. We're labelled and put in categories, therefore creating almost a hierarchy of what's acceptable.
Body-image and self-esteem start in your own mind, not on Instagram. We need to literally stop comparing ourselves to strangers on the internet. We need to make mental health a priority in the gay community.
I hope that when people see this project, they know their worth, they know that they're beautiful, and that it's okay to be different.
Meet the participants
Follow Arrested Movement on Instagram