Magaluf probably isn't the destination you'd choose if you're looking for a romantic mini-break, but it might be the destination you're looking for if you're planning a stag-do or a boys-weekend-away.
For years, the island of Mallorca has been one of the preferred options for British tourists looking for some sun. Palma is the main city on the island - it's family-friendly and a bit upmarket. Magaluf is the town that has attracted a younger crowd, looking for inexpensive package deals.
On a recent visit I stayed at the BH Mallorca hotel.
It was a short taxi ride from the airport to the hotel. Entry from the street is through a sleek, modern reception. As you emerge from reception, what hits you is that the hotel is built around a water slide park - nine seriously epic water slides and a wave pool.
What's more, the water slide park is just one of three separate pool areas. You're never too far away from the water if you need to cool-off from the clear, dry heat of the island, and there's no shortage of sun-lounges.
The BH Mallorca has a big focus on music. One section of the resort is dedicated to an enormous performance stage, and their summer program is full of big-name DJs.
When I was there I was lucky enough to catch Steve Angello, of Swedish House Mafia. Angello was at the top of his game and the massive stage enabled him to really blow the crowd away.
BH Mallorca is an all-inclusive resort. All meals and drinks are included with your room, making this a relatively affordable vacation option. The rooms are simple, but spacious, modern, and comfortable.
The crowd here is relatively young and boisterous. Lots of stag-do groups and bachelorette parties, but also groups of friends just out for a good time in the sun.
For some people, sharing your resort with groups of Brits abroad all up for a laugh would be a nightmare scenario, but if I was organising a stag-do or a weekend away with a group of friends, the combination of great music, great weather, and a water slide park is pretty hard to beat.
We want to hear your opinion
Travel Tips: Cancún, Mexico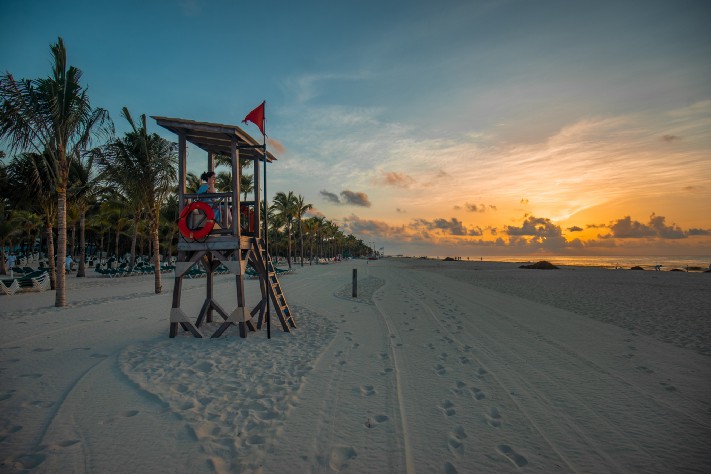 Situated on Mexico's Yucatán Peninsula, bordering the Caribbean Sea, Cancún is known for its beaches, resorts, and nightlife.
Cancún is composed of two distinct areas — El Centro which is the more traditional downtown area, and Zona Hotelera which is a long, beachfront strip of high-rise hotels, nightclubs, shops, and restaurants.
How to get there
There are direct flights to Cancún from most major airport hubs across North America.
If you're flying for Europe, you'll most likely have to change once. Prices start from around £600 per person.
British Airways does offer some direct flights from London Gatwick to Cancún.
Package holidays might be the most cost effective way to experience Cancún. Options include Club Med and Tui.

When to go
Peak season for Cancún is December to April.
Wettest months are generally September and October. It can rain at any time of the year, but rain is generally short bursts that clear quickly.
Hurricane season rarely impacts Cancun. The highest likelihood of a hurricane would be in the period between August to October.

Spring Break
Cancún is a hugely popular destination for college students during their universities' spring break period.
Peak period for Spring Break is March, although February through to April will be a popular time of year for students to vacation in Cancún.

Gay stuff
Cancún is generally more of a family-friendly vacation destination than a sizzling gay hot-spot (if you want uber-gay you should probably consider Puerto Vallarta).
Most of the gay venues are found in El Centro — the downtown area of Cancún.
Playa Mamitas and Delfines are the two major beaches. You'll probably spot some fellow gays on the beach, but they're more likely to be pool-side at the resort.
There is reportedly a nudist beach in Cancún — apparently it's a forty minute walk from the Coco resort, but we haven't been able to verify this.