I caught up with John Cole from the All Naturist Cleaning Service, to discuss the benefits of getting naked while giving your home a clean.
What inspired you to start a naked cleaning service?
I started to see how people are being disconnected from life, and from each other.
My friends were saying it was difficult to find anyone to clean, to clean well with detail. There are lots of companies out there that clean on the surface, but don't really do the nooks and crannies. Everyone says that they're a cleaner, but really they're just there to make a clean getaway.
Also, when going to nude resorts, I was speaking to all kinds of people who were saying that there weren't services available for naturists or people who enjoy a nudist lifestyle.
So, the idea grew over time and I started the business as a sideline for myself. I enjoy being nude whenever possible, and being in the company of others. Demand grew steadily, driven mainly by referrals, which showed that there was a market for this kind of service.
If you have a cleaner that comes to your house or your business, you want someone who will be confidential and who will respect your lifestyle, without having to make excuses or feeling that it's an intrusion. It's also about trust, which is such an important thing when someone is working in your home — supervised or unsupervised. You want to feel confident.
Your cleaners are all guys?
Currently, they are all guys — men have other skills and attributes besides cleaning. They can be stronger, moving furniture appliances around to clean better.
It's not just cleaning — our guys can also paint of walls, organise and clear up your basement, yard work, or wash your car. Handyman service are also on the horizon — light carpentry, door installations, or putting together furniture from IKEA.
Currently, most of my clients are men — there are some nudist families that use our services, but generally our clients are men of all ages. They're mostly gay, but not all of them.
The clients are naked while the naked cleaner is working. Is it a sexual thing?
The client can be naked or be dressed while the cleaner is there working. We have a code of conduct that our clients agree to when using our services.
Engaging in physical or sexually provocative behaviour has to be agreeable to both parties — both the cleaner and the client, we're all adults.
Have your cleaners ever had any awkward or embarrassing encounters while on the job?
Not really. I'm tall — 6'4″ — so I don't have a problem. Also, I speak with the clients before we start working with them, this helps avoids any problems.
Do you explore naturism and being naked in other ways beyond your cleaning business?
I'm looking into connecting with other businesses designed for naturists, as it's a powerful group. Naturists are really a down-to-earth crowd of people, who understand about being connected.
Dive into the world of the All Naturist Cleaning Service
We want to hear your opinion
Underwear trends? Guys are into briefs.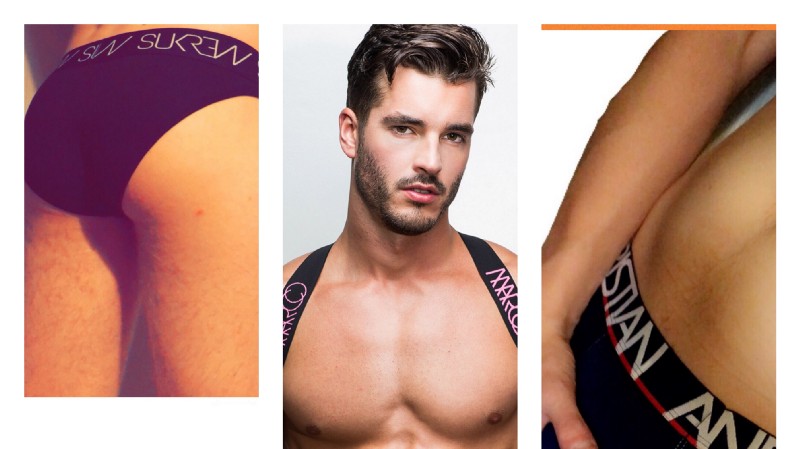 I caught up with Rob Heitzman, founder of RB Underwear, to talk about turning your passion into your career.
What makes underwear such a big deal for gay men?
We believe that underwear is no longer a daily necessity. Guys are increasingly choosing bolder designs to really make a statement. It's not only about comfort or expressing yourself, but also you've got to feel fabulous!
What were some of the brands that first got you excited about underwear?
My first purchase into underwear other than your day-to-day boxer was an Andrew Christian jockstrap. As soon as I put it on I felt great. My bulge lifted and supported, my bum looking peachy, and my confidence increasing. That's why the first brand we approached was Andrew Christian, as we want other guys to feel that way too.
What style of underwear do you prefer to wear on a day-to-day basis?
Day-to-day I prefer a tight boxer style underwear. However, my partner tends to wear briefs. Occasionally we do have a day when we feel particularly naughty and wear a jock strap.
What style of underwear do you wear to the gym?
Boxers. When you're running on a treadmill or going all out on a rowing machine, you need everything contained and don't want any escapees.
What style of underwear do you prefer on other guys?
Depends on my mood. My partner looks great in anything! But if I had to choose, then it would have to be briefs — perfectly showing off in all the right places.
What led you to establish an online underwear store?
Both myself and my partner work full-time with large companies. I'd been thinking about starting some sort of business for a while, and on one quiet day RB Underwear was born. I'd always been interested in doing something I was passionate about and had a real interest in. I love underwear, so why not make it into a business? Now, every day I get to look at good-looking men in good-looking pants.
Which are the brands that you're featuring in your online store?
At present, we're featuring Sukrew, Andrew Christian, Marco Marco, and Fetish Gear. We're always on the look-out for other brands we love, and are currently in talks with some new suppliers.
Who is your target market?
Our target market is gay men. Somewhat selfishly, we've been buying lines we like and would buy ourselves, but we realise that that's not necessarily to everyone's taste so we're broadening our range. The trend is leaning towards briefs more and more, so keep your eyes peeled for more great briefs.
RB Underwear is based in Northamptonshire and offers men a range of underwear including boxers, briefs, and jockstraps.
Follow RB Underwear on Twitter
Follow RB Underwear on Instagram