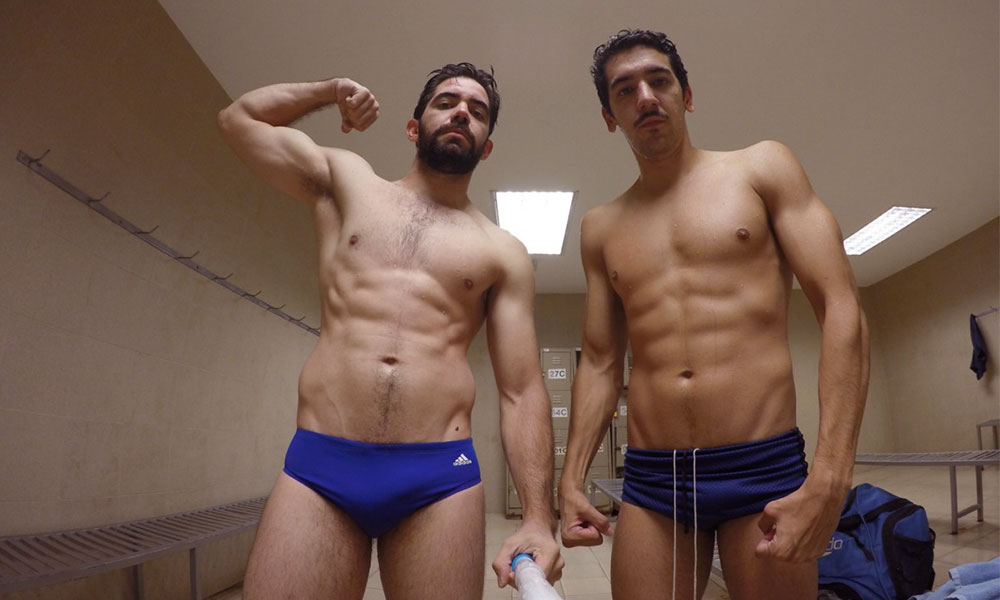 Locker rooms: Nudity rules or cover up?
I could spend all day watching guys take off their clothes…
Send me to the showers
If there wasn't a law against it, I could spend all day just hanging out in locker rooms, watching guys get their clothes off. You can tell a lot about a guy by observing how he gets naked.
Some people seem completely oblivious to nudity — either their own or that of those around them. Years of swimming or team sports can effectively desensitise you, you spend so much time showering with your team mates or seeing them naked that there's no shock value or excitement.
Some people seem to take a real pleasure in displaying their naked form in front of others. At the pool in London where my water polo team trains, there's an old hairy guy who insists on getting changed in the team room — even when we're in there having a team meeting, somehow he likes being the centre of attention.
The naked complex
I'm guessing that guys who take great effort to pull their underwear on underneath their towel aren't that keen to get their penis out in public — for whatever reason. It could be a cultural or religious inhibition, or otherwise it might simply be that some guys are afraid that people will laugh or make fun of them if it looks like their dick is a bit on the small side. Clearly, the more you worry about something like that then it builds into being a major issue in your head — when in reality everyone's dick looks kind of odd, so you may as well embrace what you've got and save some time in the locker room.
At its most extreme, a fear of getting changed in public is known as dishabiliophobia. But it's surprising how many people have some level of social anxiety in relation to getting changed or undressed in locker rooms.
A phobia or social anxiety is generally triggered by some sort of traumatic event — usually at a young age. For many gay men, Phys Ed or Sports classes at school are the source of some of the unhappiest memories from childhood — with bullying, verbal abuse, and physical abuse common occurrences.
Young adolescents are particularly vulnerable. Everyone's bodies are developing at different times and in different ways, and children have almost an animalistic ability to identify and exploit points of weakness or difference in peers and competitors.
I was always very skinny when growing up, and never liked taking my shirt off in public as, to me, my chest looked kind of weird. But how do these childhood experiences translate into our adult lives?
According to Louise Gillespie-Smith, a life coach with Create Yourself, it's natural to feel a bit of anxiety in the locker room:
'It's a habit of all human beings to compare themselves with others. We're all doing it, all the time. It doesn't really matter what you look like, people will still compare themselves to you and the focus is on themselves and not you.'
If you're lacking in self-confidence, then comparing yourself to others can add further fuel to any negative self-perceptions.
Locker room anxiety
Gillespie-Smith offers some advice to help manage locker room anxiety:
'Instead of comparing yourself to others and feeling inferior, when you look in the mirror each day focus on your best bits and how you can make the most of them. Ask yourself: "What do I like about myself today?" This will create positive body image thoughts instead of focusing on what you don't like and feeding your insecurities.'
Of course the way that we get changed in public may not necessarily be shaped by traumatic childhood events, but may be influenced by the way that we've been brought up by our families or our cultural traditions.
Physiotherapist Shih-Ming Yao is a confirmed towel-changer but doesn't see it as a big deal:
'I'm comfortable in my own skin — towel changing probably stems from mum and dad teaching me that's how you change in public, and as I've gotten older I guess it's stuck. For me the key word is modesty. Why is it always the ones you don't want to see naked that are more than happy letting it blow in the breeze?'
Thusitha from Sri Lanka also opts for a towel when changing:
'For me it's a cultural thing rather than any religious requirement. I may be wrong, but as far as I'm aware there isn't anything in Buddhism saying you can't get changed without covering yourself. When my parents took me to swimming lessons when I was a kid they covered me in a towel when they changed me. Other parents did the same and we took it from there. We even have cubicles to get changed at the changing rooms in Sri Lanka. I find it uncomfortable being naked in front of people I don't know, and don't think I will ever go to a nude beach. I'm really quite shy!'
British-born Rohin, who is Hindu, does feel a certain reserve in the changing room:
'Traditionally, Hindu men were very relaxed about being around other men with very few clothes on. There are many religious ceremonies that involve bathing in public, and ancient forms of virtually naked yoga. However, being a modern British Hindu, I wouldn't feel comfortable about completely whipping off all of my clothes — especially with the pressure of worrying about what's correct, who's thinking what, or does this reflect on my status. While I wouldn't worry about losing the towel for a couple of seconds if need be, that's completely different to some guys at the gym. There's one guy who puts on his socks, shirt and tie all before putting his underwear on. To me, that seems a bit weird.'
For Hakim from Azerbaijan, it's all about respect:
'It's a form of etiquette. We can all show off our bits to each other, but concealing myself while getting changed is a sign of respect that I show to others. It's nothing to do with me being Muslim, and I'm not shy about being naked in front of close friends, but I would feel disrespectful about being naked in front of people I don't really know.'
Ultimately, getting changed before and after exercise or sport is just part of the deal, and life coach Louise Gillespie-Smith is keen to emphasise that:
'There's no wrong or right way to behave. It's perfectly okay to get changed however you feel comfortable. Taking that pressure off yourself will help you to relax and stop worrying about what everyone else is doing or thinking.'
Like I said, I could spend all day watching guys take off their clothes…
We want to hear your opinion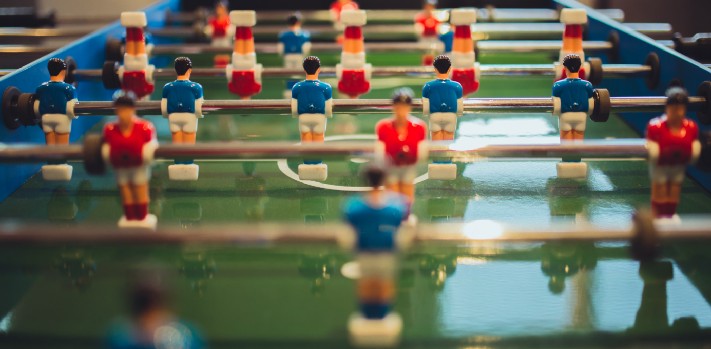 Although it's surprising that there aren't more gay guys playing football at an elite level, the reality is that sport doesn't get much gayer than soccer.
If you want to demonstrate that you're up-to-speed with the off-side rule, or if you just want to project your locker-room fantasies onto some fit guys, then this selection of some of the world's best footballers is a good place to start.
Yann Sommer, Switzerland
A sexy goal-keeper with strong hands. Known for his love of cooking. I'm dreaming of a romantic fondue date.
Heung-min Son, South Korea
He plays for UK club Tottenham, and his bromance with ex-teammate Kevin Wimmer is adorable. He could invade my demilitarised zone.
Cristiano Ronaldo, Portugal
I really want Ronaldo to take his bromance with Badr Hari to the next level.
André Silva, Portugal
That moustache. That baby-face. It's just all too cute. He plays for AC Milan, but his Instagram suggests that he really wants to model.
Mohamed Salah, Egypt
Mo Salah is one of the greatest players, so it was disappointing to see that during the recent World Cup he and his teammates from the Egyptian squad allowed themselves to be used as propaganda to bolster the image of anti-gay Chechen leader Ramzan Kadyrov. Chechnya was selected as the training base for the Egyptian squad.
Nacer Chadli, Belgium
Chadli gets bonus points for his nude photo shoot a couple of years ago. It's an example that more players should follow.
David Silva, Spain
Those eyes, those cheekbones. Silva has recently become a father. Total Xaddy.
Philippe Coutinho, Brazil
Signed to Barcelona in one of the most expensive deals in football history, it's Coutinho's tattoos that have got my attention. Every inch of him is inked. Well, maybe not every inch, but a lot of him.
Kylian Mbappé, France
He's only young, but Mbappé is already making a name for himself as an intelligent and articulate leader on and off the field.
Mats Hummels, Germany
Handsome, moody, but also has a playful side. Hummels is known for his charitable work — particularly focused on helping to bring football to under-privileged kids.
Nicolás Tagliafico, Argentina
His Insta feed is full of loved-up photos of Tagliafico and his girlfriend, but there's something about Argentine guys that's just irresistible.
James Rodríguez, Colombia
He looks young and fresh-faced, but Rodriguez has a lot going on. He's just launched his own crypto-currency. But what I like are the salsa moves he performs after a scoring a goal, and he scores a lot of goals.
Maya Yoshida, Japan
A rock-solid defender, Yoshida plays with UK club Southampton. He's surprisingly tall.
Dele Alli, England
With a fashion line already released, Dele is a stylish guy. I really like his brotherhood bond with Harry Hickford. Dele moved in with Hickford's family when he was 13, and they've been close ever since. They're still living together, but they've upgraded to a fairly massive house in Hertfordshire.
Edinson Cavani, Uruguay
One of Uruguay's top-scorers, Cavani gives good hair-ography.