I caught up with Kan Rojas to talk Pride, parties, and Pup-play.
When did you start to discover and explore your love of fetish and kink?
When I was 23 years old. I was having a lot of sex, but I started to feel that the simple or vanilla sex didn't really satisfying me — I needed something more, I needed something different. One day, a boy opened my eyes to a totally different world. Since then, I haven't stopped discovering and learning, and every time I like it more!
What led you to start exploring Pup-play?
About one year ago, I was at Gay Pride in Maspalomas. I was with my friends in the parade, having fun, dancing, and enjoying the music. Just ahead of us passed a group of six boys — four of them had 'puppy' masks on. There was something about it, it seemed so different and exciting — literally, I was instantly hard.
One of the Pups approached me and said that he'd see me afterwards. We met up, went back to his apartment, and we fucked like animals.
I'm a sexually dominant person, but at the same time I'm very affectionate and playful. Pup-play mixes all of that together at the same time — the control and submission is with respect and affection. There's something about it that drives me crazy.
Would you describe yourself as an exhibitionist?
Honestly yes — I love it. I love it when people watch me, and it excites me a lot to know that people feel pleasure when they're watching me, that they're fantasising about doing things with me.
Do you have any hints or tips on how to navigate a sex club?
When I'm in the club I just go with my friends to enjoy and see what happens. I think the best advice is to just enjoy the company — when others see that you're having a good time, they'll want to have a good time with you.
What are some of the upcoming parties that you're looking forward to?
I'm looking forward to being with my friends again at Manchester Pride. Then in October it's Fetish Week in Maspalomas — Hard On will be the best party of the entire week, and I'll be there with all my friends.
Can we talk underwear?
In my day-to-day I wear slips or jockstraps. When I go to the gym I prefer to wear jockstraps or just go commando — I like the guys to see me showing off my cock while I'm working out. On other guys, I'm very excited by jockstraps. I always like a good ass with a good jockstrap — if you're down the street and you feel like playing a bit, it's easier with a jockstrap.
What are some of your goals and ambitions for the remainder of 2018?
I have many ambitions, but everything has its moment and everything has to be step-by-step. I want to travel, to film more movies, to be more recognised, and to do more photo-shoots. I'd like to finish 2018 and let people know who I am, what I do, and how I really feel.
We want to hear your opinion
The exhibitionist appeal of a kilt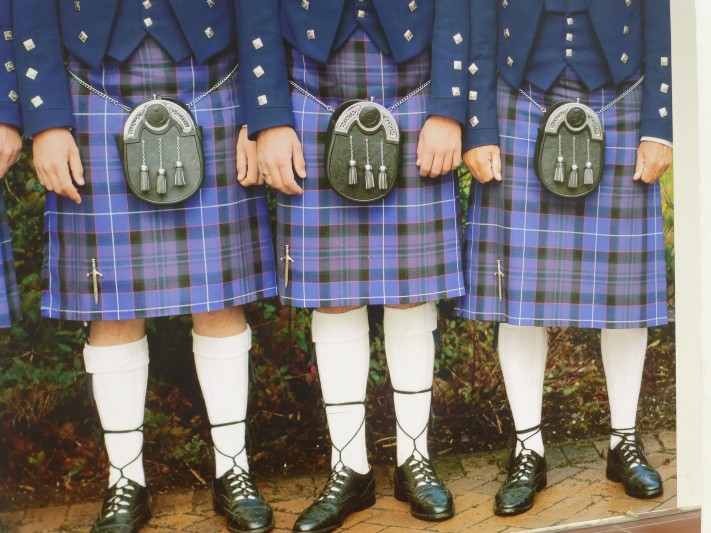 I caught up with my Twitter-buddy Sean to talk about his passion for kilts.
Due to the nature of his work, Sean has to remain anonymous for this interview.
What was your first experience of wearing a kilt?
I started wearing them several years ago, more out of interest than anything else. I'm not Scottish, I have Irish heritage.
The kilt really appeals to me as an item of clothing on many levels — it's far more comfortable to wear than trousers, and also looks a hell of a lot smarter too. I always wear the sporran, kilt hose, and flashes with it — it's the complete look.
Is there a sexual element to wearing a kilt for you?
The freedom of it is wonderful, and there's a real buzz about wearing a kilt — it gives me a lot of confidence, it's a bit like power-dressing.
I get a lot of positive comments and compliments, from both men and women.
I'm guessing that you're a bit of a purist when it comes to wearing a kilt — obviously there's no underwear?
It depends where I am, to be honest. If I'm at home, or out socialising or doing general stuff, then no, never. At work I'm a bit more respectable.
As well as being a kilt-lover, you're also a naturist. Are those two passions related in any way?
I'd be lying if I said no — its very liberating, and its also the one item of clothing you can wear where it's almost expected that you're going to 'free' underneath — what's not to like about that?
How do you explore your love of naturism?
That's easy — taking my clothes off as often as possible. It's a fantastic way to be more comfortable and confident about yourself. There are far too many hangups in the world as it is — why add to them?
Would you describe yourself as an exhibitionist?
Without a doubt!
What's your ultimate kilt-wearing fantasy?
It used to be to be able to wear them all the time — so, in some ways I'm living out that fantasy now.