In the world of Instagram, Johnnell Terrell and Tyrone Wells are a big deal. They're a real-life couple with a combined Insta following of over 360K.
In their first photo-shoot together, they're showcasing the latest range from Adonis underwear. The campaign has been shot by Elvis Piedra.
"I feel there are not enough black men who are able to express their art in the underwear industry as white men are usually given the majority of opportunities…" said Terrell, speaking about the campaign. "I feel, as gay black men, we can really push limits on the freedom of expressing that art while using a platform to be recognised for. We believe in this new wave of social media, it creates more outlets of diversity."
"It's always great working alongside my partner…" added Terrell. "Doing the photo shoot together has opened our minds to be able to work creatively and feed off each other's energy."
Adonis Underwear was founded in 2015 by Kyhry Taylor.
"I choose Johnnell and Tyrone to be models for this campaign because I wanted to show two guys that are comfortable with embracing each other…" explained Taylor. "It's important to show a positive representation of gay men and gay love."
We want to hear your opinion
Can we talk underwear?
Junior has over 800 in his underwear drawer. Is that a record?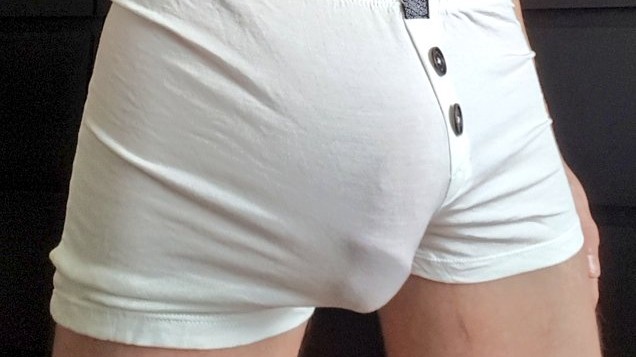 I caught up with Twitter-buddy Junior from Belgium to talk about his addiction to underwear.
When did you first become interested in men's underwear?
I think it was because my mum made me wear those old-looking classic white briefs, while the other kids in school were wearing more colourful briefs and boxers — I wanted to wear that too.
One day, I was about 10, my mother and I went shopping for new clothes. I saw these cool white briefs that had a wide rainbow coloured waistband. I got a few of them and I loved them, and didn't want to wear anything else anymore. I think that's when my interest in underwear started.
When did you first realise that you had a sexual connection with men's underwear?
A few years after I got those rainbow waistband briefs, when I was about 15, I could buy my own clothes. The underwear section in the store was my favourite place to be. I got hard seeing all those lovely, beautiful and cool undies. I bought a lot.
The boys in school became jealous because they wore baggy boxers or boxer briefs while I wore trunks and hipsters. I loved wearing other boys' undies when they left them in the changing rooms.
How have you explored that sexual connection or fetish over the years?
Underwear is a big part of my life. When I see a guy bend over, I always try to see what he's wearing.
One thing is for sure — I like clean, neat, new underwear. I don't mind cum stains, but my fetish stops when they're too smelly or dirty, or a really old pair.
Why is Twitter a good way to share your interest in underwear?
On Twitter you can share photos that are seen as 'inappropriate' for other platforms. My Instagram account was deleted for posting a photo of an underwear bulge.
It's also a good way to interaction with other users.
How do you connect with other guys with a sexual interest in men's underwear?
Twitter, briefsmania.com, and Grindr are all good places to connect with other guys who are into underwear.
I like to go to underwear parties, or date men who have the same interest.
Is there a level of exhibitionism with your underwear fetish?
I guess so. When I'm on the beach, I don't mind wearing my undies to lay down my towel — I walk around a bit before putting on my swim-briefs. Same at the gym, I'm the one walking, chatting, and talking the longest in my underwear in the locker room. I don't mind wearing thongs or jockstraps in the locker room, which is unusual in Belgium. I also like to show off my underwear waistband above my jeans.
Do your friends or family know about your passion for underwear?
I think most of my friends and family know. I'm the one always shopping for special underwear. When they want to give me something for my birthday or Christmas, they mostly give me gift cards to buy underwear.
How many pairs of underwear do you own?
I think I have about 800 pairs. But around 600 I keep in my drawers — the others are in my archive boxes. I have about 200 trunks and boxer briefs, 200 briefs, 100 jockstraps, 50 thongs, and 50 novelty ones.
Which are your favourite brands of underwear?
I have a lot of favourite brands. In the past it used to be HOM, Aussiebum, ES Collection, Calvin Klein and XTG. Now I like Garcon Model, Andrew Christian, Pistol Pete, Marco Marco, Addicted, and Alexander Cobb.
Which styles of underwear do you prefer?
I love to wear all styles — even baggy boxers. But if I have to order them it would be tanga briefs, briefs, boxer briefs, jockstraps, then thongs.
What are some of the next steps in exploring your fetish?
Meeting new men who have the same passion for underwear as I do. I can talk and chat with guys on Twitter and other websites, but I'd like to get in touch with more guys in Belgium who have the same interest as me. Perhaps one day I'll host my own underwear parties.