There are so many different ways to experience Paris.
If you're a first time visitor, you're going to be flat out — ticking off the major sights and experiences, climbing the iconic Eiffel Tower, marvelling at the gothic Notre Dame, and eating croissants and croque monsieur at every opportunity.
But, perhaps unsurprisingly, there's a lot more to Paris than what you see on the postcards or in the romantic movies — great restaurants and bars, a cafe culture that makes you want to smoke cigarettes and write a book, a cracking night life, and extraordinary shopping. Plus, there's little gems like the Rosa Bonheur bar in the Parc des Buttes Chaumont, which every Sunday afternoon absolutely goes off — there's no other way to describe it.
Spending a weekend in Paris is one of my favourite mini-breaks. When you live in London it's surprisingly easy to do. The slick and efficient Eurostar takes you from the centre of London to the centre of Paris — equipped with a small overnight bag, you can jump on the train after work on a Friday and be in Paris in time for dinner.
There's always things in Paris to see and explore, new exhibitions to discover, entire arrondissements that I've yet to experience. But I'm not a very good tourist.
My ideal way to spend a weekend in Paris is to rent a small apartment in the Saint-Germain-des-Pres neighbourhood and just hang out, pretending that I live there.
Saint-Germain-des-Pres is in the 6th arrondissement. This a residential area, but with a real sense of life and energy.
It's just a couple of stops on the Metro from Gare du Nord — where you disembark the Eurostar — so you're still in the heart of the old city. If you can't find an apartment that suits you, there are plenty of hotels in the area — Hôtel Récamier is one of my favourites, they serve a complimentary afternoon tea which is very civilised.
There are some famous cafes in Saint-Germain-des-Pres — Jean-Paul Sartre and Simone de Beauvoir used to hang out at Cafe de Flore or Les Deux Magots, and you can follow in their footsteps and giggle at the surly waiters.
The Jardin du Luxembourg is a short walk away — a great place to sit and relax or take a picnic, plus there's lots of hire bike stands in the area so it's easy to cycle around.
There are heaps of great, relaxed restaurants in the area. I love Le Comptoir –you sometimes have to queue at lunch, but it's worth it. Simple food done brilliantly, how could go past the pâté du maison or the crème brûlée?
This is a neighbourhood where everyone always seems to be out, drinking coffee, catching up with friends. Some of the best people watching is the relaxed and friendly bars such as Au Pere Louis — a cool bar up near Jardin du Luxembourg, this place is particularly good late at night. Another favourite is La Palette on rue de Seine — the outside tables here are always busy, but it's worth being persistent and waiting for a table. This is the kind of place where you can spend the afternoon just reading the paper and watching the world go by.
If only I could spend every weekend in Paris.
We want to hear your opinion
Which are the gay travel hot spots?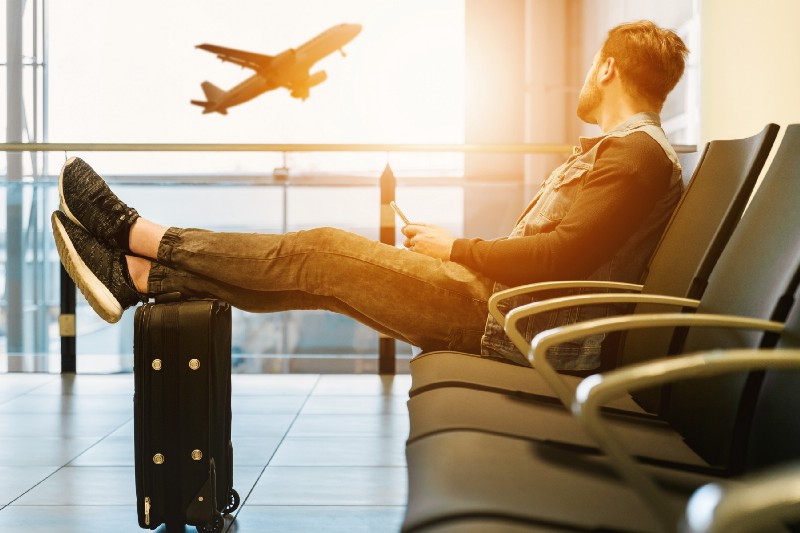 Need some inspiration for your travel plans?
We ran a survey of Mainly Male readers to ask gay men about their expeditions and adventures.
108 guys responded to our survey.
Here's what they told us.
When you go on vacation, who do you generally travel with?
By myself: 23%
With a partner: 49%
With friends: 14%
With family: 11%
I don't travel: 3%
Which is your favourite type of vacation?
Beach: 23%
Somewhere warm: 15%
Winter sports: 3%
City-break: 12%
Something active or outdoorsy: 9%
Something cultural: 16%
Something relaxing: 22%
"Some holidays that have been the best of times start with staying at a B&B and being able to go sky diving, canoeing, and a range of outdoor activities, then relaxing at night in a warm house and great dinner and bed." — anonymous survey respondent
"Combination of someplace warm where we can explore and then have a few down days to relax on the beach." — anonymous survey respondent
"Tend to do a mix — city to party, relax, somewhere warm, cultural, and active. Our trip this year is San Francisco to party, relax on boat travelling up the west coast, Napa, hike in the red wood forest, and Palm Springs." — anonymous survey respondent
"Cruise!" — anonymous survey respondent
When you're on vacation, are you interested in checking out gay bars, venues, or events?
Yes: 62%
No: 14%
It depends who I'm with: 24%
When you're on vacation, are you interested in staying in a gay-friendly hotel or accommodation?
Yes: 58%
No: 19%
It depends who I'm with: 23%
Which destinations are at the top of your travel wish-list?
Responses to this question weren't particularly cut and dried, as people listed both countries and specific cities in their answers — in some cases respondents listed entire continents. We've manually reviewed the answers to draw together the common themes.
Spain featured prominently on the wish-list of a lot of our respondents. When we include beach-side destinations such as Sitges, Ibiza, and Gran Canaria, 8% of respondents had Spain on their wish-list
Italy polled strongly, with 4% of respondents reporting that Italy was on their wish-list. As did Australia, and Germany — both of these destinations also appeared on the travel wish-list of 4% of respondents.
An additional 4% of respondents simply nominated Europe as being on their wish-list, which would translate to further interest in destinations such as Spain, Italy, and Germany.
Iceland polled strongly — featuring on the travel wish-list of 3% of survey respondents.
Other destinations that respondents had high on their wish-list included New York City, Greece, Mexico, London, South America, France, Chicago, Japan, New Zealand, and San Francisco.
Key take-out: Australia, Iceland, and European destinations are at the top of mind for gay travellers. When it comes to the US, gay travellers tend to focus on the specific cities that they want to visit, such as New York City and San Francisco.
Which destination will you be going to for your next vacation?
Looking at the specific destinations that respondents reported, the big winner was Paris — however it's clear that this was influenced by the timing of the survey. Respondents were completing the survey just ahead of the Gay Games hosted by Paris.
When we look at the results at a country level, somewhere in the United States was where a large proportion (21%) of respondents were spending their next vacation — most of this seemed to be fuelled by domestic travel. Australia (9%)is a popular destination for gay travellers, as is Spain (12%) and Italy (8%).
Key take-out: Like all travel, there are seasonal factors that influence the choices of gay travellers — for example, the beach resorts of Spain are popular in Summer. What we'd perhaps underestimated is how event-driven travel is a big factor in the choices being made by gay men.
Where do you get your travel inspirations?
Friends and family: 29%
Personal research: 49%
Travel articles or features: 19%
Advertising: 3%
"A lot of it depends on price as well, I use Skyscanner and see what cheap flights are available so if there's a cheap flight to be taken advantage of, then why not?" — anonymous survey respondent
"I also love to read about history, so that too give me ideas about travelling." — anonymous survey respondent
Key take-outs
Gay travellers are influenced by seasonal and event-driven considerations when planning their vacation destinations. Although winter sports options seem to be fairly low on the priority list.
European destinations are popular with gay travellers, as well as destinations such as Australia, Iceland, and North American cities such as San Francisco and New York City.
We were surprised by the number of gay men who reported that they generally travel by themselves — 23% of respondents.
Gay travellers are interested in staying in accommodation that demonstrates that it is gay-friendly.
On vacation, gay travellers are interested in experiencing the local gay nightlife of bars, clubs, and venues.
The most effective way to draw a gay traveller's attention to a specific destination is to help them feel that it's their idea. In sci-fi terms, it's inception — supporting the initial 'discovery' with positive reinforcement from friends and family, travel articles, and advertising.
Travel Tuesday
Every Tuesday we take a look at a destination or experience that you might want to consider adding to your travel wish-list. Here's some of our recent Travel Tuesday features:
Survey Methodology
The survey was conducted across a four-week period in July 2018.
Respondents were recruited via Twitter, Facebook, and LinkedIn. No incentives were offered for respondents to complete the survey.
We used Survey Monkey to collect the survey responses, and then analysed the results manually
Comments from respondents were captured during the survey process.