Part 10
Brad left the racquetball courts and headed back to school. He couldn't shake the images of Zach out of his head, Zach showering naked next to him, Zach soaping his body up, Zach talking about which underwear he'd look best in. Brad was so turned on by Zach that he was worried that he'd just suddenly snap and jump the kid. As he walked into the school buildings, Brad tried to discreetly adjust his hard cock, trapped uncomfortably in his tight briefs.
"Hey buddy, what's up?" asked Leroy, as Brad knocked lightly and entered Leroy's office.
"Hey, got a minute?" asked Brad, closing the door behind him.
"Sure, everything okay?" asked Leroy.
"Yeah…" shrugged Brad. "It's just this whole Zach situation is doing my head in…"
"What do you mean?" asked Leroy. "Is he causing you problems?"
"Well, not really…" admitted Brad. "He hasn't done anything, to be honest. The problem is me."
"I don't get it…" replied Leroy. "What are you talking about?"
"I'm just so fucking horny all the time!" exclaimed Brad. "I know that Zach is totally off limits, but he's so damn sexy… I've just played racquetball with him…"
"Did he beat you at racquetball?" asked Leroy.
"That's not important right now…" dismissed Brad. "I was standing next to him in the showers after the match and I had to have the water on freezing cold just to try and keep my cock under control. It was all I could do to stop myself from grabbing him, pushing him up against the wall and slamming my cock into that sweet peach of an ass."
"You know that's against the rules of Big Brother Little Brother?" cautioned Leroy.
"I know!" exclaimed Brad. "That's why I was standing under a cold shower freezing my balls off!"
"Can't Blake help you out with all of this pent-up sexual energy?" suggested Leroy.
"Yeah, he does…" nodded Brad. "Our sex life has definitely improved since Zach moved in. But Blake isn't here right now, my cock is rock hard, and I'm about to go and try to teach a classroom full of 16-year-old boys!"
"What exactly would you like me to do?" asked Leroy.
"I need you to help me out, dude…" replied Brad, quietly.
"Help you out?" repeated Leroy.
"Yeah…" nodded Brad. "You said that your offer was always on the table, right?"
"I thought that wasn't an option because you guys are monogamous?" asked Leroy.
"I can't worry about that, right now…" dismissed Brad. "If I don't get my rocks off right now, I'm going to fucking explode…"
"Don't sweat it, dude…" grinned Leroy, standing up and locking the door to his office and closing his blinds. "I'm here for you… Whatever you need, I'm here for you…"
As Leroy moved closer to Brad, their bodies suddenly crunched together, almost as if they were magnets, drawn together by the heat between them. Their mouths connected, their lips mashed together, Leroy could feel Brad's hunger, the urgency, the pent-up need for release. Their tongues wrestled as their hands explored each others' bodies.
"We don't have much time…" cautioned Leroy. "You want me to fuck you?"
"No way, man…" growled Brad. "I need to fuck you… I've been fantasising about that kid's tight ass non-stop, I need to sink my cock into your man-cunt…"
"Fuck yeah…" growled Leroy, taking his jacket off and hanging over the back of a chair. Leroy grabbed a tub of cocoa butter from one of his drawers and put it on the desk next to Brad. Leroy undid his belt and let his trousers fall to his ankles before bending forwards over his desk and offering his ass to Brad.
"I really appreciate this, dude…" acknowledged Brad, sliding Leroy's tight white briefs down, exposing his smooth black ass.
"I'm not doing you any favours…" grinned Leroy. "I've been begging for your cock for months. Make sure you use plenty of lube, it's been a while since I've had anyone as big as you slamming their cock into me."
Brad pulled down the zip on his trousers and freed his already hard and aching cock, slapping it a couple of times on Leroy's ass before scooping out a generous dollop of cocoa butter and smearing it over his cock head and shaft. Brad scooped out some more cocoa butter and roughly jammed his fingers into Leroy's fuck-hole.
"Ungh…" grunted Leroy, as Brad used his thick fingers to quickly loosen his buddy up. "Jesus, dude. Is this what you call foreplay?"
"Like you said, we don't have a lot of time…" shrugged Brad. "Today it's a quick pump and dump. I'll give you all the foreplay that you need next time…"
"Next time?" replied Leroy. "There's going to be a next time?"
"Ready?" asked Brad.
"Ungh…" grunted Leroy, as Brad began pushing his cock forward. "Oh, fuck… Easy, man… Easy…"
"So fucking tight…" growled Brad, forcefully driving his cock forward, holding Leroy firmly by the hips.
"I told you to put plenty of lube on that thick cock…" grunted Leroy, trying to relax his body, trying to accommodate inch after inch that Brad was pushing inside him.
"There… you got it all now, dude…" growled Brad, pausing for a moment with his entire cock embedded in his buddy's man-cunt.
"Fuck… yeah…" grunted Leroy, using his ass muscles to begin to slowly work backwards and forwards on Brad's thick cock. "Feels so fucking good…"
"You ready for this?" growled Brad.
"Yeah…" nodded Leroy. "Fuck yeah… Give it to me… Tear that fucking ass up…."
Brad loosened his tie a little, took a firm grip on Leroy's hips, and then began to pull his cock back and then push forward, pulling back and pushing forward. Each time he pulled back, Brad would withdraw his cock a little further, and each time he pushed forward he would drive his cock harder and deeper into Leroy's fuck-hole.
"Oh, fuck yeah…" grunted Leroy. "That's a big fucking cock… Fuck… Give it to me… Fuck yeah…"
"Jesus, man… Feels so fucking good…" growled Brad. "Fucking prime piece of man-cunt… Taking it… taking my cock…"
The force of their fucking was rocking Leroy's desk backwards and forwards, drawers were sliding open and slamming shut as Brad pounded his cock in and out of Leroy's greased-up man-cunt. Brad was so horned-up that in no time he could feel the cum beginning to boil up inside him.
"Fuck… Dude… I'm getting close…" warned Brad, realising that he wouldn't be able to last much longer, that he was reaching the point of no return.
"Yeah… Give it to me…" urged Leroy. "Give me that fucking load…"
"Ungh! Fuck! Ungh!" Brad arched his back and drove his cock as deep as possible inside Leroy as he cum began to flow. "Fuck! Fuck! Fuck!"
As the intensity of his orgasm began to slowly subside, Brad continued sliding his cock in and out of Leroy's cum-filled man-cunt. Leroy turned his head back over his shoulder and arched his back to bring their mouths together in a deep, passionate kiss.
"Did you cum?" asked Brad.
"All over the test papers that I'm supposed to be marking…" grinned Leroy. "But it was worth it."
"Thanks, dude…" smiled Brad. "You've got no idea how much I needed that…"
"Actually, I think I felt exactly how much you needed that…" grinned Leroy. "I felt every fucking inch of how much you needed that."
Can I call you Uncle?
Can I Call You Uncle? is the first in the Coyote Tales series of erotic gay fiction written by Coyote and Gareth Johnson.
We're currently serialising the story. This is the tenth instalment — read earlier episodes here.
We want to hear your opinion
Word of the Day: Chacal
Travelling to Mexico City? Add this to your vocabulary.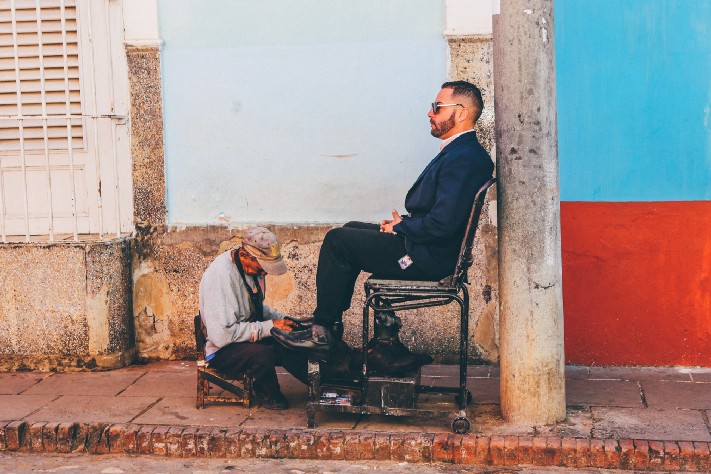 Chacal is a term used in Mexico City — it describes a masculine guy who fucks other guys. A rough top.
The Urban Dictionary helpfully shows how to use the term Chacal in a sentence: "Total bottoms love chacales…"
Let's put to one side for the moment the ridiculous labelling as anyone as a 'total bottom' — just because a guy enjoys a bit of anal play doesn't define his identity — but you get the idea.
In some ways, Chacal is the Mexican version of Masc4Masc — but Latino culture has a complicated obsession with all things macho. In places like Mexico City, your identity as a man, your masculinity, is defined by how you project a macho image to the world. Being gay isn't easily reconciled with being macho. The chacales are trying to have it both ways — projecting an uber-macho image to the world, and totally getting off on having sex with guys.
In the interests of cross-cultural investigative research, here's some examples of guys who seem to me to be channelling a bit of the Chacal vibe.
Chacal. It's our word of the day.