I caught up with Jason Vario to talk about inspirations, ambitions, and vacations.
You've said in previous interviews that you started exploring a career in porn to pay the bills after high school, then took a break, and then came back to the industry. Do you think having that earlier experience has helped you be successful now?
Doing it so young got me familiar with my own comfort-levels when it came to the industry, but I took such a long break, and things are so different from when I started. A lot of aspects felt like I was doing them for the first time when I came back. I just stuck to the same values I forged early on, and I think it's helped me a lot.
You picked up the award for Best Flip at the recent Grabby Awards — for a Titan Men scene with Daymin Voss. How did it feel to win that award?
It was really surprising, and kind of ironic. I'm mainly a top, and typically don't bottom on cam — or much at all, normally only for my husband.
It was Daymin's first scene, and we were friends from before. It was very last minute and random that we decided to make it a flip scene — totally unplanned. But I'm glad we did, and I'm very honoured for the award. I might have to start flipping a little more.
What category are you aiming for at next year's awards?
Maybe Hottest Cock or Best Top. I get told those things a lot in my personal life, so it would be cool to have a trophy for it. But really, any recognition is great. I don't know if I'll actually go to the awards show again — it typically falls on the same weekend as my husband's birthday, since he's not in the industry I feel bad for leaving that weekend.
Who are some of your porn heroes or inspirations?
Bruce Beckham is one of my closest friends, and part of the reason I got back into the industry. I've always admired how he's conducted himself — not only as a performer, but as a person as well.
Another would be François Sagat. He's basically gay porn royalty to me, and I admire him for similar reasons to Bruce. I don't know him personally at all, but he's someone who I feel has been very smart when it comes to how he's handled his career.
My last one isn't so much a porn hero or inspiration, just more of a huge crush. Sergeant Miles is so fucking sexy to me — I can honestly say I would bottom for him, but only if he returned the favour.
One of your most recent releases is Three Wishes for Raging Stallion. If a gay genie offered you three wishes, what would they be?
I do believe that wishes can come true, if you want them hard enough and put in some work. But they only come true if you keep them to yourself and in your heart. So, I can't say what they are or they won't come true.
Can we talk underwear?
I don't wear underwear, like, at all. Unless I really have to, maybe with dress pants in a formal or business setting so that my junk isn't on full display.
In terms of what I like on other guys, I love a sexy jock on a smooth muscle bottom — you can't beat that.
Your physique is really impressive and must take a lot of work. I read that you grew up as a skinny, nerdy, introvert. When you look in the mirror, do you sometimes still see that younger version of you?
I keep fit for my health, not for attention. Certain things will never change, but I try to turn them into positives. I'm still a big nerd, but I'm very proud of it. Growing up without looks or attention has helped keep me pretty humble. I was never the guy that got whoever he wanted with his looks and confidence. But I'm happy I wasn't, I see those guys now and a lot of them have become overly cocky and messed up.
What are some of your goals and aspirations for the remainder of 2018?
There are a few things that I'd like to happen this year. Definitely try and film some more scenes. Definitely continue to work on my fitness and health. Definitely go on a really nice vacay with my hubby — he hasn't had a proper vacation in years, and we both need to spend some time on a beach.
We want to hear your opinion
River Wilson is changing the narrative
"People are into the idea of seeing me naked…"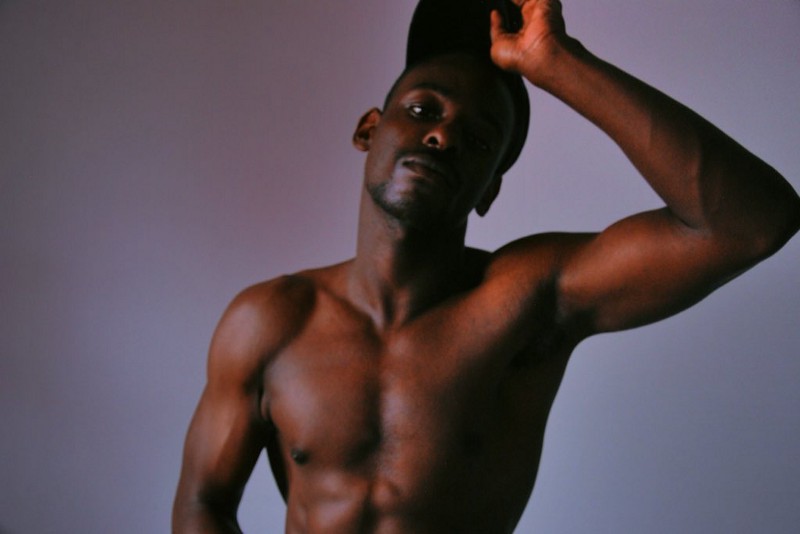 I caught up with River Wilson to talk heroes, underwear, and house-sitting.
What led you to start exploring a career in porn?
My curiosity for sex. I've always been fascinated with this world, so when I was old enough I started doing some research about the industry. After I gathered all the info I needed and felt comfortable, I started the steps to get in.
Would you describe yourself as an exhibitionist?
Not really, I always see the worst in my body, but find it interesting that people are into the idea of seeing me naked — I fake that confidence until I can get to a place where that energy of acceptance goes through my entire body.
Who are some of your porn heroes or inspirations?
I don't think I have porn heroes. I definitively have people inspiring me to want more and to change the narrative already written for a young black man of colour in a place ready to put me in a box.
The Housesitter looks like a great production — how did that project come about?
I was having dinner with my dear friend — J of Socalled — about films, erotica, the industry, and he told me about a project he did back then at Cinema L'amour with a movie by Toby Ross. I thought it was an amazing perspective, so that night we decided to try to make our own production and see where it would go.
Is this the first film that you've produced?
It was a lot of work, but so worth it and I'm planning on doing it again for another project. Figuring out the casting and raising the money were the two challenges that almost got me questioning the whole thing, but then I was inspired and determined so I had to double the work.
Can we talk underwear?
I love wearing boxers — I find them most comfortable, and I'm all about comfort. For the gym, I prefer briefs — especially when I do squats. On other guys, I love them in boxer briefs because then I can see their butt well.
What are some of your goals and ambitions for the months ahead?
I'd love to get into acting and production more — if I can combine it with porn and erotica, then great. In that same breath, I'd also love to be more artistic with these visions.
Follow River Wilson on Twitter