I caught up with Joel Quinones of Houston's Q Salon, to talk styling and shorts.
What are the different styles of shorts that guys have to choose from?
The key to this question is 'function.' They range from cut-off denim, athletic — golf, running, soccer, board — street-wear cargo, or a classic chino.
Do different styles of shorts suit different guys?
Body type and leg length are the main factors to consider. Retailers sell shorts in 5-inch, 7-inch, 9-inch, and 11-inch lengths. The shorter the leg, the shorter the short.
If you have killer legs, by all means show them off in a shorter short.
Are there any age considerations?
Age is really not the issue. Are you fit enough to wear a shorter short? If you have lots of discoloration, varicose veins, or dry skin, then maybe you should rethink a short short — and throw some oil or body lotion on those legs.
Do styles of shorts change with fashion?
Trends come and go. Over the last few seasons, fitted 7-inch and 9-inch shorts seemed to be the rage. Pleats have been out for years. However, fashion week in Paris and Milan showed a lot of shorts replacing pants and being pared with a jacket. Louis Vuitton and Comme des Garcons are examples, with shorts leg-lengths that hit right below the knee, which would be appropriate when you're using these in a dressier situation with a jacket or cardigan.
Are there social occasions when shorts aren't appropriate?
These days the rules are being broken everyday. Some places like restaurants, or private clubs make those rules for you. I'd say no shorts at a black tie or red carpet event, unless you're doing something like The Brit Awards or The Grammy's, where rules are meant to be broken.
What sort of shoes should I wear with my shorts?
Again, function is usually the determining factor. Athletic shorts are almost always worn with a sneaker, casual shorts can be teamed with a flip flop, a sandal, sneaker, driving moccasin, or boat shoe. Dressier events can use a leather slip on loafer.
What are some of your favourite brands of shorts?
If you like the shorter short, I recommend the American brand Chubbies. This is a line created by a bunch of Stanford finance students who were obsessed with shorts. They're known for their 5.5-inch and 7-inch length, whimsical prints, and quirky ads.
Bonobos has a great selection in various colours, fabrics, and lengths, and are pretty reasonably priced. J.Crew is also good with the classic chino short — they too have embraced a selection of lengths.
You want to up your game price-wise? Tom Ford, Gucci, and Zegna will take that short to the next level.
Follow Joel Quinones on LinkedIn
We want to hear your opinion
Sweat, sex, and sports socks.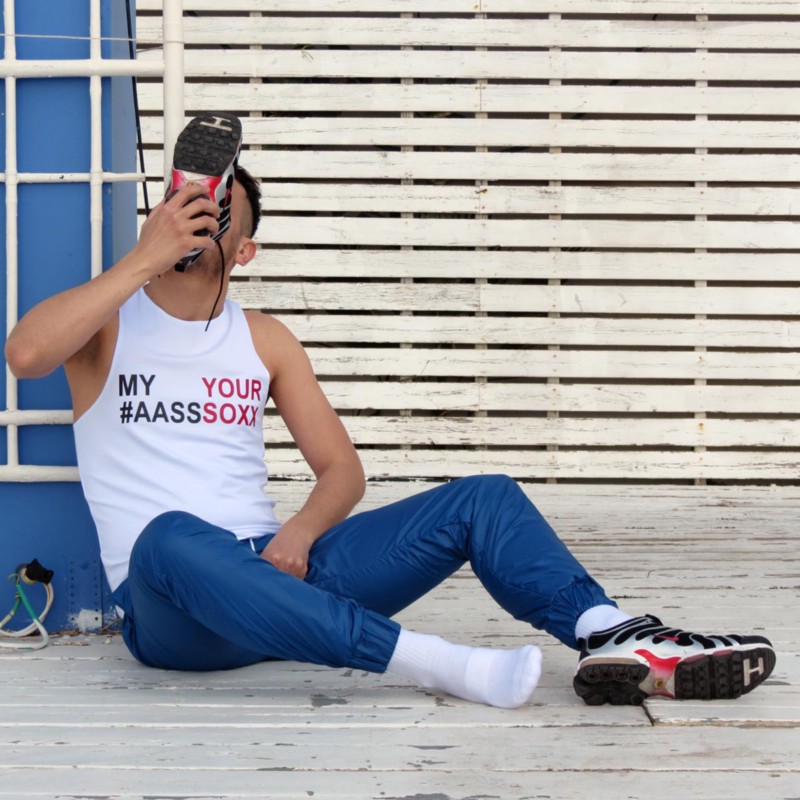 I caught up with Matt, co-owner of Polish sports-fetish brand #AASSSOXX, to talk sport, sex, and socks.
When did you establish the #AASSSOXX brand?
I met Slawek at the beginning of 2017. It started as usual — Grindr, fetish, sex and finally love — what we have now is amazing! We work together and we have our own clothing brand.
Everything was possible because there was also another thing that we have in common — a passion for fashion. Slawek started designing clothes years ago, he was constructing male clothes. I always tried to sew something at home.
So, starting from an inspiration of gear and clothes to have sex in and play with, we started designing, creating, and sewing a collection.
Our debut fashion show was during the finals of Mister Gay Poland 2017.
What makes sports gear sexy?
Picture this — there's a guy standing before you, he's just finished his workout, his sweaty shirt is highlighting every muscle in his chest and abs, his shorts are slightly revealing this one and only shape, and on top of that, white socks contrasting with his dark-haired legs. This is just everything that's the best!
Sports gear is synonymous with a perfect body, muscles, a masculine smell, power, domination. It's the quintessence of testosterone.
Have you always had a sportswear fetish?
Forever. It probably began in the high-school locker-room. It's not surprising really, you're young, your hormones are boiling, and you're in the locker-room sitting with your classmates after gym — everyone is naked or nearly naked, you can watch their bodies, you can smell how sweaty they are.
You want to have sex with them, but you know you can't, you know that you'll never be able to do anything with them. So, you wait — you wait until you're alone, and you can just smell the socks and boxers that are lying around everywhere.
A total turn-on.
Who are the guys who buy your products?
They're guys just like us — guys who are totally into sports socks. Everything we do is authentic. All of the clothes that we create have to turn us on before we will include them in our collection. We're the models in our almost-explicit fetish photo-shoots.
#AASSSOXX is the first Polish LGBTQ clothing brand. We want to expland — as well as sportswear, we want to create casual clothes for all LGBTQ people, not just guys who have a sportswear fetish.
Our newest, most versatile collection is called Pride — we'll be presenting this at the Mr Gay Europe 2018 event, which will be held in Poland.
Which are your most popular products?
Our ultimate best-sellers are the KINKY Pants and the KINKY shorts. I'm not surprised that these are so popular — when Slawek first saw the fabric, he just went crazy about it!
We're very proud that almost every piece of clothing — the fabric, the design, the construction — is made by us in our small but growing workshop. It's 'almost' because we can't make the socks ourselves — you need a really huge machine to make them, so our socks are made for us by one of the best manufacturers of sport socks in Poland.
Which famous sportsman or celebrity would you like to dress in #AASSSOXX gear?
The biggest celebrity who wears these clothes everyday is my boyfriend. But knowing him, he would choose Zayn Malik or David Beckham — luckily for me, they're both unavailable.
Dressing them is one thing, obviously we'd have to start by taking some measurements…