A trick question: What is more colorful than the Carnival in Brazil? If you said the RuPaul's Drag Race stage, you would be half right, as the correct answer is – Gay Pride. Is there something happier and more colorful than this? These extremely happy events are organized all over the world – some are excellent, some are mediocre, but all of them are so much fun. No matter where you're going – either your country but a different city, a totally different country or simply a couple of streets from your apartment, it's very important to know what things you have to pack or prepare. Take a look at the following list, write the items down and put them aside in order to be fully prepared and not forget anything for your first Gay Pride!
The essentials
The most important thing is to have all the necessities with you. Make sure that you have all the documents you need (passport included if you're traveling abroad). As far as the clothing is concerned, make a plan of all the fashion combinations you will rock at the Pride beforehand. That way, you'll save a lot of time thinking about the endless sexy combinations you can go with. Is it a sexy sailor or an S&M policeman? It doesn't really matter – prepare everything in advance. Finally, don't forget the essentials from the cosmetics department. Have all the moisturizers, crèmes and body lotions. Also, remember to take your favorite perfume with you as you want your scent to attract as many guys as possible!
Comfortable shoes
Remember that you'll be walking and dancing most of your time, so bring the most comfortable shoes from your wardrobe. The best option would be New Balance shoes, as they are extremely comfortable and always sexy and fashionable – you know that the gays judge, so why not choose something that gives you the best of both worlds? The thing that you want the least is to get blisters during the course of the Pride, so do whatever you can to avoid that.
Good underwear
It doesn't really matter if you're about to take someone home after Gay Pride (Who are we kidding? Of course it's important!), but having the best underwear is crucial. Take a look at your underwear drawer, and if you're not satisfied with the pairs you already own, do your shopping before the Big Day. If you really want to be bold and fabulous, you can also check online stores like Tani USA and get the sexiest underwear they sell – at Gay Pride anything is possible! Rest assured that somebody will definitely get to see your underwear, so it's best to avoid any embarrassment because of poor underwear choice. Remember this mantra – good underwear in the streets, good underwear in the sheets (for a couple of minutes)!
Accessories
Finally, think about all the accessories that you get to take with you for your trip to the Gay Pride and your stay there. First of all, take headphones with you as the trip there might be a bit daunting and long. Furthermore, don't forget the gay pride accessories, such as rainbow flags, glitter, badges, and all the sexy see-through T-shirts you want to wear there. You want those nipples, arms and stomach to be seen, baby! If you're planning to dress up into your favorite sex fantasy, make sure to have all the equipment you need (depending on the outfit, of course).
Condoms and patience
Both of these are very much self-explanatory. First of all, pack as many condoms as you can. You won't necessarily be using them for their actual purpose, but you can also give them away at the Gay Pride, or make balloons that you will carry around. You never know how the Pride's going to go, but it would be best to be prepared. After all, maybe you'll be using them for their intended purpose. Finally, bring patience, as the crowd can get wild!
Apart from these, bring your open mind and good mood. Pour glitter all over your body, work those ass muscles a bit more if needed, and get ready for the time of your life!
Peter is a gay lifestyle writer at Gay Republic magazine, living in Europe. Follow Peter on Twitter for more tips.
We want to hear your opinion
An airstream adventure across California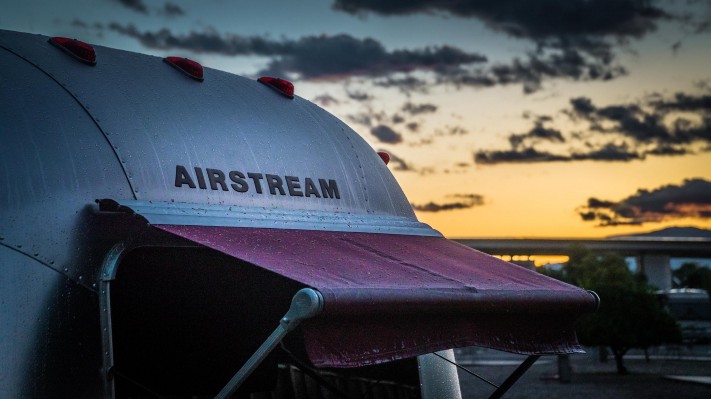 Some people may think of a caravan vacation as being a bit of a safe option, an ideal family-friendly expedition if you're not going too far from home and are just looking for somewhere with a bit of space that the kids can run around in. But, like any sort of travel experience, a caravan vacation can be whatever you choose to make it.
One of my dream vacations is to tow an Airstream caravan across the United States — visiting some of the iconic destinations, the ultimate road-trip.
Why an Airstream caravan?
The company behind the Airstream began building caravans in the late 1920s, but it was in 1936 that the classic Airstream model was first introduced to the world. Made from silver aluminium and constructed in a streamlined shape to cut down wind-resistance.
The Airstream has found a place within the world's popular culture consciousness — primarily because company founder Wally Byam began leading groups of Airstream owners on group vacations around the United States. The convoying caravans were known as Airstreamers — there is nothing quite as striking as witnesses a convoy of Airstream caravans on the move.
How to do it
Airstreams are still being manufactured at the company's factory in Ohio, but for the casual Airstreamer there are also options to hire a caravan for your expedition. California was the original home of the Airstream, and there does seem to be some sort of spiritual connection between an Airstream adventure and the wide open spaces and rugged landscapes of California and the South West of the United States.
The best time to visit this part of the world is between June and September, when you can enjoy the beaches and the great outdoor living that California offers. But the desert climate of the south-west region means that there is year-round sunshine, so you really can enjoy your Airstream caravan travels without too many restrictions.
Where to go
My dream Airstream caravan vacation is to begin from Los Angeles, driving up the coast road to Carmel and Monterey, and then cut across to Yosemite National Park.
Carmel is a small coastal artists' colony perched on a beautiful white-sand beach. Once you've parked the Airstream, everything is within walking distance as you wander around this village with its laid-back beach-side vibe.
The Monterey Bay National Marine Sanctuary features tide pools and kelp forests, which create a home for a huge range of aquatic life — you'll find sea lions, sea otters, dolphins, and humpback whales. You can go sea-kayaking to get a closer look.
Yosemite National Park covers a huge area of spectacular wilderness. The best place to start is with some hiking in Mariposa Grove, and then aim for the top of Sentinel Dome. There are climbing schools and guides available if you fancy some serious climbing.