Ever wondered how a gay sex club or a sex party works? I caught up for a coffee with my Twitter buddy Dick Baker to swap tips on how to navigate a club full of horned-up guys.
What led you to try out a sex club for the first time?
Hard On in London was the first sex club party that I went to. I'd never been to anything like that before, but I'd heard a lot about it on social media. I wanted to experience it, to try it out, experiment. I wanted to see if it was any good.
How does a club like Hard On work?
You walk in, and then you get changed.
The dress code for Hard On isn't as strict as some other places. Hard On caters to a wide range of fetishes — rubber, leather, sports wear, or full-on naked
They have a basic locker-room changing area, so you don't have to ride the tube in your gear.
But you are getting changed in front of everyone — this isn't the place to come to if you're modest or shy.
What did you wear on your first visit to Hard On?
A jock-strap, sports socks, and a harness.
These days I always start off wearing a jock-strap, but I end up taking that off pretty quickly and just stuff it in one of my socks so I don't lose it. I get more attention when I'm naked.
Who do you go with?
I generally go by myself. There's hundreds of guys there, but it can sometimes feel a bit lonely by yourself. I generally know a few people there, people to chat with when you're grabbing a drink or having a smoke. It would be nice to go with a group of guys, that way you can go off and have some fun and then come back together to drink and chat and dance.
What's the layout of a club like Hard On?
Downstairs there's the main dance floor, the main bar, and two play areas. Upstairs is the main dark room, sofas, and a corridor with slings, benches, and private cabins.
It gets so busy that sometimes you feel like you can't move.
What's your general strategy?
It depends a bit on how I'm feeling, but generally I walk in, get changed, have a bit of a dance, walk around and scope out the place, then go upstairs and see what happens.
Generally, it doesn't take more than eye contact. You lock eyes with a guy and you know — okay, here we go. If it's busy, sometimes a guy will just wrap his hand around my cock to get my attention.
What happens if someone is making eye contact with you or trying to get your attention and you're not up for it?
You can just ignore their attempts at eye contact. If someone touches me and I'm not interested, my facial expressions are very expressive and can send a clear message. If someone doesn't get the message then I'm just very direct and tell them that I'm not interested. That rarely ever happens though, as long as you're clear with your signals you won't have a problem.
You shouldn't feel pressured to do anything you don't want to do, or behave in a certain way. The venue is just providing the environment and the opportunity, it's up to you to find your own pace. You can just have a bit of fun with a couple of guys, or you can get comfortable in a sling in the dark room and make it clear that you're not bothered by who is taking a turn on you.
How many times would you have sex at a party like Hard On?
I usually have some fun upstairs, cum, go downstairs to get some water and have a cigarette, have a dance, then head back upstairs for some more fun. Generally I'll cum at least twice, possibly three or four times.
I take Viagra when I got to a party like Hard On. It means I'm always ready for action and can last for longer. I also wear a cock-ring — I wear a necklace with some of my favourite cock-rings.
What sort of guys go to a party like Hard On?
All sorts of guys. I'm 31, but there's a varied mix of guys of all ages. I've noticed recently that the crowd seems to be getting younger — maybe PrEP has something to do with that.
There's lots of condoms available at Hard On, but generally guys don't use them. It's a personal choice — they're readily available if you want them.
What hints or tips would you give to someone who was thinking about going to their first sex club party?
Try and go with a friend, at least for the first few times. Know what you want — set yourself some boundaries.
Fetish gear can be really expensive, but you can just go with something simple. A jockstrap and a pair of sports socks is a classic look — you're covered but not covered. If you want a harness of some kind, you don't have to splash out on a leather harness, there are fabric harness options available that are more affordable.
You don't have to look like the guy on the poster. There's lots of ordinary, everyday guys at these parties. Everyone is just out for a good time.
We want to hear your opinion
Stark Bollock Naked in London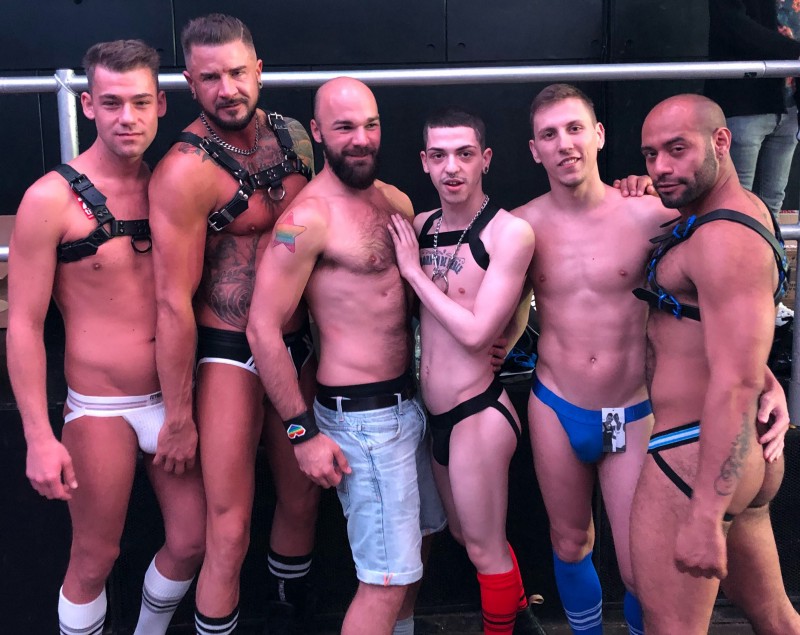 I caught up with Jamie — the man behind Jamie HP events — to take a look at what's coming up in the months ahead.
How would you describe the style of events that you organise?
Fun, sexy, and for most guys. We host a number of different club nights, including Stark Bollock Naked — every Sunday, easily the largest naked club event in the UK. We also host spa-based parties, and monthly fetish events such as our notorious Horse Fair where willing mares are partnered with dominant stallions without ever seeing their faces.
What sort of guys go to a Jamie HP event?
Gay and bisexual men of all types, sizes, and ages from 18–80. Guys who are looking for a good time. It's essentially only their sexuality that they all have in common.
How many guys do you normally get coming along to your events?
This varies from party to party, but you could expect nearly two hundred at one of the spa parties, while we regularly see over 400 through the doors for Sunday's SBN.
Some guys come to almost all of the parties we have on, others cherry-pick events more suitable for them.
Are your parties all about sex? Could I just come along and dance if I didn't really feel like hooking up with anyone?
Of course you can, and we have some of London's best DJs — including Tony Latex, Lee Harris, and Matt Unique — keeping the dance floors going. You don't have to be involved in everything that happens to a have a good time.
How strict are you with dress-codes for the various themes?
We realise that having to buy loads of gear can be expensive, and that it's often awkward to carry around, so in most cases the dress codes are simple — naked, underwear, sports, and perhaps something more traditional for the Horse Fair. Obviously, you'll want to fit in, and we think the dress codes are sexy and add to the fun of the party.
Are your events just in London?
We're always reviewing fresh ideas and venues for parties, with lots of options to consider at the moment, although we don't have any definite plans. We'd love to come to Manchester, so if anyone has any ideas we'll be there.
What are some of the upcoming events that we should be putting in our diary?
This July we Team up again with Recon for Deconstruction which is the finale of their really successful Fetish Week. Then in September we team up with Orange Nation once again for another Sex Circus. Also, there's SBN every Sunday. With the growing success of TFN Saturday, as of July that's going to be every Saturday night.
Immerse yourself in the world of Jamie HP